Simdreamhomes.com -Wooden floor has been around since 1600. Until now, wood floors are still widely applied to several residences, both houses and apartments.
There are several benefits that you can get from applying wooden floors to your home:
1. Will not make you allergic
Wooden floors are different from carpet floors. Wooden floors will not absorb dust and pollution like carpet floors. Therefore, applying wooden floors is perfect for those of you who have dust allergies. By applying wooden floors, your allergies will not recur easily.
2. Make the room feel comfortable
Do you know why Japanese houses choose wood for their floors? This is because wood can make a house feel warm and cozy. However, when the weather is hot, wood will not make the house feel hot. That way, the house will feel comfortable to live in.
3. Make the interior look beautiful
Wooden floors are one way to make it easier for you to decorate the interior of the house. This is because wooden floors will look suitable for any interior design. Whether modern or rustic, wooden floors can make an interior look so beautiful.
4. Maintenance is easy
Never believe if someone says that hardwood floor care is complicated. On the contrary, wooden floors are very easy to maintain. If on the carpet floor you have to vacuum so that the dust and pollution lodged on the carpet floor is gone, on the wooden floor you only need to sweep the floor until it is clean. And when a drink is spilled, you only need to clean it with a clean cloth.
5. The many kinds of wood floors make it easy for you to adjust it to the interior design of the house
Wooden floors have several colors such as blackish brown, dark brown, and light brown. Not only that, several kinds of wood have different textures and patterns. This advantage will certainly make it easier for you to choose which wood is right and suitable for the interior design of your home so that your house will look so beautiful.
Kind of Woods and Advantages & Disadvantages
1. Laminate Flooring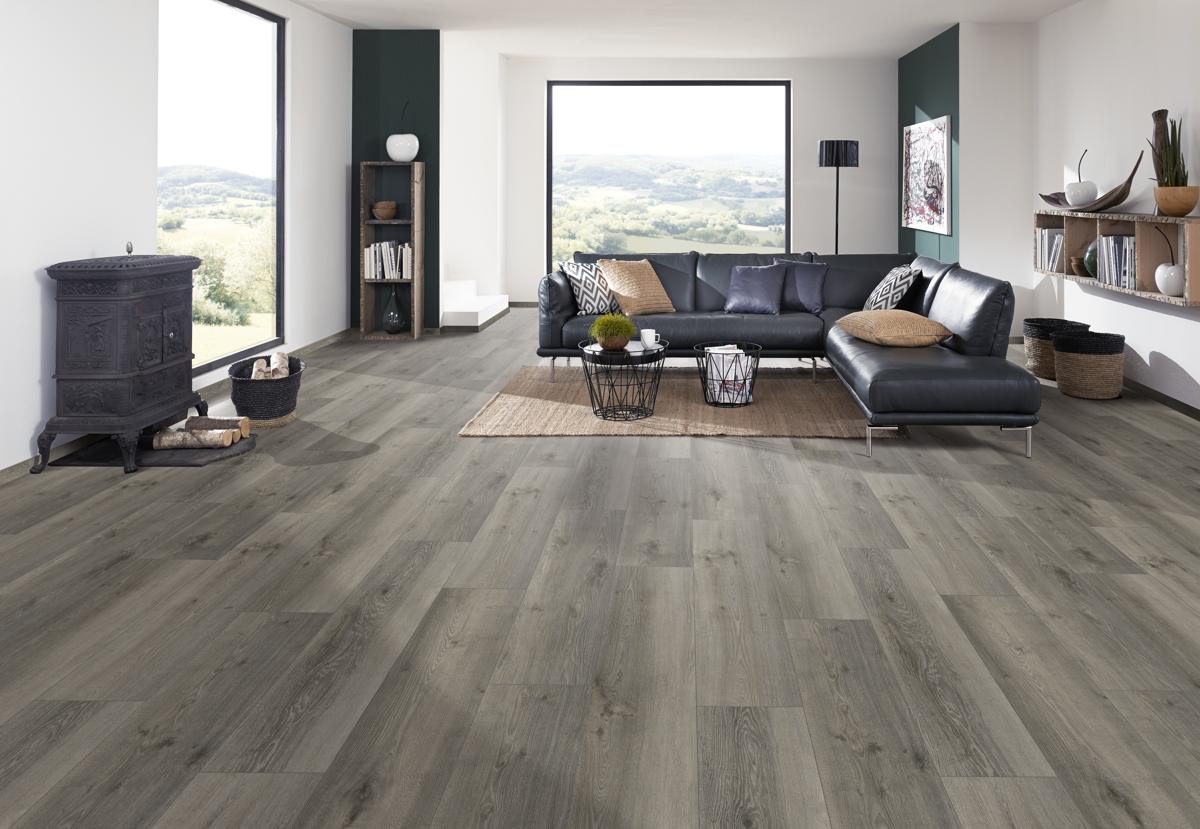 It is called laminate flooring because it is done in laminate stages. So, synthetic flooring is made in layers and then diffused by the lamination process. At the top it is usually given a clear layer so that the floor tends to look shiny.
For the price itself according to quality. For the cheapest price you can get it at $ 2 – $ 5 per square foot. However, for good quality the price could be more than that.
Because of its shiny appearance, laminate flooring is very suitable for application in the living room, kitchen, and dining room. For waterproof laminate, it can be used in the bathroom.
Advantages
Maintenance is very easy because laminate flooring is made of synthetic wood, which is made in a similar way.
The price is cheaper.
Can be installed easily.
It is a durable product because the surface is not easy to scratch.
Disadvantages
Laminate is a synthetic floor made as closely as possible with wood. However, of course it will not be exactly the same as real wood flooring.
It needs to be styled as well as possible so that it does not look shabby.
It is difficult to repair when the laminate floor surface is damaged.
When the display is no longer attractive or there are scratches, it must be replaced with a new one because it cannot be refinished.
2. Vinyl Flooring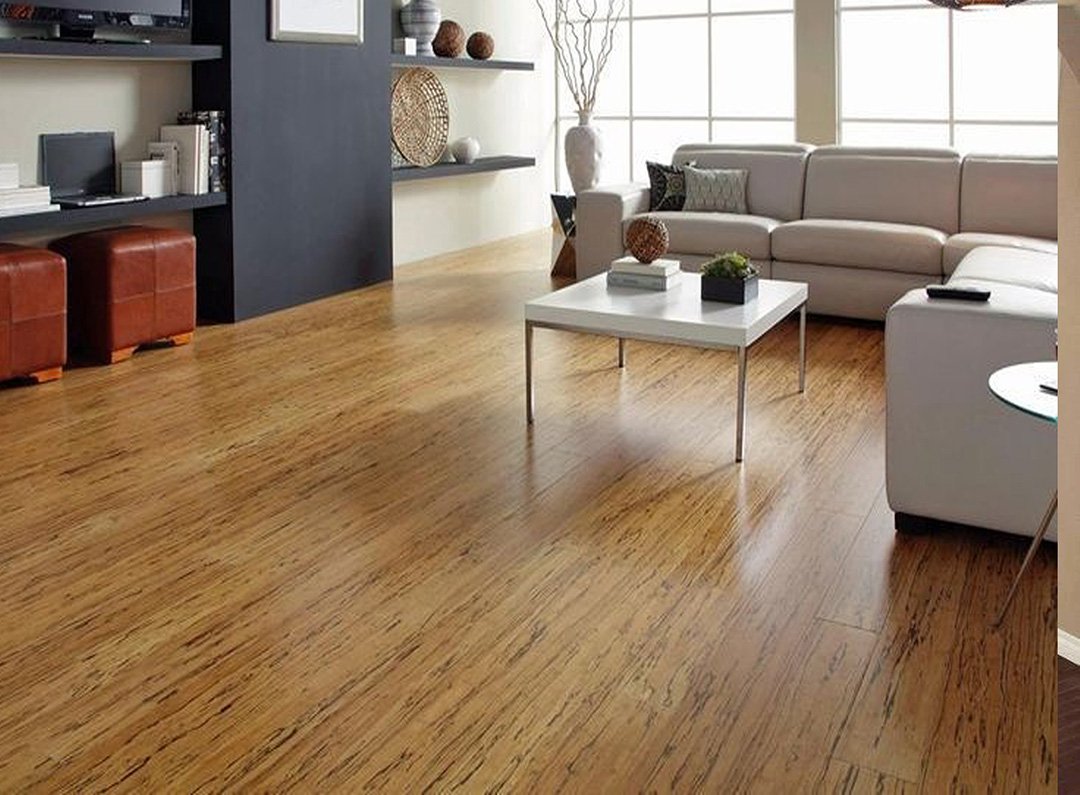 Not only laminate flooring, vinyl flooring is also one of the most frequently used floors for homes. The finish of vinyl flooring will look very attractive. Besides that, vinyl is also not easily damaged and also has a strong texture so it does not matter if there are some objects made of stone, marble, or other heavy and rough objects that are put on the vinyl flooring.
To apply vinyl flooring, you can spend $ 1 – $ 12 per square foot, depending on the quality of the vinyl floor. And the installation certainly costs more.
Vinyl flooring is perfect for application in kitchens, bathrooms, and bedrooms.
Advantages
Vinyl flooring is very resilient so it can last a long time because it does not scratch easily.
The price is cheap.
Installation is quick and easy.
There are many designs on offer so you can easily choose which vinyl is right for the interior.
There is an anti-slip which is great for children and pets.
Disadvantages
Colors fade very easily when exposed to sunlight. So, try not to use it on the outside of the house such as in a garden.
3. Parquet Flooring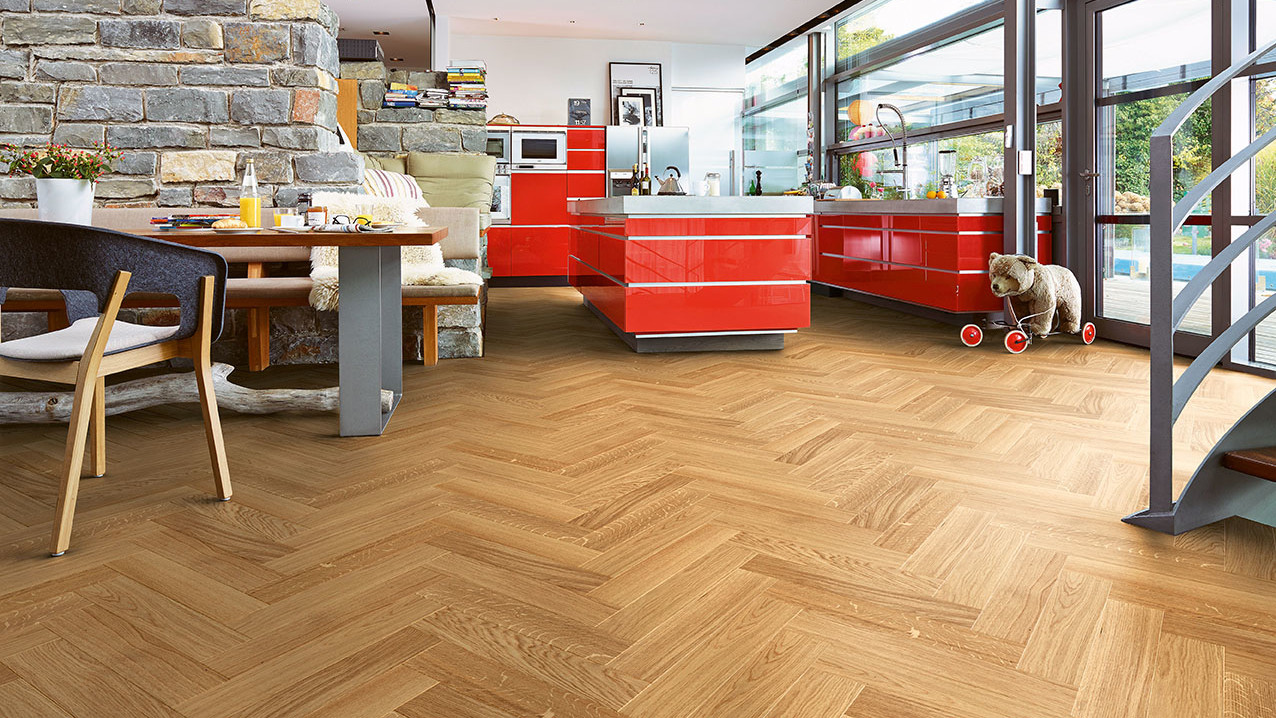 Parquet floor first appeared in France in 1600. This floor uses real wood. For the price, parquet floors are indeed more expensive because of their beautiful motifs. Parquet floors are also often used to make interiors look more attractive by placing them in geometric, corner, square, triangular, and so on styles.
Advantages
Bring the warn nuances and look so that the room will be comfortable and soothing.
Easy to clean. No need to clean it with a floor cleaner because it can damage the parquet. Enough to broom or vacuum.
Long-lasting.
Disadvantages
It is easily damaged when exposed to sharp objects.
When it is damaged, it is difficult to repair.
The color of the parquet can wear off in the sun. So, use the parquet floor in a closed room.
It can be damaged if the room is damp.
It takes more effort to keep the parquet looking good by polishing and sanding as needed.
4. Solid Hardwood Flooring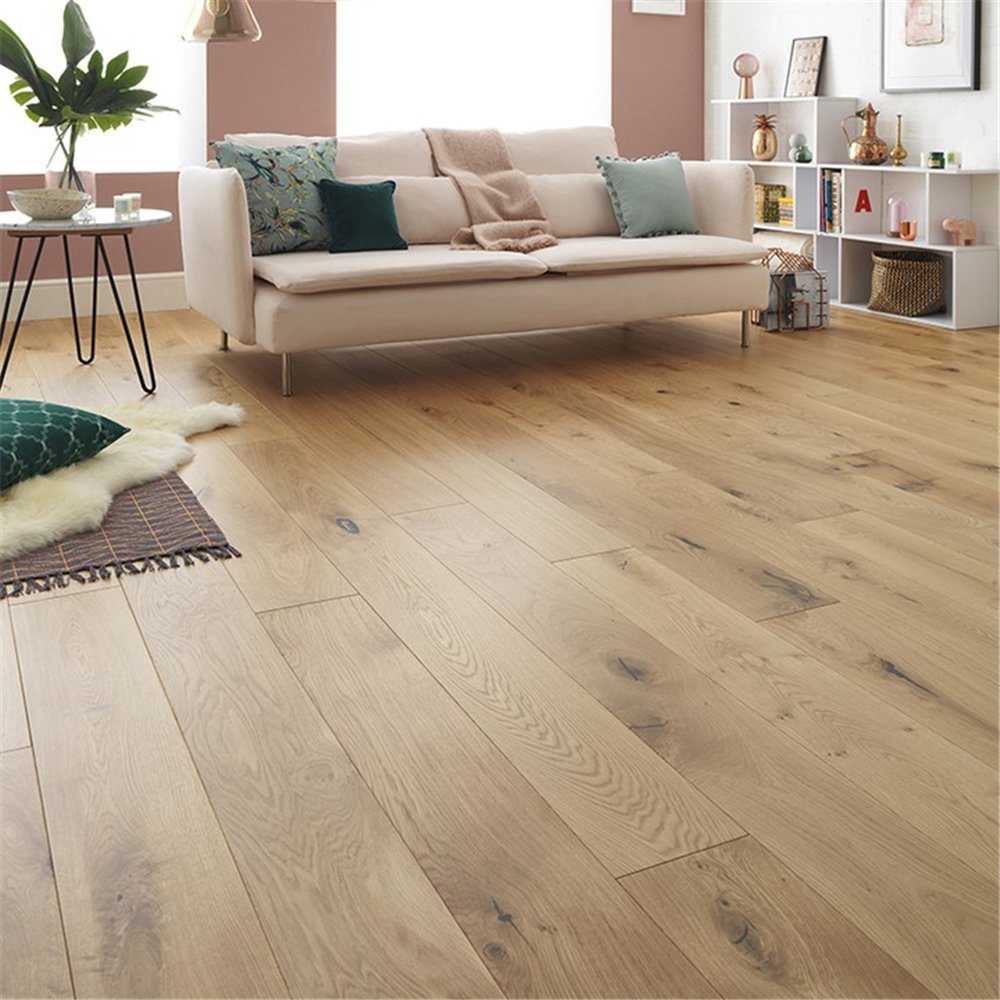 Solid hardwood floor is made of hard wood planks (solid). The thickness of the wood can reach 3-4 inches. Each wood has a different quality. Usually the wood will be given a score according to their vulnerability (perishable, wear and tear from everyday wear and tear).
The price for solid hardwood floors ranges from $ 3 – $ 12 per square foot, depending on the quality of the solid hardwood you choose.
Apply solid hardwood floors in rooms that are often used and exhibited, such as living rooms, dining rooms, and so on.
Advantages
When scratched, solid hardwood floors can be polished and sanded to restore their original appearance.
Can make the room feel alive.
Can boose the interior.
Durable and long-lasting.
Disadvantages
The solid hardood will shrink when the air in the room is hot and can also swell if the room is humid.
Installation is difficult, so it requires a lot of installation budget.
Prices are quite expensive.
5. Engineered Hardwood Flooring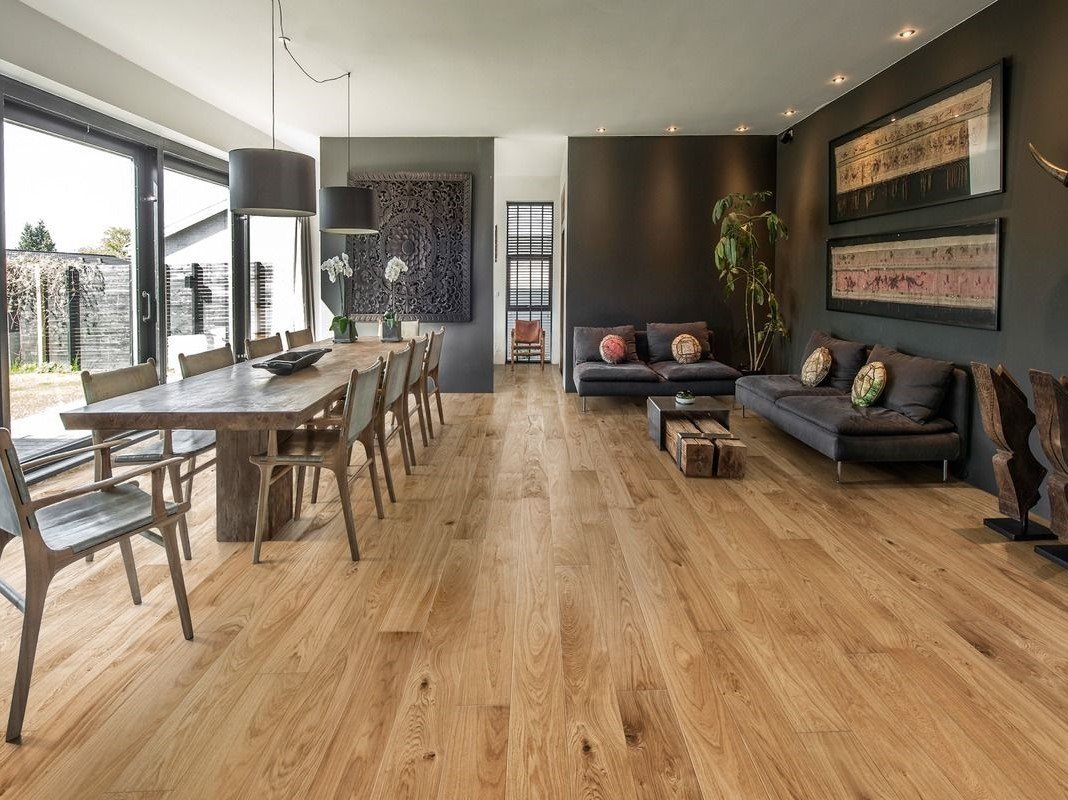 Engineered hardwood flooring is the toughest type of wood flooring. Engineered hardwood is usually 14mm thick with 3 to 4 layers of real wood on top.
For the price, engineered hardwood ranges between $ 5 and $ 16 per square foot, depending on the quality you choose. The better the quality of the wood, the more expensive it is.
Advantages
The engineered hardwood is stronger than solid hardwood. This wood floor is more resistant to humidity and heat.
Can be installed anywhere.
The look of engineered hardwood is more interesting.
Highly durable and long-lasting.
Does not break, warp, or gap easily.
Disadvantages
much more expensive.
Pretty difficult installation.