1. About your home
The definition of a house is a building that functions as a place to live for its residents and makes it as comfortable as possible, and we feel comfortable when occupying it. Home is consists of various material components, including wooden houses, woven bamboo houses, houses made of bricks, and many houses use precast concrete.
The difference in the use of these material components depends on several factors regional/climatic conditions, temperature, etc. But everything depends on economic conditions. But. for a low economy are usually use a house of woven wood as an alternative.
The house has several levels based on the economy of the owner of the house, namely simple houses or often referred to as RSS, simple houses or modern houses, and luxury homes. Many people assess the house design as a measure of one's economy.
Therefore, many people want to make their house look beautiful. In this article, we want to provide attractive house door picture designs.
2. Making the perfect design
By designing the door of the house, we hope that the interior design of our house will look more beautiful. Therefore, you must get inspiration and good ideas to design the interior of your home according to your taste. Then, to get a beautiful and pleasant door design, you have to choose the best model, the best materials, and a beautiful door handle. We also recommend that the door must be decorated with glass so that sunlight enters your home and makes your interior look bright and beautiful.
To avoid door model errors, you should control the manufacturing process so that after the door finishes, the results are following the order. Then, the house doors are also widely sold at stores that sell home decorations, you can choose according to the model you want, but the door must adjust to the size of the door in your home.
3. Choosing some material 
As we know, choosing the best door material for the house can make it strong and not easily porous and damaged. For that, of course, you must select a material that fits your budget. Therefore, we recommend choosing door wood from teak, Kampar wood, or mahogany wood. This type of wood is durable, strong, and not easily porous. This wood has the best quality, and when the painting will be more attractive than buying a door made of processed or triplexed wood. Then, for the door frame, you should use aluminum material. So it is not eaten by termites which makes your door porous and damaged.
Most importantly, you must choose the door material according to your design and budget and do not choose one that exceeds your budget because it will be difficult for you. Then, before ordering a door, you must prepare a model or design drawing of the door and give it to the craftsman who made the door so that the cost can be calculated according to your budget.
4.
Some pictures of the best design
In this article, we provide some pictures to make your home attractive. Then, to make a beautiful house, you must prepare several pictures of the door model for reference before starting the work so that the results are satisfactory. Therefore, we want to provide some pictures of house doors for you to consider. Of course, the door we describe can make your home a model home for those who see it. Therefore, we explain one by one as in the article below. Let's see the picture right away!
Simple minimalist door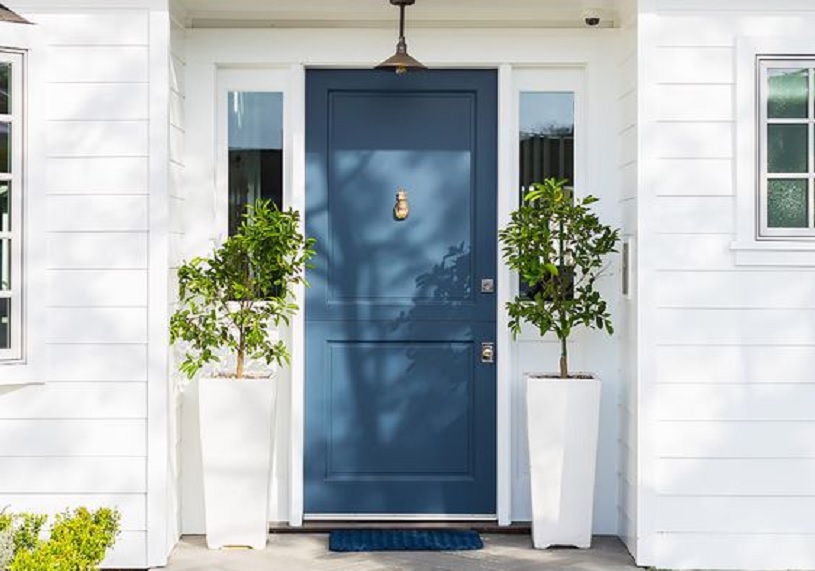 The design of the door of the house can make your home more attractive and character. Therefore, don't underestimate the color of the door.
You can see the color and model of an elegant minimalist door in this picture. The door of a beautiful house is an architectural element that cannot be separated from a house building. In addition to security, door designs with attractive colors also provide an aesthetic appearance to the entire facade of your house. In Indonesia, peoples always use house door designs with wood material because this can be unique for a simple home.
Classic white house door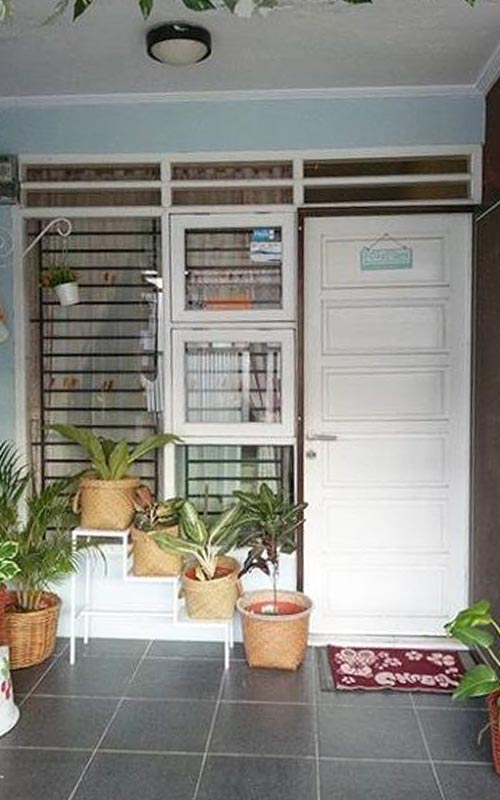 This white house door design with a classic model can give uniqueness to the house. If you still use this classic door for maintenance, you can change the paint on your door. To add to the beautiful appearance of the door, you can add leaf ornamental plants, such as ivory betel, flowers, and a small tree near the door house.
Pastel pink doors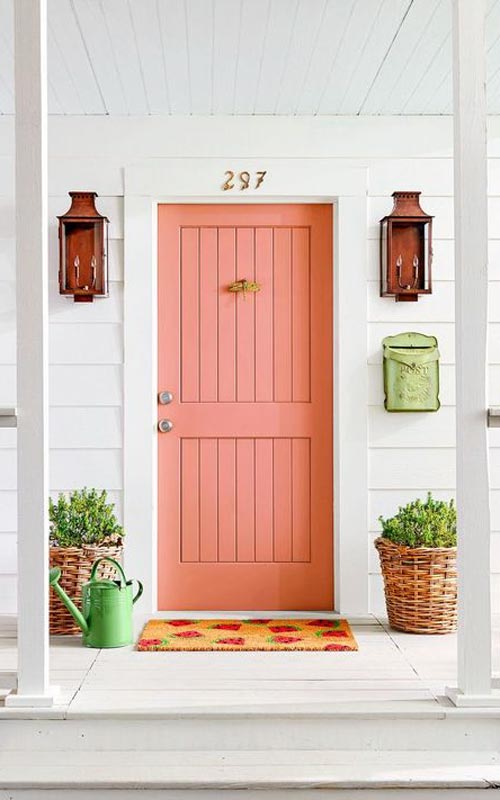 You don't need to hesitate to paint the door of a minimalist house with this pastel pink color, especially when combined with white wall paint. That way, this color combination will look beautiful and harmonious. If you like bright and soft colors, then with this color choice, many people will be fascinated by the look of your home.
Glass sliding door model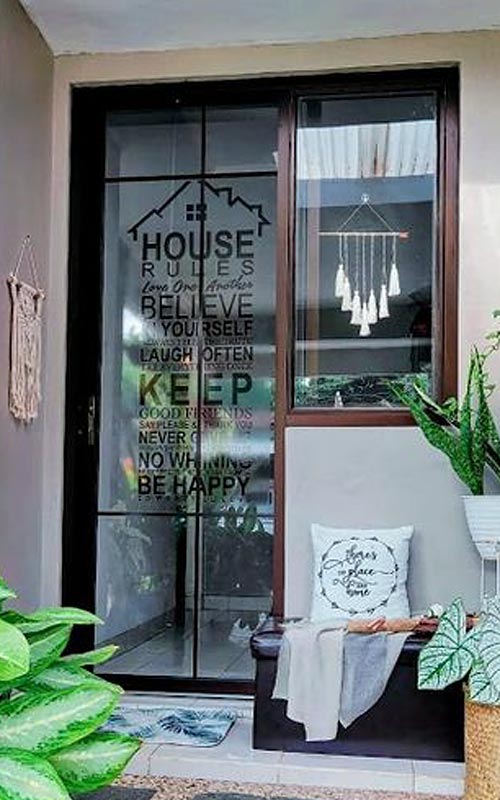 If the availability of land for the entrance to your house is narrow, you can consider using a glass sliding door or glass sliding door. This model is more practical and does not take up space in your home. Then, to give a unique and artistic impression, you can add door glass stickers with attractive themed designs and writings.
Green minimalist wooden door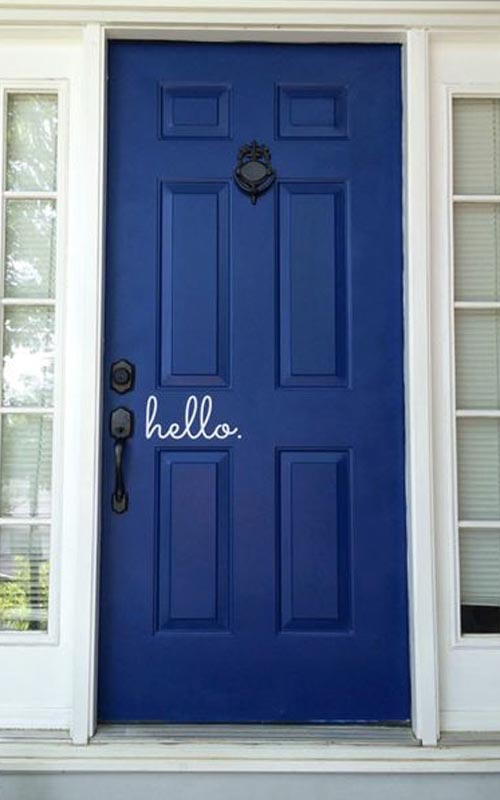 Green Minimalist Wooden Doors look attractive in a minimalist home. This minimalist green wooden door design with a long glass window will give you a sense of calm before entering the house. To beautify the decoration near the entrance, also combine indoor ornamental plants in the front porch area of ​​a minimalist house so that the area around it feels comfortable.
Red house door leaf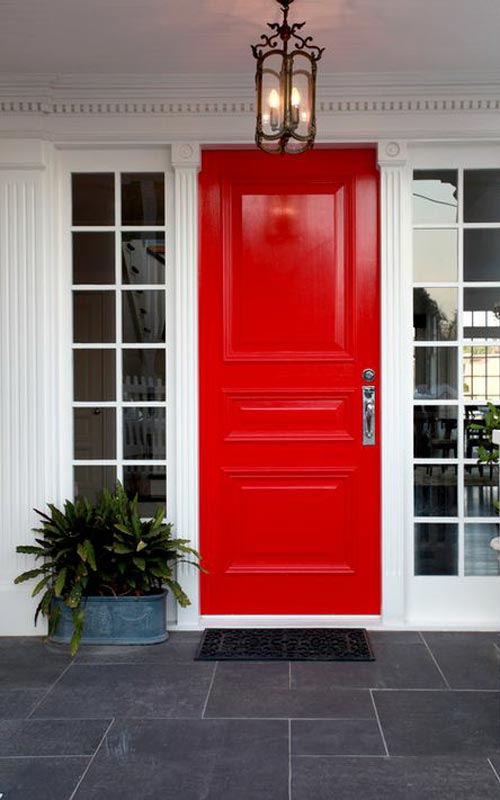 A beautiful house is everyone's dream. For those of you who like to steal people's attention, this fiery red door leaf design can make a minimalist home more charming and bright.
Combine it with the white minimalist house wall paint color so that the door leaf becomes a point of interest for anyone who comes, and this color combination will invite people's eyes to see it. With this combination, your door will look beautiful and bright.
Yellow minimalist wooden door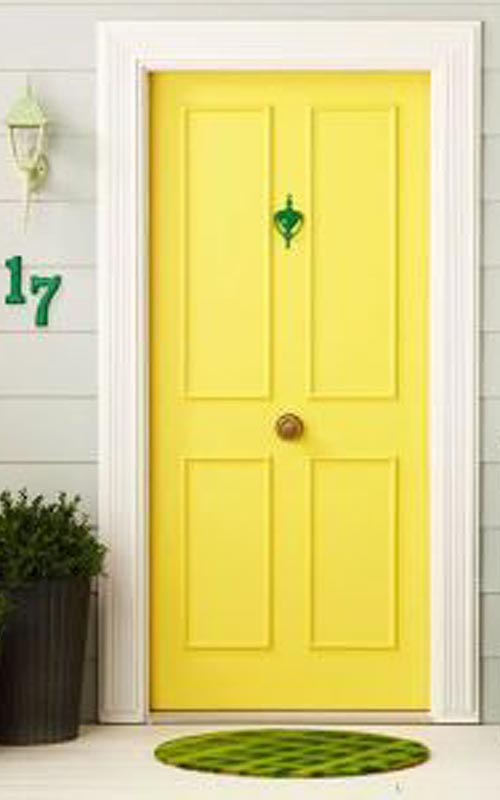 Look! Minimalist Yellow Wooden Door looks beautiful and charming. The yellow color applied to a minimalist wooden door can be something cool and your favorite color and don't hesitate to apply this bright color to your door. Then, the condition is that you can pair this yellow wooden door with neutral wall paint to make it pleasing to the eye. Well, please design this color on the door of your house.
Green door and exposed brick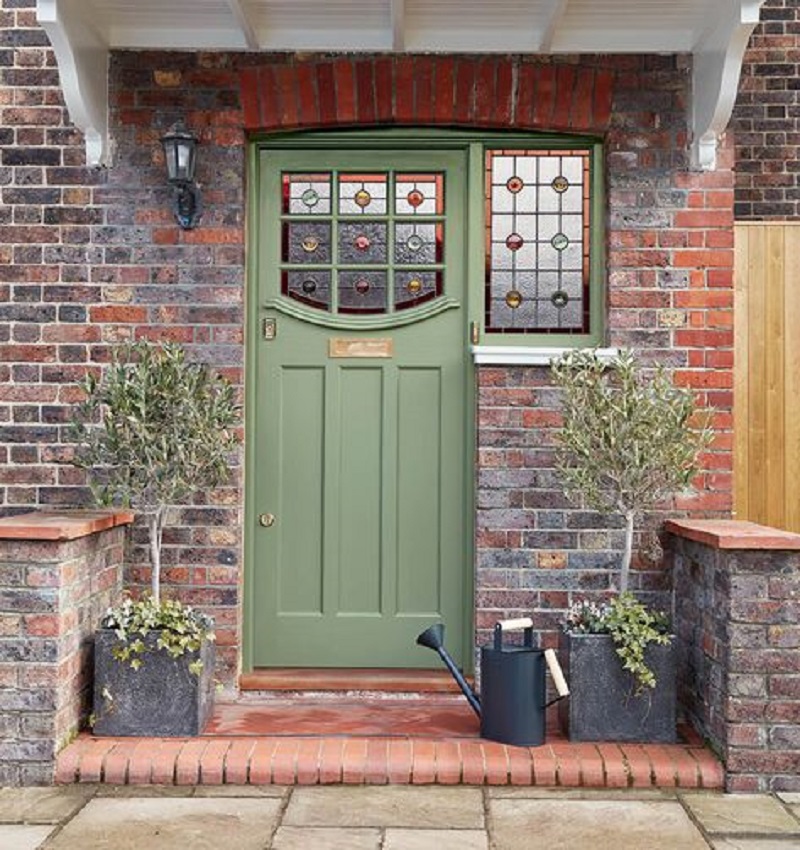 This Green and Exposed Brick Door stands out with its vintage design. For that, if you plan to bring a vintage feel to a minimalist home facade design, try this green door design with stained glass. That way, your door will look beautiful and unique. Moreover, this door is combined with a beautiful exposed brick wall, the exterior appearance of the house becomes more attractive and pleasant.
Modern teak door model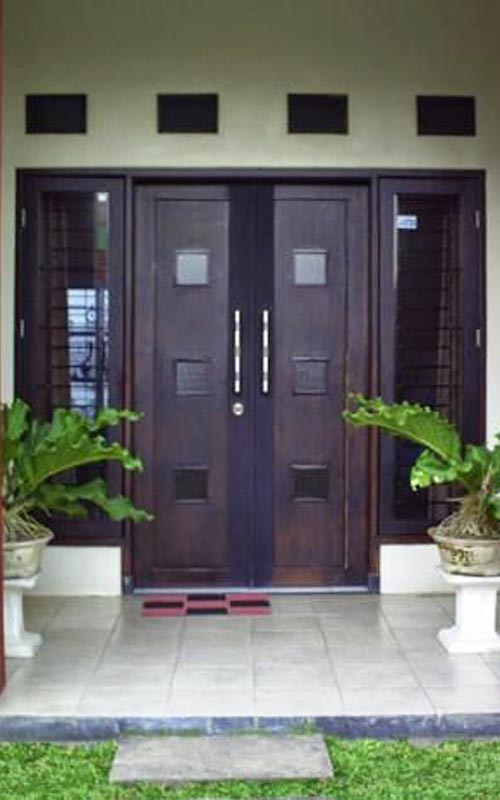 This modern teak door model looks dashing installed in a minimalist type house. This modern minimalist teak door can be an option if you like teak wood. Then, the choice of models and colors is simple and safe if you don't like flashy colors.
Teak wood material will provide an elegant minimalist door model, especially if the house has a traditional or vintage feel. Then the profile design in the middle of the door makes this door look beautiful and majestic.
Simple Tosca color door design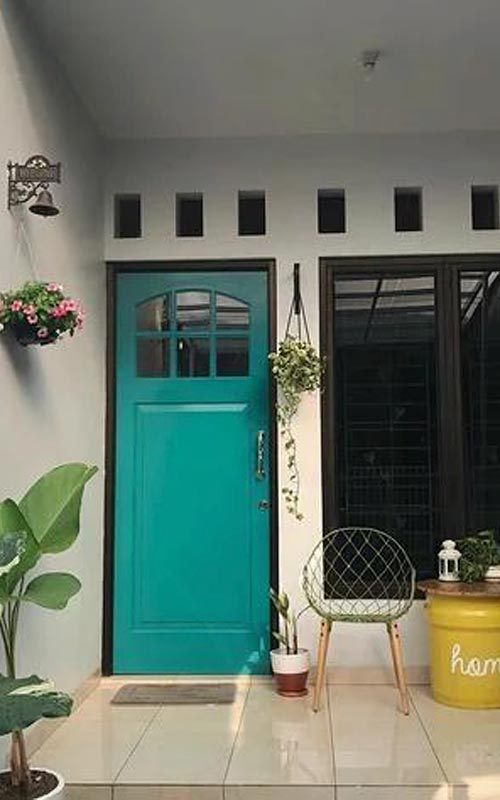 Simple Door Design The Tosca color looks harmonious for a minimalist home type. This simple door leaf, painted in Tosca green, can be an attractive element for your minimalist home with a choice of beautiful color accents.
To make beautiful your house door, you can combine the decorations with hanging ornamental plants and front porch chairs so that the house door looks harmonious with this minimalist home model.
Minimalist door with the big handle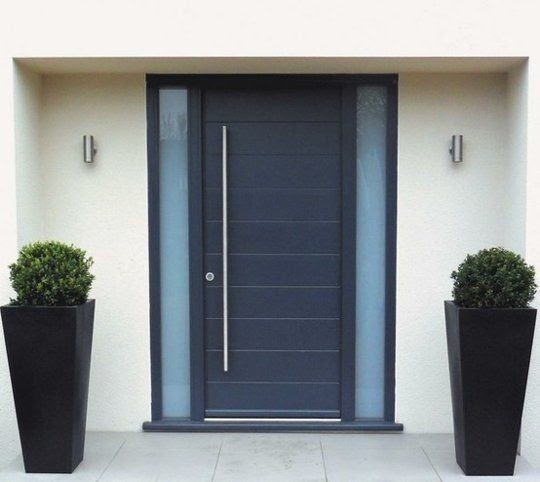 This minimalist door with the big handle looks elegant. If you are bored with the monotonous doorknob, you can be creative by using a large doorknob like this picture.
The combination of a minimalist interior door design with simple colors and long metal handles will create a fashionable impression on the main door of your home. Of course, if the actual function has not changed much. But you can see the attractive visuals of the combination of minimalist and modern interior design on the door. Therefore, many take advantage of this wide door as a house protector. With this design, the exterior of the house looks fashionable.
Glass folding door
If you often watch reviews of Hollywood celebrity homes, many use wide-sized glass doors as home protectors. Doors like this consist of a large wooden frame and transparent glass.
This minimalist door has advantages such as giving a good impression of the house. Then, the advantage is you can immediately see the conditions outside the house. In addition, a door like this can make it easier for you to see your home garden and control when the children are playing. Then, the downside, this door only can be installed on a large house.
Vertical pivot door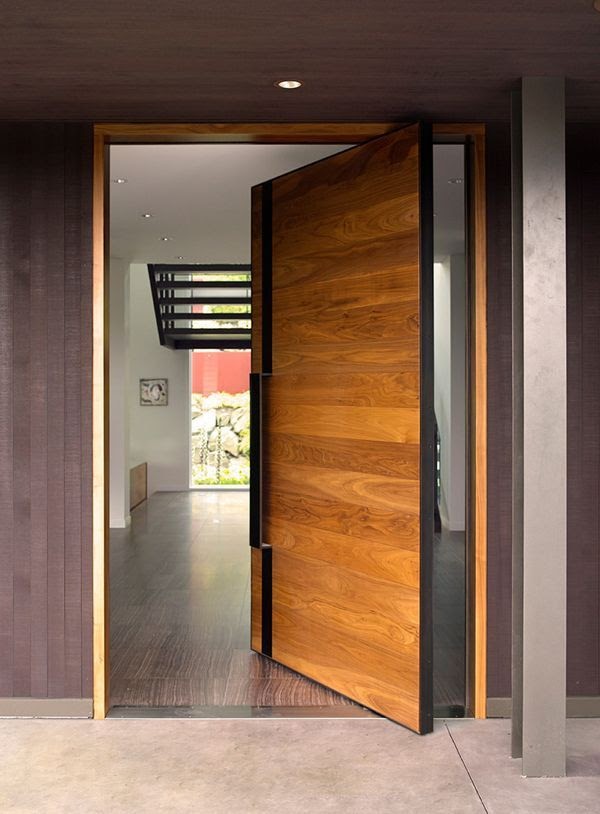 The vertical pivot door does not have a hinge on the side. Then, this door does not have a slider. This door looks more attractive and antique. The Vertical Pivot Door has inspired by folding doors and sliding doors.
If you've ever seen a movable partition that separates one room from another, that's the one that inspired the birth of this door. Keep in mind that the doors this dominated by wood. Therefore, to make it, you must select strong wood and not easily eaten by termites.
Minimalist glass door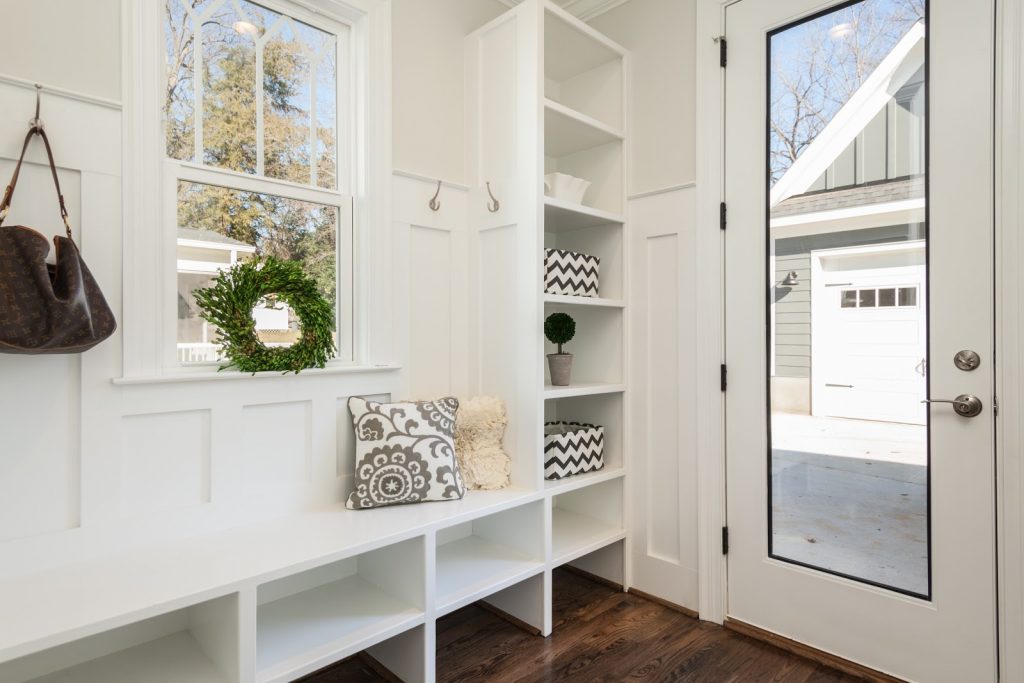 Minimalist glass doors look transparent from inside the house. Have you ever seen a door like this? Usually, you can found in accessories stores or flower shops. The doors like this are quite beautiful when viewed and combined with a minimalist interior style. With this design, the room looks fashionable. But if you want to use this minimalist door model for your front door, you have to close it with curtains so that the interior of your house is not visible from the outside.
Two-door with glass design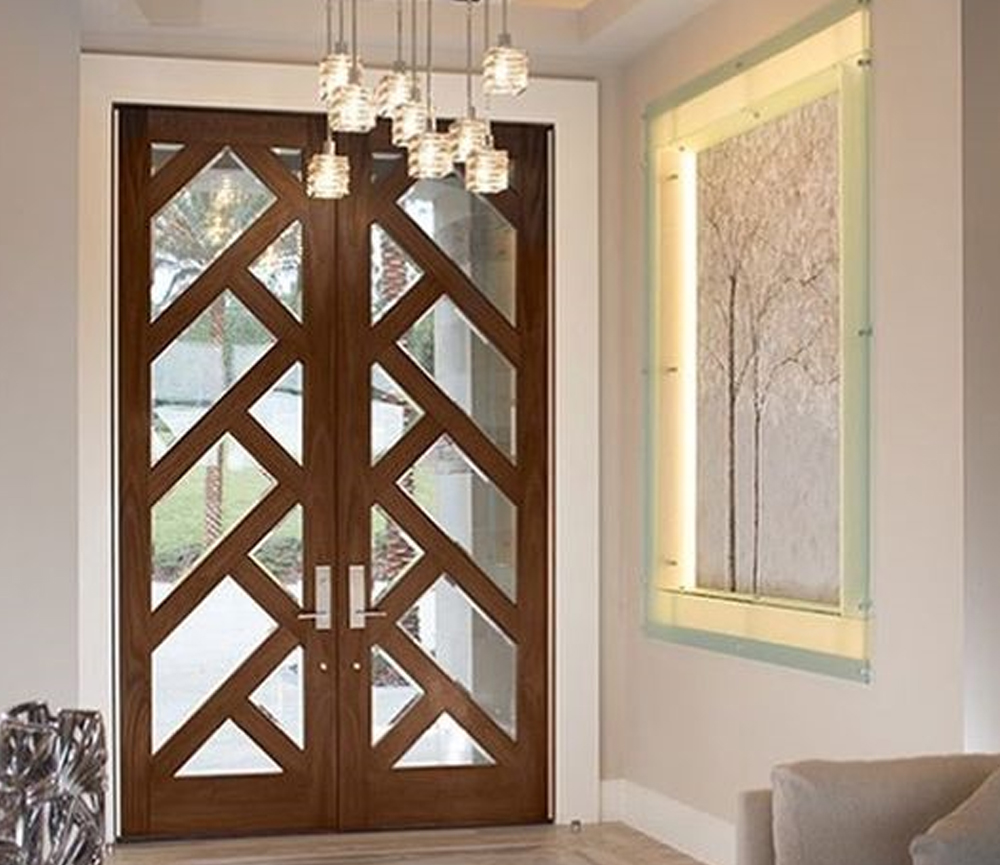 Double doors are ideal to use as the front door of the house. Of course, this door looks more formal and gives a luxurious impression to the room inside. With a combination of glass and wood, this door looks very attractive.
Doors with a combination of wood and glass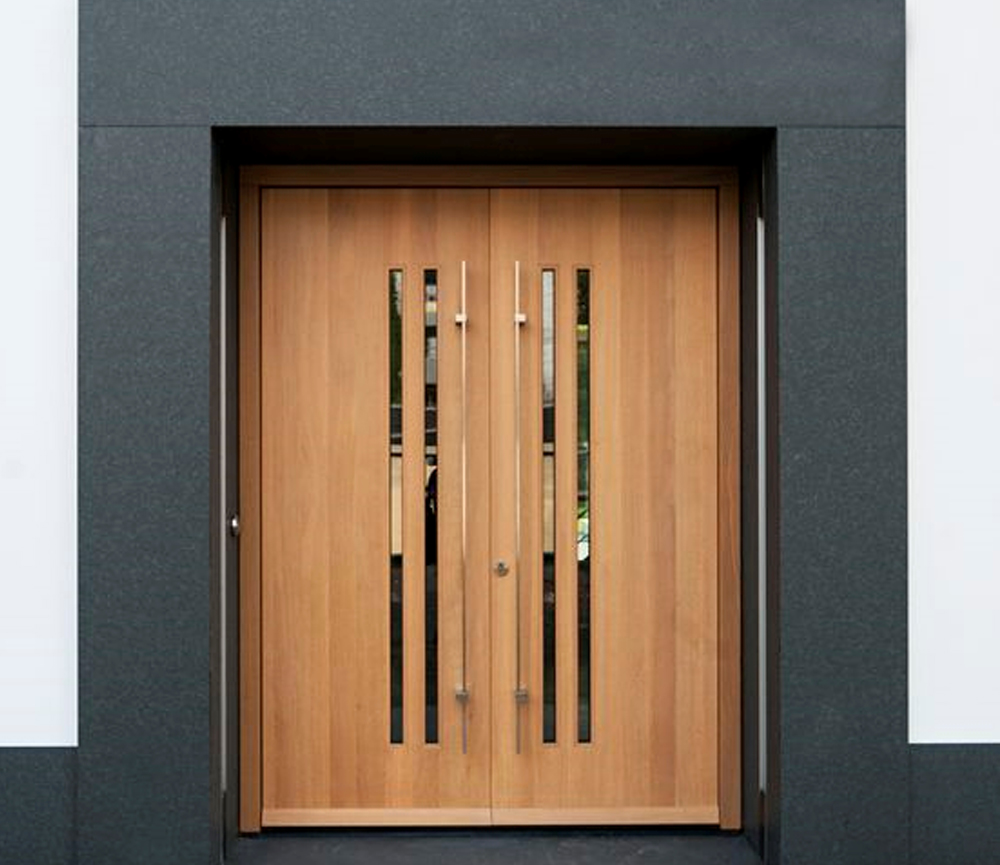 Wooden doors are perfect for any home style, including a minimalist home. Then glass design will make it easier for sunlight to enter the house. Overall, this door design will make your home more unique and characterful. Then the sunlight that enters from the glass will make your home interior healthy.
Doors in bright colors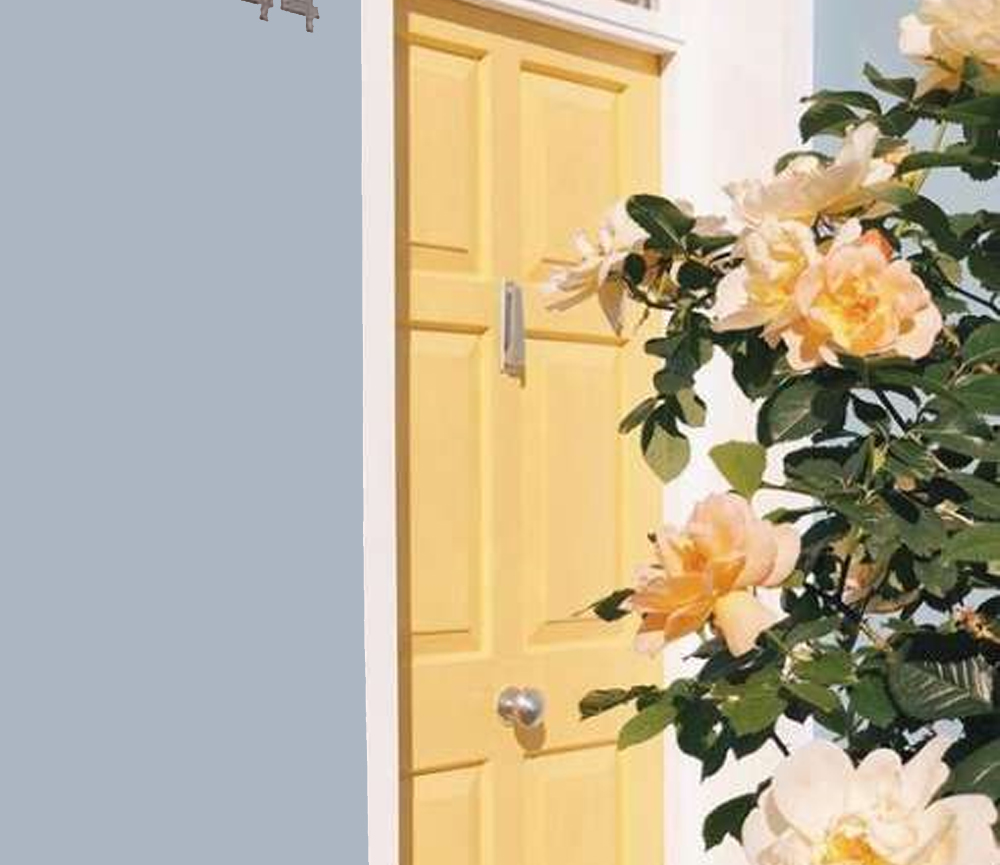 If you are bored with wood and HPL materials, you can also use a door with a paint finish. You can choose bright-colored paint to make your home more beautiful and bright. However, if you want to use this design, please choose white for your wall or other pastel colors. That way, the color of the door will look harmonious with the color of your walls.
5. Conclusion
Wow, there are also many inspirations for minimalist house door designs with dazzling colors to replace the paint on your door. But if you want to make beautiful the exterior of your home. We present the best house door. Then, to make a beautiful house. You must select a beautiful house door to look more attractive, beautiful, luxurious, and An Aesthetic.
In this article, we explained the best pictures of beautiful designs. Then to design it, of course, you will have to spend the money. But if you don't have enough money, you can make it according to the picture we explained and then give it to the house door maker. Hopefully, you can make like this picture. Hopefully, this article can help you make your home look beautiful. Happy decorating!