A house without lights is like a sky without a moon. Lights are indispensable for lighting your home. Of course, you want to get beautiful lamp shapes to be installed in your living room and make your room looks attractive then you feel at home.
In the picture below, we explained how to choose several types of beautiful lamps to install in your living room. Of course, you hope that your home decor looks bright and beautiful. Moreover, if you want to decorate the appearance of your room looks attractive with beautiful lights, you have to choose a lamp that fits the area of ​​your room.
Before decorating, on this occasion, we will give you some ideas on how to choose lamps and install beautiful lights so that your home looks elegant and charming.
Hanging light and standing lamps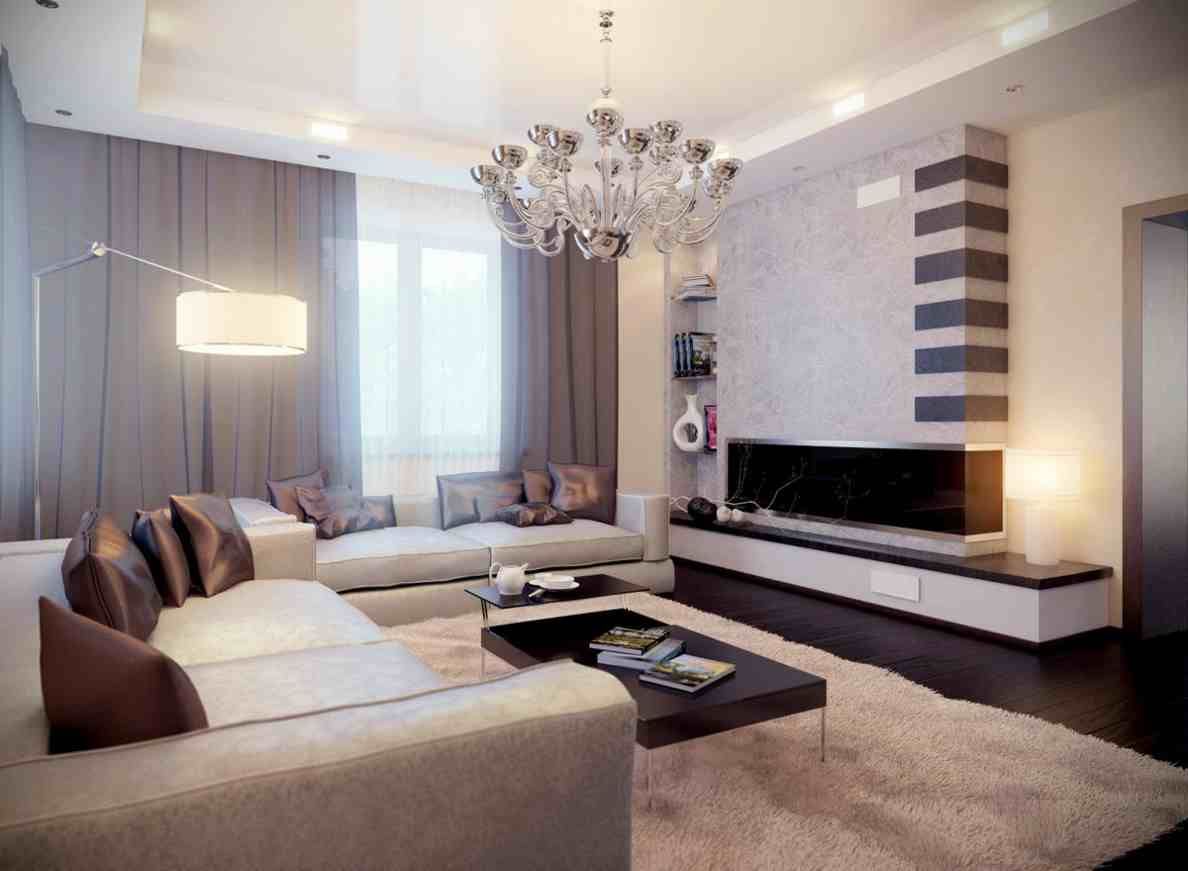 In this living room, you can see the design of a bowl-shaped chandelier mounted above the living room. This chandelier looks very suitable with the living room decor.The white color of the combination lamp bowl with gold adds to the design of this decorative lamp to become alive in the living room and looks elegant and attractive.
In this living room, there is around standing lamp beside the sofa. This lamp adds lighting to the sofa area so that it makes this room looks beautiful and alive.
A standing lamp has designed with a round shape is very suitable to be placed next to the sofa because it does not take up space and can be used for a reading light when you sit here.
If you want to choose a  decorative lamp for your room,  most importantly, you have to buy a decorative light that suits your home, and you must understand where the placement is.
Small hanging light and top roof light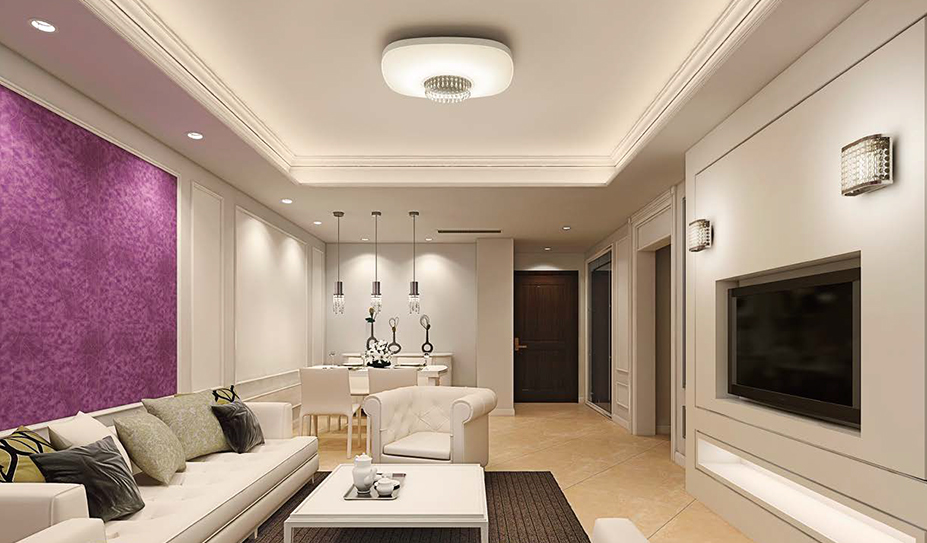 Having a beautiful lamp in their home is everyone's dream.  To make your room beautiful, of course, the role of lights as lighting and decoration of the room is very urgent because lighting can make the furniture in the room to be alive and look beautiful.
In this picture,  you can see decorative lights mounted on the top of the room, this lamp is made simple, but the top of the room is beautifully decorated and make the lamp looks beautiful.
If you make a decoration with this simple lamp, then you have to make a combination with spotlights on the top of the room so that room looks bright and beautiful
In this room, you can see a small chandelier in the corner of the room.This small chandelier adds lighting to your room, so the presence of this small chandelier adds to the beautiful decor of your rooms. Moreover, if you want to make your room look beautiful, don't install too many lights because your room will be hot and a waste of electricity. Please try to make it!
Classic antique chandelier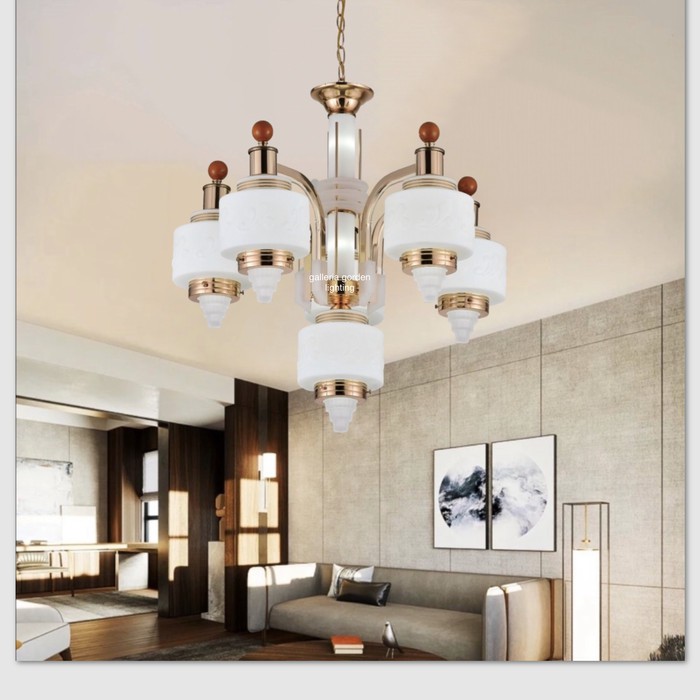 You can see the classic antique chandelier in this picture. This lamp has designed a long time ago and many used in the old house.
This lamp was many installed in the empires also, making the presence of these lights adds the room to be majestic and bright.
The large white lamp design, combined with gold, makes the lamp suitable for large rooms. The large lamp frame makes this lamp look majestic and beautiful. These lamps are heavy and must be hung firmly above the ceiling to prevent them from falling.
If you want to install this lamp in your room, you have to adjust it with  ​​your room area and the furniture in your room.
This classic chandelier matches the furniture made of teak wood.Please try to make it!
The spotlights and standing decorative lights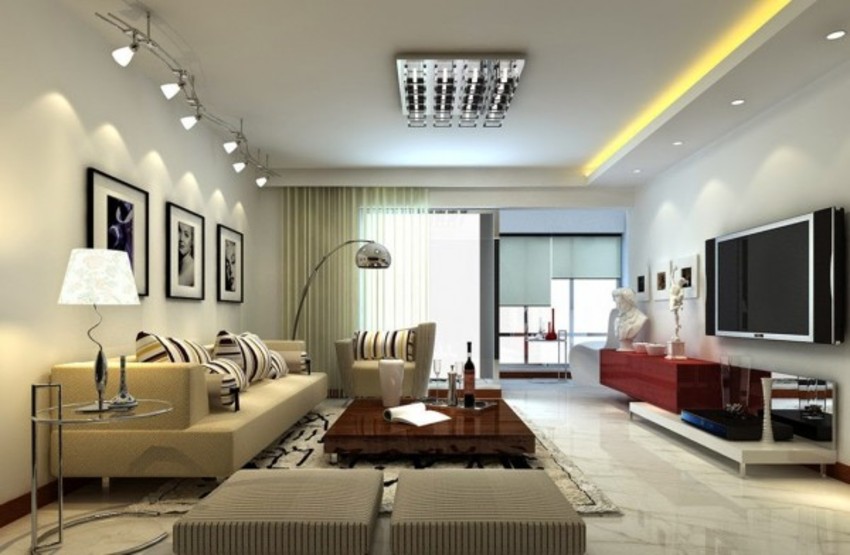 Many people will be happy if their room looks beautiful. Therefore, we will be explained how to design your room with spot light and standing decorative light
In this room, you can see there are several spotlights installed to illuminate the wall painting. You can see,  this lamp looks like a lamp in a painting exhibition building.
Spotlights are installed for wall paintings to look attractive and dazzling. In this room,  you can see spotlights mounted on the roof of the rooms, so these lights provide lighting for objects on the table so that the light emitted by the lamp makes the objects on the table look bright and attractive.
You can see two decorative standing lights next to the long sofa. The purpose of placing these decorative lights is to make the room more beautiful with decorative lights.Of course, this standing light also can be used as a reading light when you sit on the sofa.
If you have a room like this picture, you can decorate your room according to the idea above,  and we hope you will be happy in this room, and you will be interested in starting to make the front of your house like this.
The roof lamps decoration and wall lamps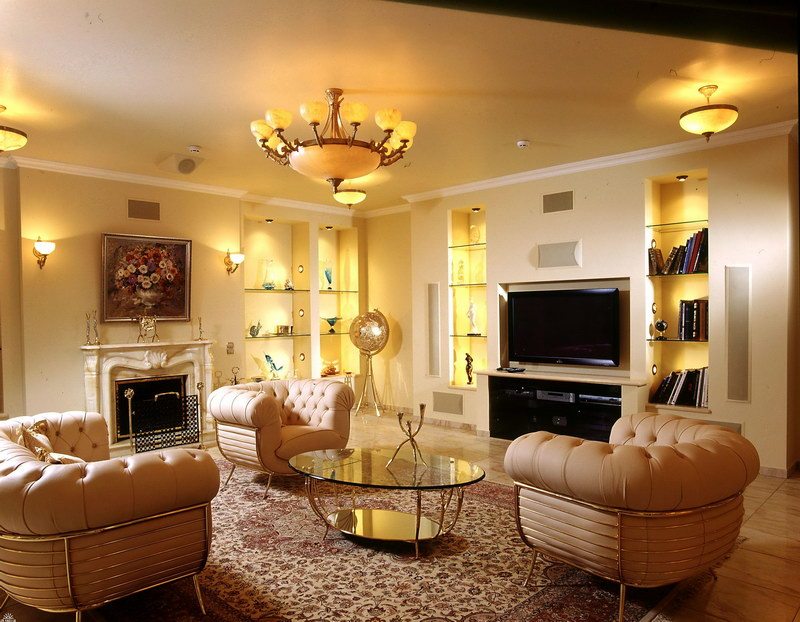 As we know, there are many models of lamps for room decoration. But not all the lamp models are suitable to install in the room as you want.
As you can see the idea in this picture, you find many lights installed in one room. Therefore, we will explain one by one the function of the lamp in this picture.
The several lamps are like an umbrella mounted on the roof, and combination with a small bowl-shaped, golden lamp frame is very suitable for a minimalist living room.The lighting of this lamp is not giving a bright white color, but the light of this lamp is designed yellowish.
To make lighting for a wall painting, you can make a small decorative lamp installed on the wall.The goal is to make the wall paintings, accessories displayed on the walls look beautiful and fun so that your living room looks more attractive.
The most important thing for decorating some of the lights in this room, you don't give the lights white light.The white color in these decorative lights will make the room too bright and make the room not beautiful, wasting your electricity.Please try to make it!
Simple six-lit chandelier and room spotlight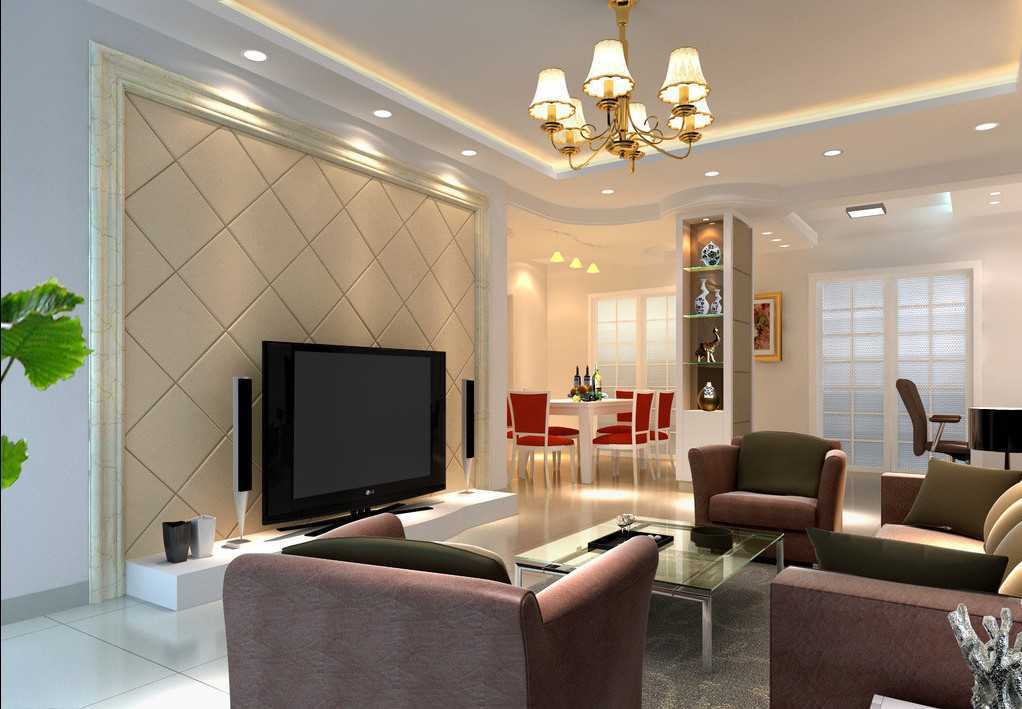 A beautiful house is everyone's dream. The attractive lighting for the room depends on the lamp model. For this reason, we will explain how to make your room look beautiful with decorating lamp.
In this room,  you can see a simple chandelier with six lights,  and the curved frame of this lamp gives it a golden color, making this lamp look elegant on the roof, and the lighting of this lamp illuminates the sofa set area.
As you can see, the spotlights on the edge of the roof add lighting to the room so make the appearance of your room looks bright and pleasant.
If you want to create like this room, you must install the lamp according to this picture. You need to pay attention not to install more than one hanging light in one room.
If you install two Simple six-lit chandeliers, your room will be too bright and make the room uncomfortable.
 Stainless chandelier with six lights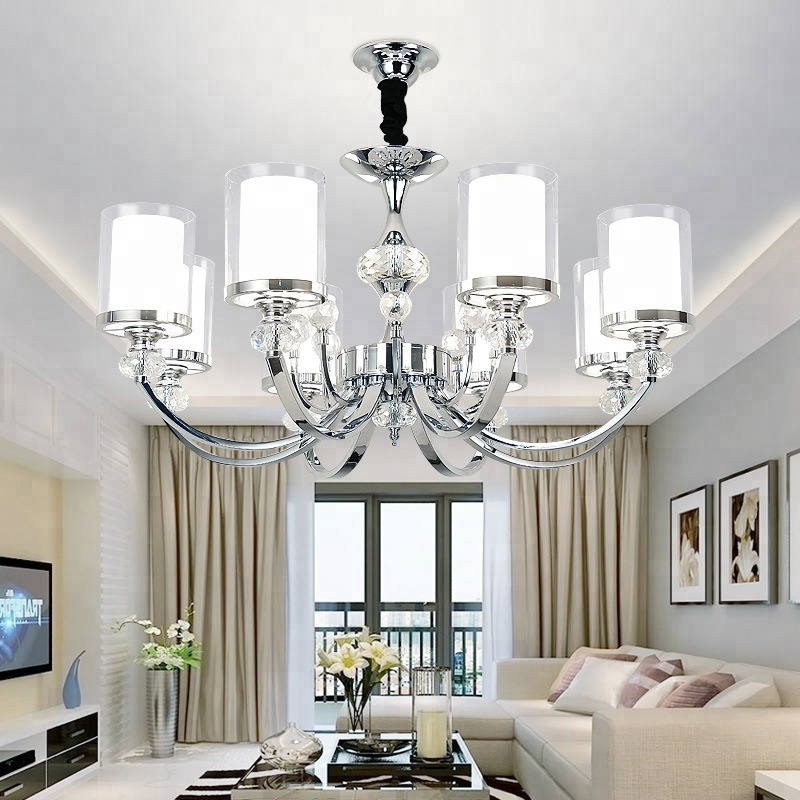 In this room, you can see a large lamp like a chandelier with six lighting tubes. This lamp is suitable for large rooms.The big lamp frame is designed in a curve shape and made of stainless material makes this lamp look unique and beautiful. 
The combination of stainless and the lamp tube made of glass, makes this lamp look magnificent in this room.The advantages of this big lamp are, the lamp can illuminate a big living room.
Moreover, if you install this lamp in your room, you don't need to use other decorative lights for your lighting. Of course, the large lamp decoration is not suitable to install in a small living room, it will make the living room look not good, and you will be uncomfortable staying in this room.
 Hanging  Luxury crystal lamps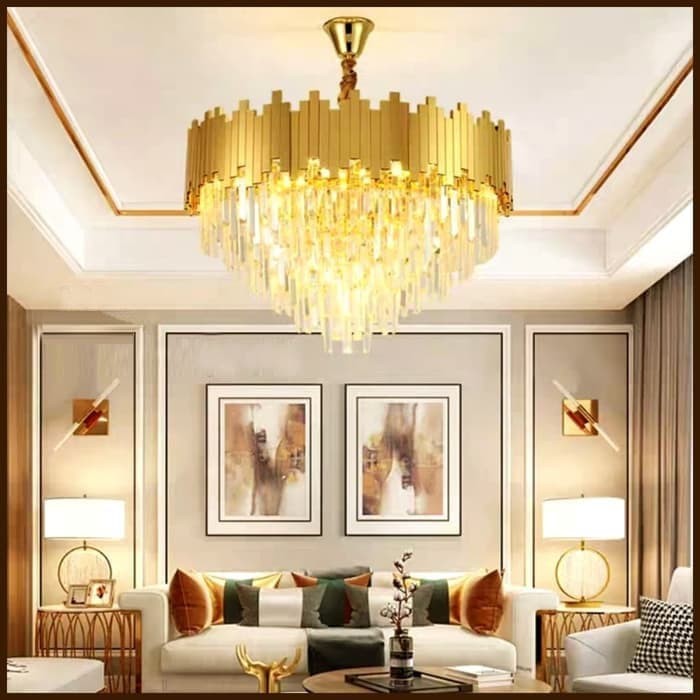 Choosing a hanging crystal lamp as a decoration of your room, of course, must be adjusted with your room. Because the crystal lamps have sparkling lighting, and the sparkle of the light will look beautiful.
In this picture, you can see a beautiful gold crystal lamp is design in a circle with accessories reaching downwards so making the appearance of this crystal lamp look elegant and luxurious. 
The sitting lamp has installed on the left and right of the sofa adds to the appearance of the crystal lamp more attractive.The light of the decorative lamp sits combined with the light of the crystal lamp so that the lighting in the room looks very impressive.
If you want to choose crystal chandeliers and other lights for your living room, you should adjust the size of your living room then it makes your room looks elegant and beautiful  
Conclusion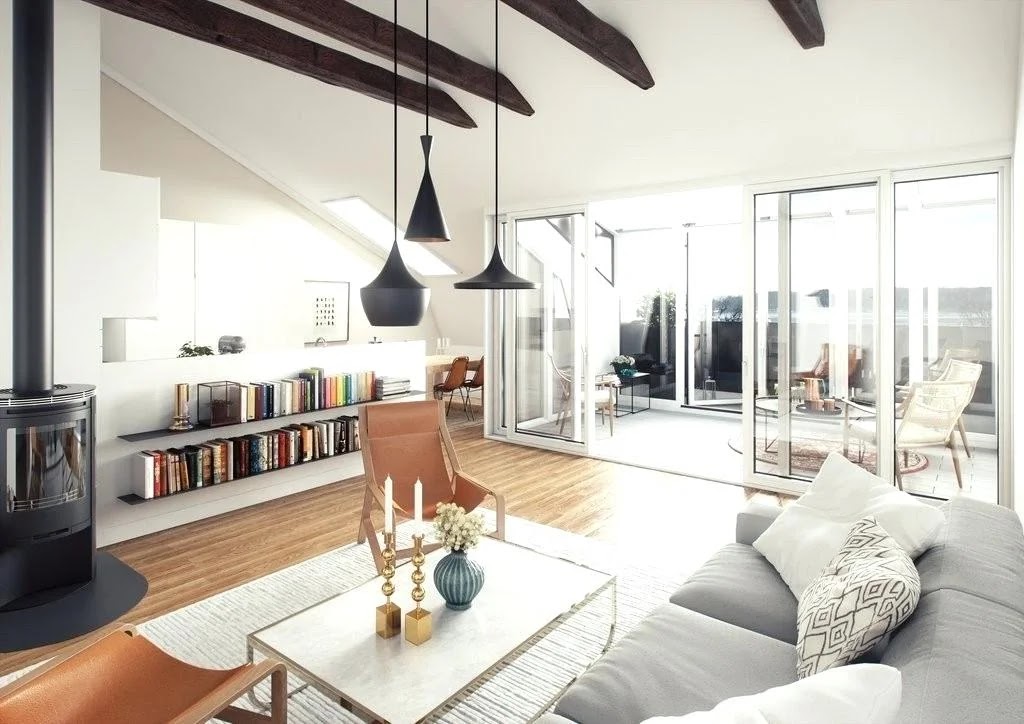 To make the interior of your home look elegant, beautiful, attractive, you should choose the lamp for your home decoration is determining.Therefore, do not choose the wrong lamp for your room. You have to adjust to the room area you have.
In this article, the appearance of the lamp decoration can make beautiful your living room. Because decorating lights can make your living room look elegant and comfortable. Therefore, we have given some ideas to make your home look beautiful.
Hopefully, this idea can be used for you, how decorative lights make your home looks beautiful like the dream house you want. Happy decorating!