Simdreamhomes.com – In this day and age, a house does not have to be big. The most important thing is to be clean, neat, and orderly. We just need to get around and find out how to make a small house can be arranged in such a way as to become a comfortable place to live.
Currently, Covid-19 is hitting and making us have to continue to stay at home. Leave the house only for the things that are important. Therefore, making the house feel comfortable is a must at this time.
So, for those of you who want to have a comfortable house, but your house is too small, do not be discouraged and sad. Because in this article, we have provided Tips Make A Narrow House To Look Broad and Feel Comfortable. So, let's check it out!
Painting The Walls of The House in Light Colors
The wall is the most dominant thing in the appearance of the house. Therefore, to make the house feel comfortable and look attractive, try to choose the right paint.
When choosing paint, try to avoid dark colors. A narrow house will feel cramped and stuffy easier. So, if you use dark colors like black, brown, etc., it will actually make the narrow house feel even narrower.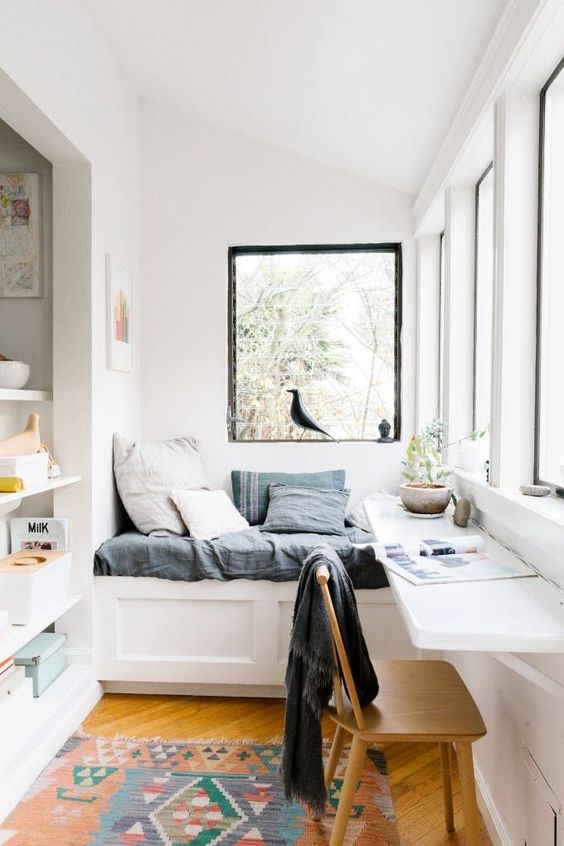 So, to get around the narrow house to make it look wider and feel comfortable is to choose bright colors.
You can also provide a calm atmosphere by choosing neutral colors. Here are the colors that you can choose to make the narrow house feel wider and more comfortable.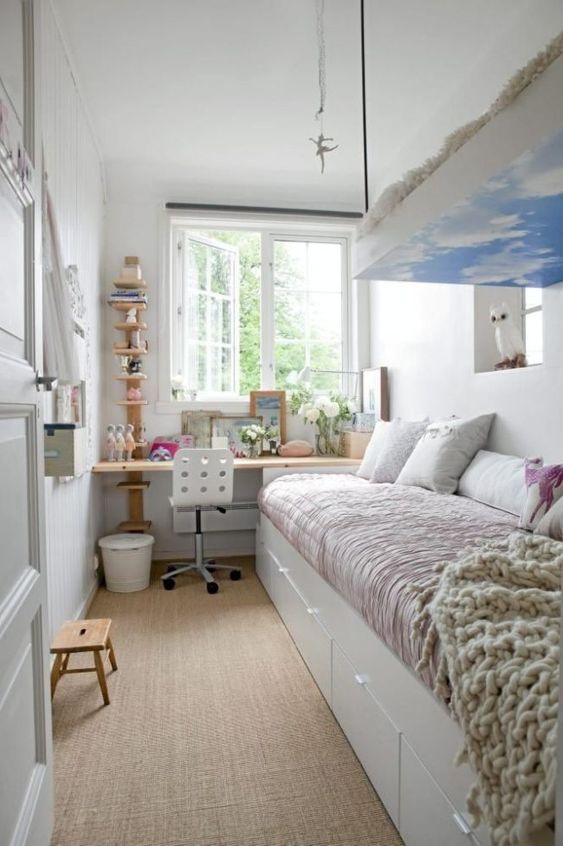 The white color is indeed an alternative color that can be chosen to make a small room look wider. The white color will make the room look bright so the narrow house will not feel stuffy and cramped.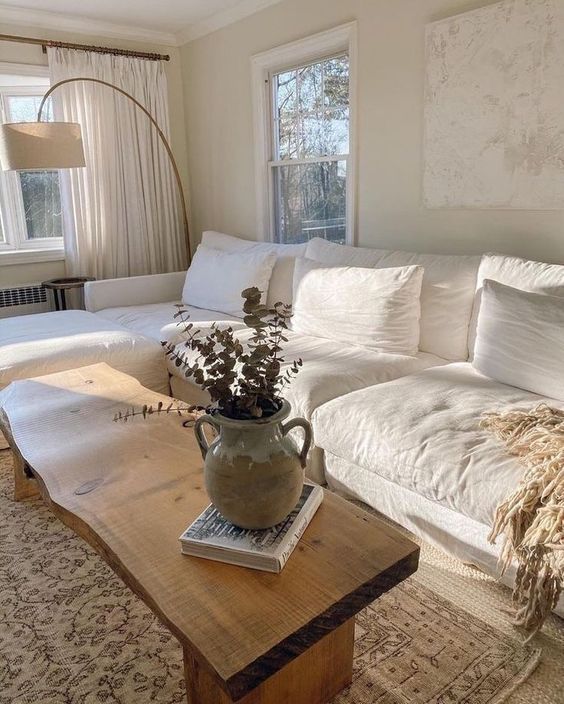 If you prefer a bright appearance but look a little softer, beige can be an option. Applying beige color to the walls of the room can bring a calm ambiance.
Use The Big Mirrors in Every Room at House
Mirrors are very important items to use in a narrow space. If usually mirrors are only used in bedrooms and bathrooms to make it easier for us to do our activities, the current mirror function is not only for that.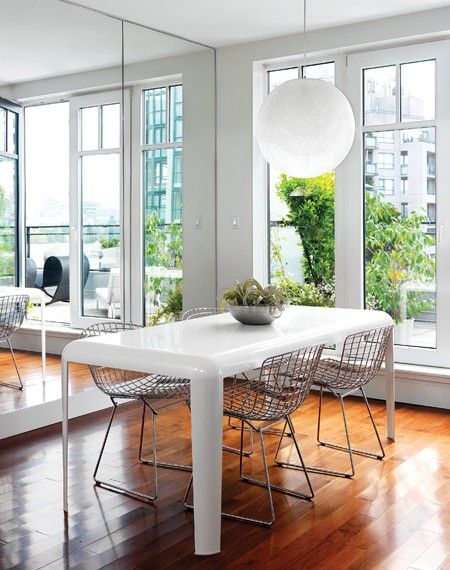 The many forms of mirrors that are presented make the mirror function as an interior decoration. Mirrors can be used as wall decorations to give a simple and also attractive impression to the room.
Not only that, but the mirror is also one of the most important items for use in a small room. Mirrors can bring back the shadow of the room so that the room will feel wider. Besides that, mirrors are also a medium for reflecting light. So, when natural light enters the room and hits the mirror surface, the light will reflect back into the room and make the room look bright.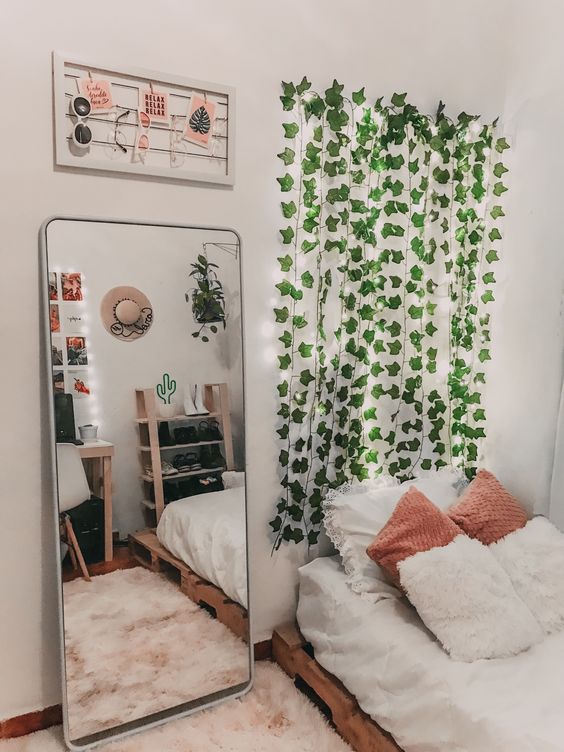 Try to use a large mirror on each wall of the room, such as the living room, dining room, bedroom, even bathroom. To give a more aesthetic appearance to the bedroom or living room, a full-length mirror is a mirror type that can be used as an option. You can place it directly on the floor and lean it against the wall. This of course will be much easier and more practical when you want to move the mirror.
Buy Only Needed Furniture
A common difficulty that people often have is the difficulty of not buying what they want. As a result, when the goods arrive home, the narrow room cannot accommodate the items you buy. Even some people will use these items to fill their narrow space. As a result, a narrow room will feel uncomfortable and look even narrower.
One of the tips for making a narrow room so that it is comfortable and feels more spacious is to reduce the use of items and furniture in the room. So, try to use furniture that is only needed. That way, there will be free space left in the room and the room will feel more spacious and comfortable.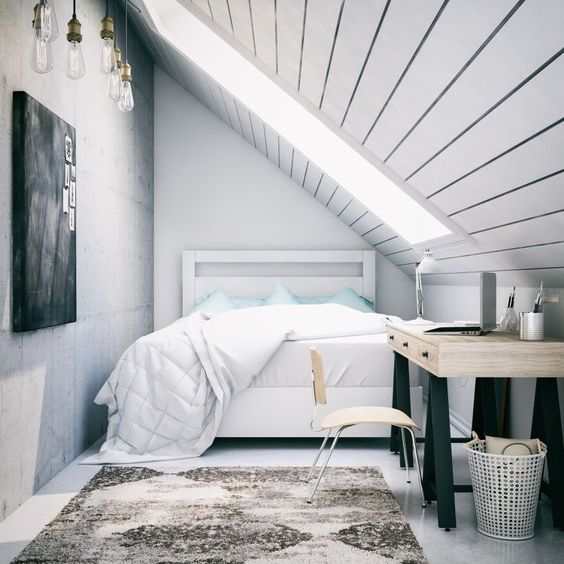 Maybe some people are confused about the main items that are only needed to fill a room. Here are the main items that have to use for the room.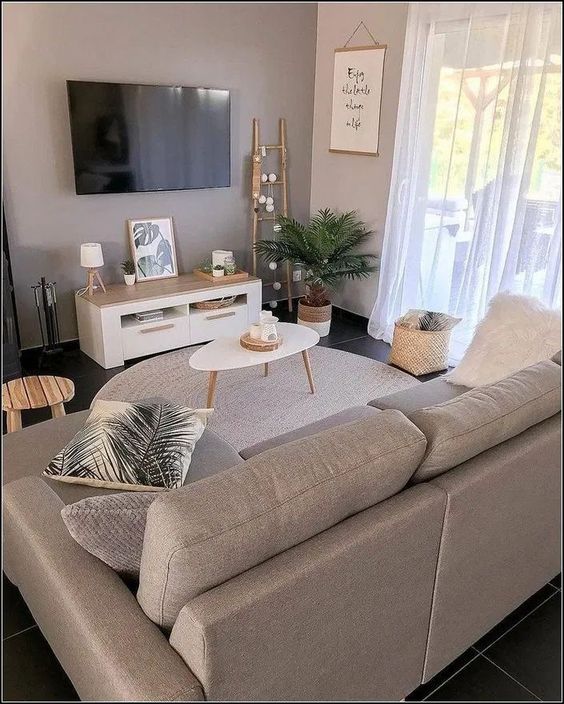 The items that must be in the living room are a sofa and a table. The sofa used is also not a sofa carelessly. Choose a low-profile sofa with a soft color, like gray. A sofa with short legs or no legs will look much better in a small room. And the table for the room, hide from using a table with large size. There are many types of tables that you can use, and coffee tables are the best option that you can use to fill your living room.
Usually, there will be a table cabinet or TV table in the living room. If the living room is too narrow, you do not need to use a table cabinet or TV table. For TV, you can hang it on the wall so it does not take up space in the living room.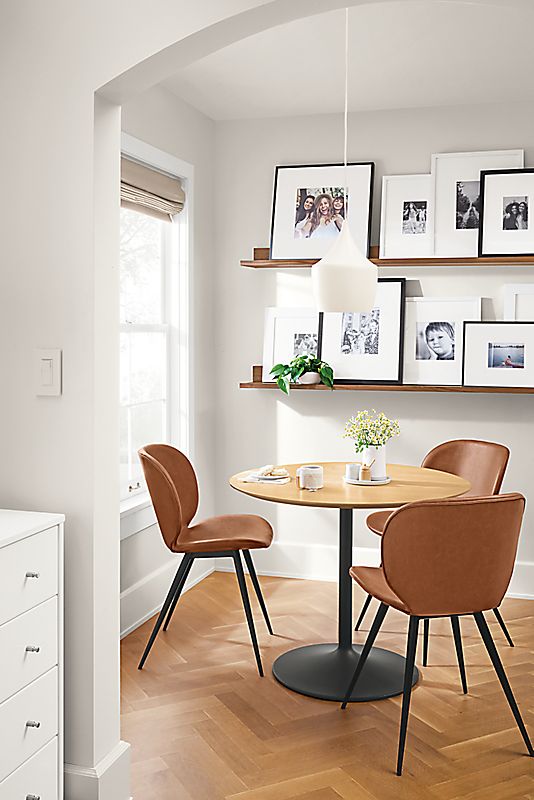 Of course, you already know the main items that must be in the dining room, those are the dining table and chairs. Just like a living room, you also need to use a dining table and chairs according to the size of the room. Do not use too large a dining table and chairs. And also, choose a dining table and chairs according to the shape of the room. For a rectangular room, you can use a rectangular dining table. However, if your room tends to be round or blends with other rooms, using a circular dining table will be much better.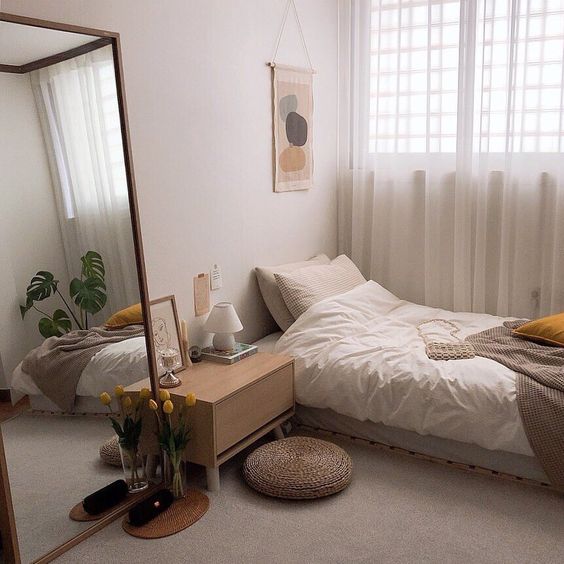 The bed is the main item in the bedroom. Given the narrow room, you can avoid using bed frames. The mattress on the floor is the best option for a narrow bedroom.
And for the table, use a small table so that it will be easier and more practical to move around.
For wardrobe, an open wardrobe can be used as an option. An open wardrobe will not make a narrow bedroom narrower. It is just that you need to clean it regularly so that the clothes in the open wardrobe are not full of dust.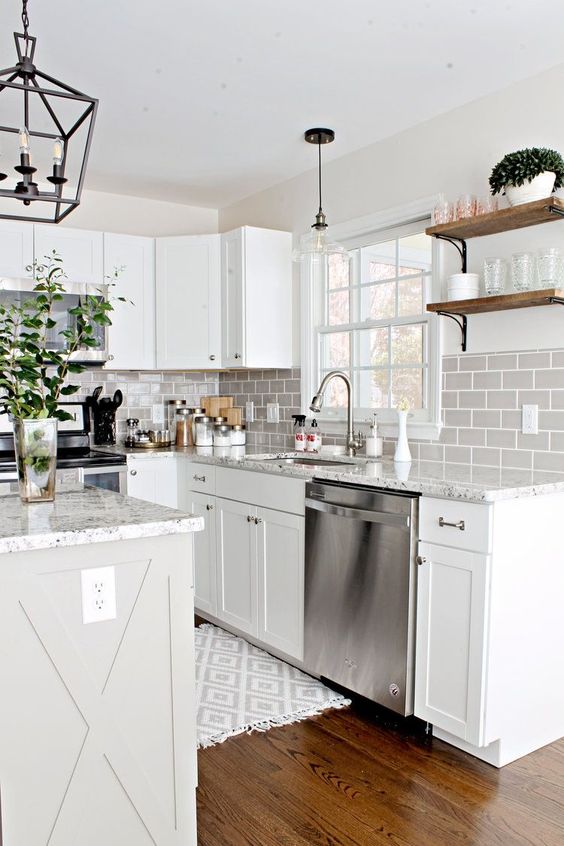 For the kitchen, it is better to use a kitchen cabinet. All items and kitchen utensils can be stored in the cabinet neatly. By cramming so many kitchen utensils in the cabinet, the kitchen will look clean and tidy. In this way, the small kitchen will feel more comfortable and wider.
Use The Floating Wall Shelf
Maybe it seems so trivial. However, the floating wall shelf is very important to use in a narrow room. Especially if there are lots of items in your room. Using lots of shelves and tables will certainly take up space in the room. Therefore, the only way to make a small room feel comfortable is to use a wall.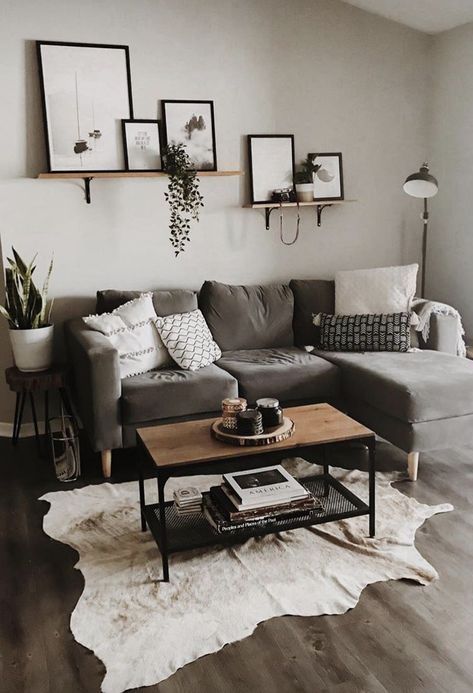 By hanging a floating wall shelf on the wall, you can put your belongings here. Even some items that look attractive will also provide a beautiful value to the room.
A floating wall shelf can also be used as an option to put some paintings and pictures. If you hang some paintings and pictures on the walls, of course, there will be many holes in the walls and make the walls damaged. So, if you want the walls of your room to look smooth and there are no holes caused by nails, you can put some pictures and paintings on the floating wall shelf.
Add Rug or Carpet on The Floor
The use of carpet or carpet is considered a trivial matter so that it is not uncommon for people not to use this item in their narrow room. In fact, the use of a carpet or rug is very important for a narrow room.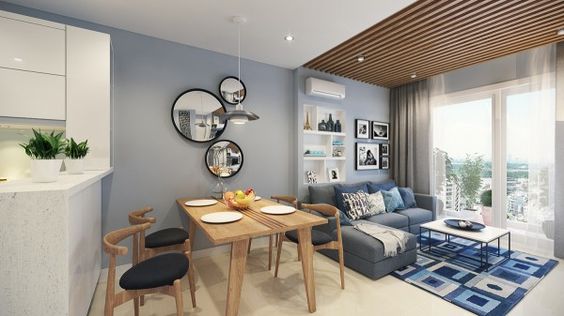 Rug or carpet is indeed a decoration to make a room look more attractive. However, the function of using a carpet or carpet is not only that. A rug or carpet can give the illusion of a spacious room so that a narrow room will not feel cramped.
For the color itself, choose a rug or carpet in a light color. And also avoid using rugs or carpets with busy motifs. using a plain rug or carpet (without a motive) will look better.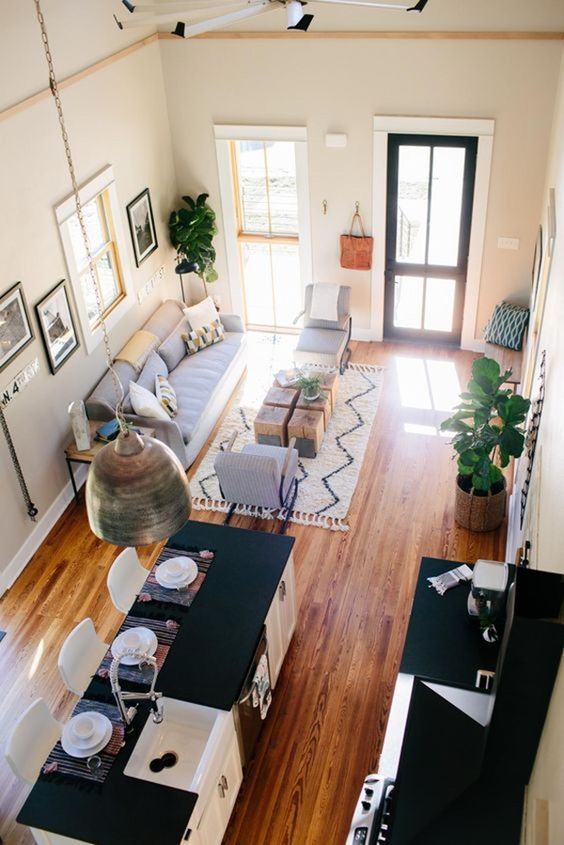 And if you apply an open-plan room, using carpet or rug is very important. Because there is no wall as a room divider, you can use a rug or carpet as a barrier between one room and another. That way, the room will not look too plain and stiff.
Conclusion
As a place to live, the house must be made as comfortable and as good as possible. Making a comfortable home does not have to have a large house. A narrow house can also be transformed into an attractive and comfortable place to live in. In making a narrow house feel comfortable, we certainly have to know the tips in arranging and decorating the house. So, in this article, we have provided Tips to Make A Narrow House To Look Broad and Feel Comfortable. So, happy trying!