1. What is a playground
A playground is a place for children to play. Then, many children's playgrounds are made in entertainment places such as shopping centers, city parks, and children's toy centers. Bring your child's and enjoy this game. Of course, you have to pay for your baby to be happy. But your children are always addicted to playing in this place. Therefore, in this article, we want to share ideas to create a playground at your home. Of course, to make it, you need a location where you can put the game, then you need a lot of money. For that, we want to provide some pictures of playgrounds ranging from simple to complete and beautiful playgrounds in your home.
To make it, of course, you also have to look at the child's fun and the gender of your child. Games for boys are not the same as for girls.
Children aged under five years are not the same as elementary school-aged children. We hope you can choose one of the pictures of this playground in your home and make your child happy.
2. Choosing the best location
If you have a big house, of course, you don't have to worry about placing the game in your home location. But for those of you who have limited land, don't worry, you too can make it also. You need to pay attention before determining the location of the playground at home, you should bring your child to ask for his opinion. By bringing them to the setting location, they will be more excited to play.
In this article, we want to direct the location behind the house so that children are not disturbed by the public when they play. Then, you also have to keep your child safe while playing. As you know, if they are disturbed, then the children are usually no longer excited to play. Therefore, the land or garden behind the house is more appropriate for their playground. Well, hopefully, you can make it.
3. Choosing the equipped and toy
Your home will look beautiful and pleasant if equipped with furniture. So is the children's playground. They will be excited to play if their playground is equipped with games they like. Then, the location of the playground must design naturally.
In addition, the children's playground will look monotonous if not decorated with trees, grass, and sand. All of this is for the safety of the children. The trees will make them invisible during the day. So is green grass and sand give them a sense of security when they fall. For this reason, we want to present some pictures of the children's play area that are interesting and safe. We hope that this children's game can support their development to become cheerful and independent children and so they will grow up to be happy and healthy children.
4. The best material
The choice of material to play must be your selection. Do not use sharp-edged materials in the children's playground because it will endanger children. For that, you choose a material that can protect them while playing, such as a carpet for their playground, then a slide made of fiberglass and other games they like so as not to harm them. Then, you don't need to decorate the arena where they play using natural stone or games made of iron. Use materials that do not harm them.
If you want to make a roof where they play, so they don't get hot during the day, you should choose a dark fiberglass material. In this way, the sunlight still illuminates their playground but does not overheat them.
5. Some examples of pictures of children's playgrounds
In this article, we want to provide some pictures of the children's playground. We hope this image can be an inspiration for you. For that, let's discuss it one by one this image is below. Congratulations on choosing the best!
Playground with home design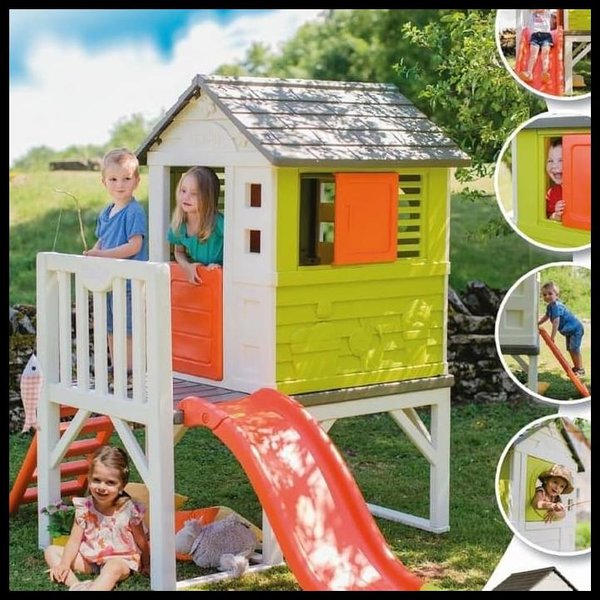 It seems that the house will not be complete if not decorated with a playground. A beautiful playground garden can be entertaining and can make your children a stress reliever. To create a beautiful in front of your house, of course, you have to decorate with home games.
Then, you can see in this picture, the playground behind the house has decor with home games, slides, and stairs, so the playground looks natural and beautiful. In this place, you can put a children's chair and table, slides boards, and then you can keep an eye on them. In this way, your playground behind the house looks beautiful and pleasant.
The playground with slides and small house games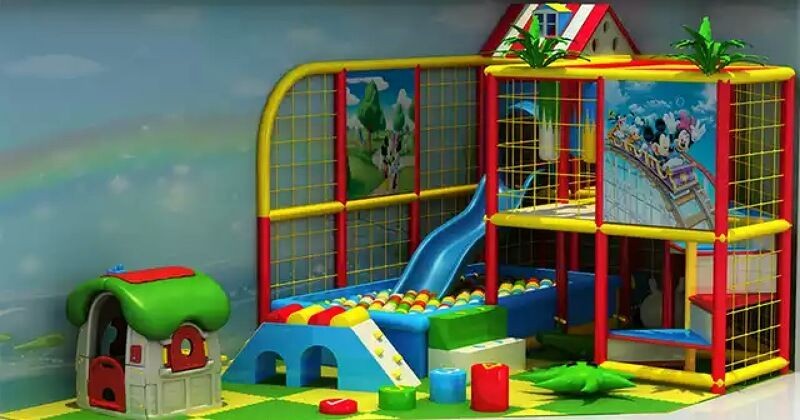 Having a residence with a backyard is the dream of almost everyone. However, limited house land is often an obstacle for homeowners to present a beautiful playground garden. If you have limited land, it is not impossible to create a beautiful playground behind the house. For this reason, it is necessary to plan the best design if you want to present a beautiful home.
To make the playground look beautiful, use a variety of attractive games designs with well laid out. Place the sand in this place to protect when children play. Then, this way to create a beautiful children's playground area. With the ball toy, slides, small home games your child will be happier to play and be protected.
The playground with hanging and wooden house games
If you have limited land behind the house, don't worry, you can get inspiration to maximize the limited land and make a children's playground. In this picture, you can see the game of hanging and the wooden house provided behind this house. With this game, you can bring them to play. Providing hanging games and wooden houses can make the appearance of the land behind your homes look attractive and perfect. Of course, you should always clean it.
The playground with jump and slides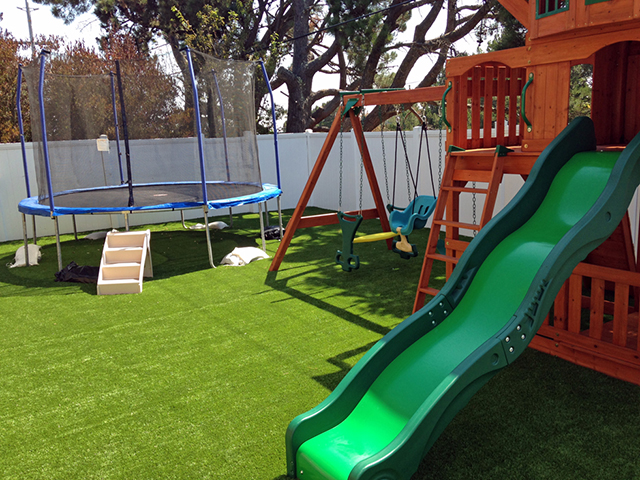 Arranging a beautiful behind garden can be a good idea to make your home more beautiful. Therefore you must consider the layout model and area of your behind garden. Everyone can make a playground at home at will. However, the children's playground must adjust with the area of ​​your house. Playgrounds do not have to be luxurious but can add beauty to your home and make your children happy. For that, you can use the land behind your house as a playground for your children and make decorations that make them happy and comfortable.
In this picture, the back of the house has been designed with children's games and beautiful wooden houses such as jump games, slides, and wooden houses. The presence of grass makes the playground behind the house look more attractive.
Playground with dining table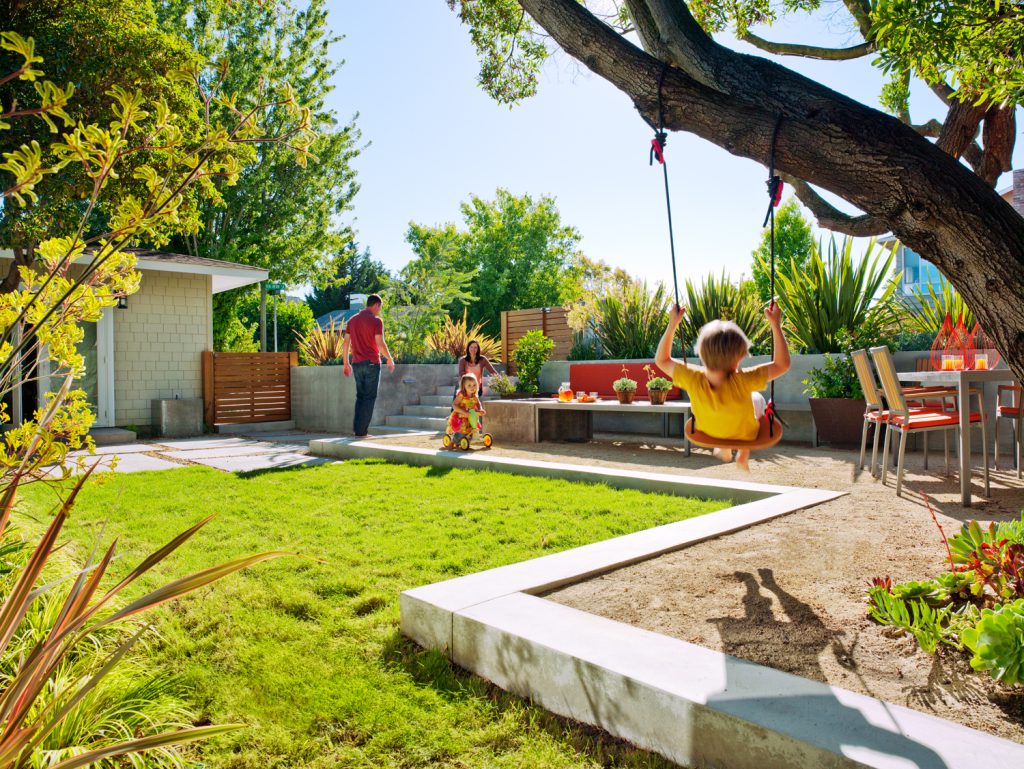 Arranging children's playground behind the house is not always in a closed area. For those of you who have land, of course, you can make a playground for your child, even though it's simple. They don't understand fancy games. For those who are important can make them free of expression and cheerful. In this area, for the best solution, you can make a swing under the tree. The game is very simple but can make them happy.
You can see, the child playing with a small bicycle and playing on a swing where you install it. This atmosphere is sure to make you happy and happy, especially with the existence of a dining table in this place, it certainly adds to the more pleasant atmosphere. Then, the advantage of this garden is you can enjoy playing with your children. Then, making them happy every time with simple games.
Luxurious playground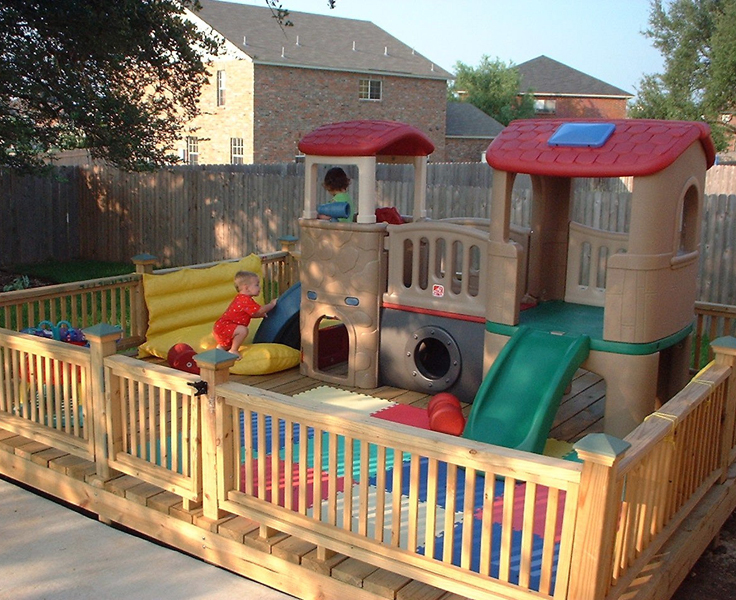 The beautiful playground for your children behind the house looks perfect and fun. Of course, it can be a reference if you plan to build this beautiful and fun playground. This luxurious playground has included several children's games that aim to make them enjoy and happy.
Furthermore, the selection of the games should also pay attention to making sure your children's games are secure. Then, you can also install a wooden fence on every side playground. This way, you can be calm, enjoy and happy.
Beautiful playground with wooden colorful house

Having a big garden behind the house is very fun. Then, in the spacious garden behind the house, of course, you can create a beautiful playground like in this picture. Plants of grass and wooden colorful house games are perfect. In this way, make you and your children enjoy and happy in this place. Then, if you want to make it, you must protect your children's area play for their security. Therefore, making adjusted to the area and model of the house so looks attractive and fun.
Then, you can see a playground in this picture. This playground looks beautiful and amazing. Home games, slide boards, chairs, and animal toys have been designed with attractive. In this way make the children enjoy to play until tired. Then, the advantages of this playground are that it is clean and the games are also luxurious and neatly arranged so that your child is not dirty.
Playground with natural design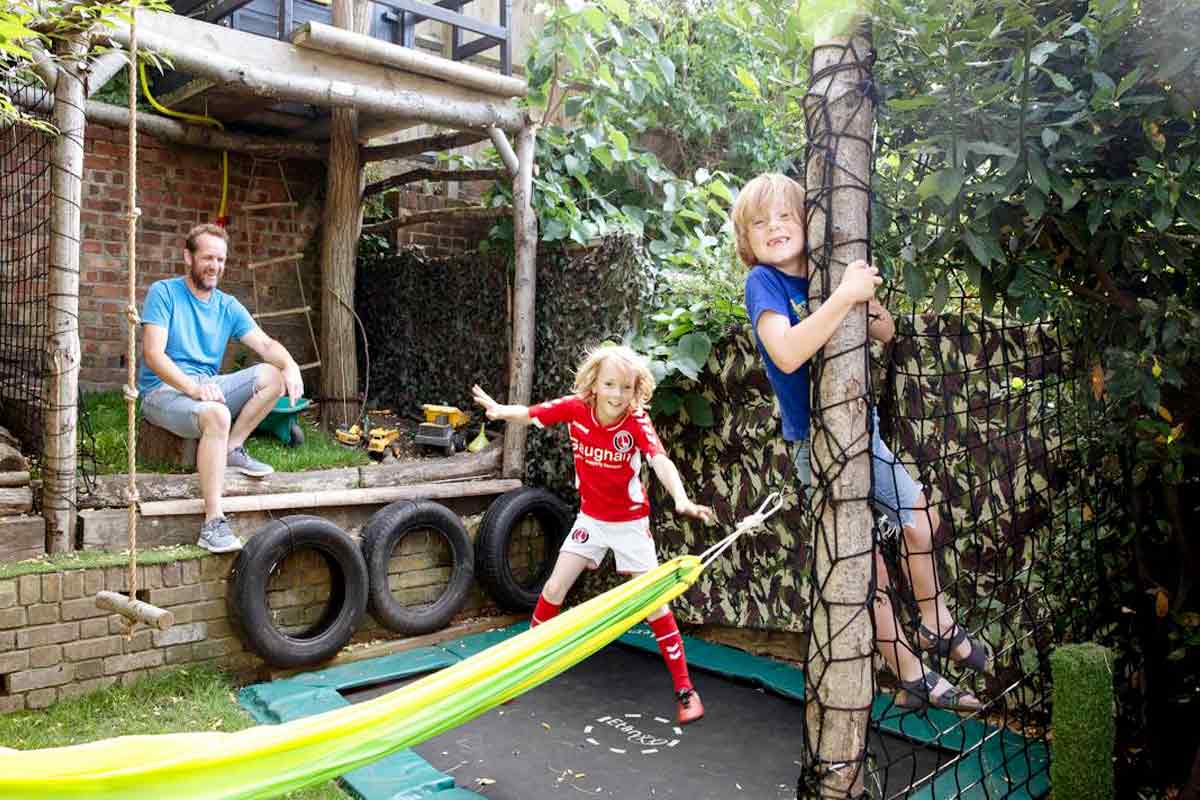 Motivating children to play is very good. But you have to consider their playground equipment. You have to adjust the playground to your child's age. For children 12 years and over, of course, they already understand the dangers of playing.
In this picture, you can see that the playground is designed naturally. So that children are ready to accept challenges and can be independent.
With bamboo house designs and climbing games, they will be happy to do it because they are free to express themselves. But you have to keep an eye on them then they don't get hurt. Hopefully, natural games can make the children ready to face challenges in the open area and not awkward.
Playground with tent games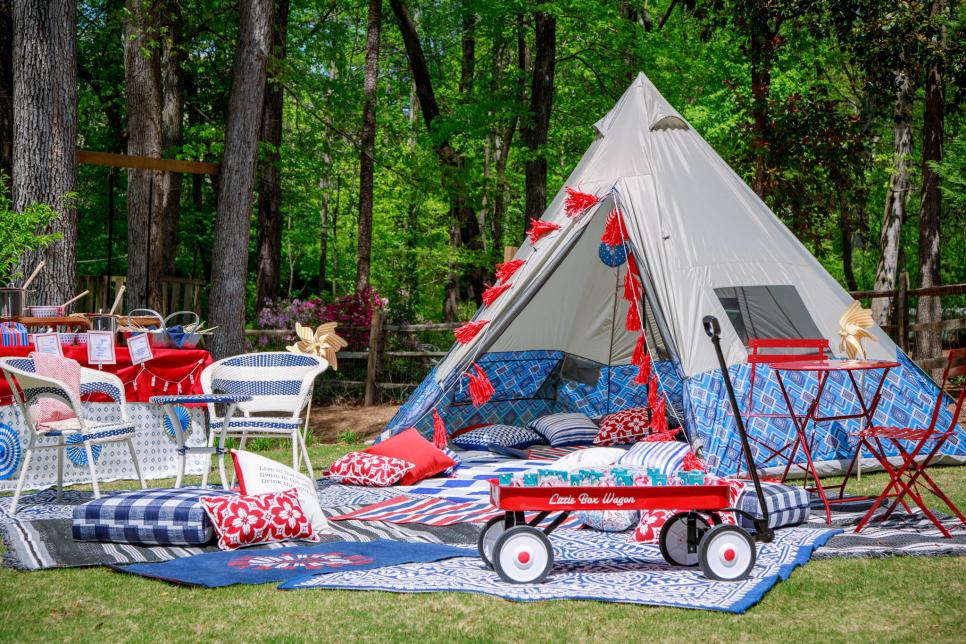 If you have enough land behind the house to be used as a garden, you can make a complete children's playground as a gathering place for your beloved family. As in the picture above, this park has several children's games such as a house model tent, chairs and tables, and other toys that can make children gather. The ways they are arranged are also quite interesting, and in this place, you can watch them play while enjoying the open air.
Next, make sure you take care of their playground. You can see the children's tents made to their liking. In this way, they will be more creative and trigger them to be imaginative. All of this will make you happy, and your backyard garden will look more attractive. Don't forget to protect them when it rains. This way, they will feel at home, So they will not play outside.
Playground to motivate the children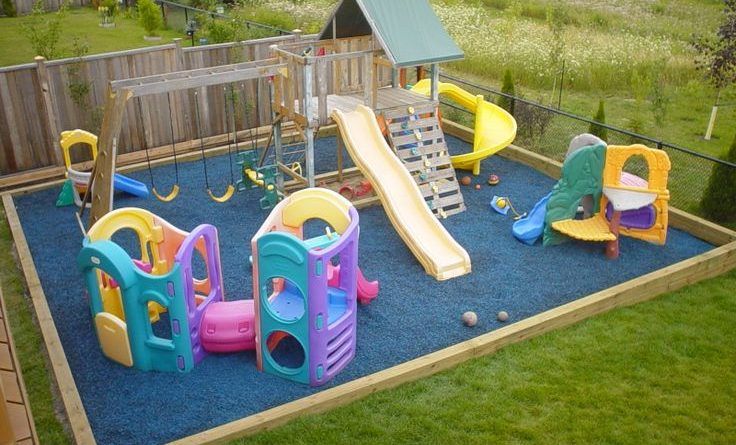 In this picture, you can see some of the children's games. This game invites children to imagine with various colors. This game allows them to start from where they will play. Which one game will they use first? Of course, what appeals most to them is to choose a game whose color looks more appealing to them.
In this way, your children will be motivated to be creative and choose the type of game that interests them. We hope this game can make them happier to imagine and do according to their abilities. I hope you have fun playing with them.
Attractive playground for your children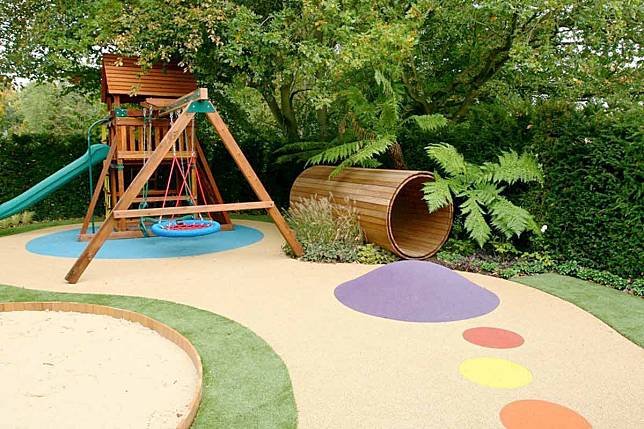 Playing on the swing is the fun of all children. Then, some climb the stairs and play on the slide until they fall on the grass. that's the happiness they crave. In this way, you will certainly enjoy watching them play. But don't forget you still have to pay attention to their safety playing. Keep the grass to protect them when they fall and fall from the swing. It looks like it's fun to play with them.
Then you also have to perfect their game to stay at home. To protect them from the hot sun, make their arena gathered under a shady tree. Besides looking beautiful and comfortable, their playground will also look shady and comfortable
Natural games playground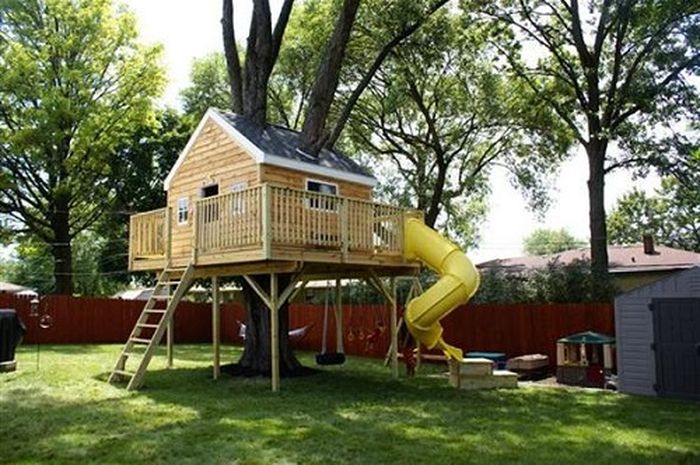 If you have kids. of course, this design is suitable for them. You can turn the back of the house into a fun slide for them. To complete the playground, you can add games such as swings and small tents.
As we know, children tend to be active and like to run around. For that, plant the grass and make they are safe when they fall. Don't forget that games like this one require special supervision. Otherwise, they will accidents. Then, for the stairs, you should install handrails for safety.
5. Conclusion
If you want to make a beautiful playground behind the house. We present the best design. To make the beautiful playground behind the house, you should choose the beautiful design and attractive children's games to look your garden house look more attractive, beautiful, luxurious, and An Aesthetic
In this article, we explained several of the best pictures playgrounds for your houses. Then to have it, of course, you will have to spend the money to make it. But if you don't have enough money, you can make it according to the picture we explained and then give it to the house garden maker. Hopefully, you can make like this picture. Hopefully, this article can help you to make your home look beautiful and amazing. Happy decorating!