Simdreamhomes.com – The bedroom is the main room where comfort and appearance must be considered. One of the reasons is because the bedroom becomes a room to rest and make ourselves refreshed. In fact, some people make the bedroom a multifunctional room, there are some who use this room to work, study, watch drama series, even a room to eat.
So that the bedroom can boost your everyday mood, you can try to bring a cheerful atmosphere into the bedroom. One way is to make the bedroom appear colorful and attractive.
For those of you who want to Have A Colorful and Attractive Bedroom, Here are 10 Retro Bedroom Decor Ideas You Might Be Interested In. So, let's check it out!
Record Wall Art Bedroom
Bringing retro designs into the bedroom is tantamount to bringing a 90s or mid-century impression to your bedroom. Maybe the bedroom look will seem old school. However, believe that retro design can make your bedroom look different.
a bedroom with a different atmosphere will make you comfortable. Especially for those of you who want a different atmosphere in the new year, retro design can be an option that you can apply to your bedroom.
In the mid-century, there is no such thing as Itunes, Spotify, or anything else. To listen to the songs we like, we have to buy vinyl records.
Even though it seems old school, vinyl records are still one of the items that are still loved today. In fact, vinyl records are often used as collectibles.
And for those of you who like vinyl records, you might be able to collect them as well as make this item a bedroom decoration.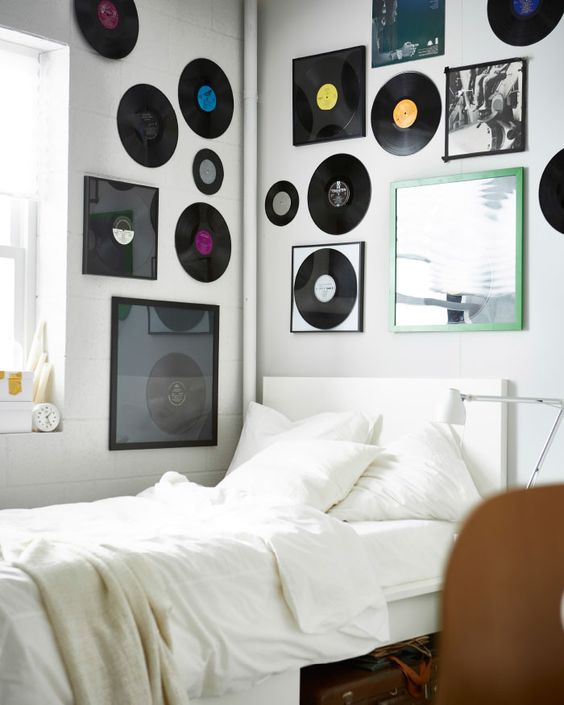 In applying retro design to the bedroom, decorating the bedroom with viny records is an interesting idea. Record wall bedroom art is able to fill the bedroom so that the bedroom does not look empty. Besides that, the bedroom record wall art will give the bedroom a lively look.
A retro design bedroom is not only full of contrasting colors. If we look at the picture above, the retro bedroom is made more contemporary with a more minimalist look. And record art wall decoration makes this bedroom look more attractive.
Band Posters Wall Art
You definitely have a singer, artist, or even a band that you like. So, how about making this an idea to decorate your bedroom?
Collecting several posters from bands, artists, or singers that you like is no stranger. These posters are often posted in bedrooms as a sign of your love for your idol.
By giving a little touch, these posters can look attractive as bedroom wall art.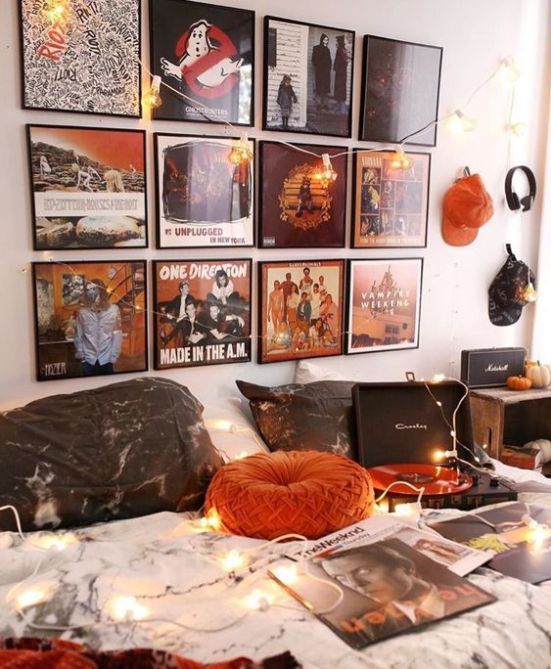 If we look at the picture above, the poster is given a black frame to make it appear more classy and also more attractive. The black frame will make the poster look iconic when hung on a white painted bedroom wall.
To make a retro design bedroom look more colorful, you can use several color schemes, like the black-and-white ones like the example above. Several posters with the same color will look matching.
Yellow Decorations Make It Look Fun
Women usually prefer a bedroom that looks more girly and cute but also looks attractive and mature. Yellow decoration for retro bedroom design can be an interesting idea to apply.
The yellow decoration is perfect for those of you who like a fun atmosphere. Besides that, the yellow decoration also makes the retro bedroom design look brighter and more alive.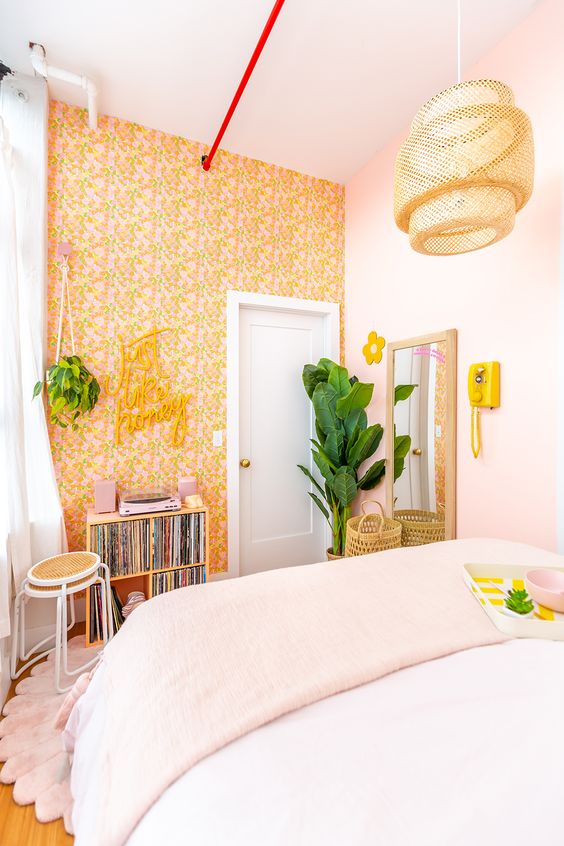 There are several yellow decorations that can make a retro bedroom design look fun and beautiful: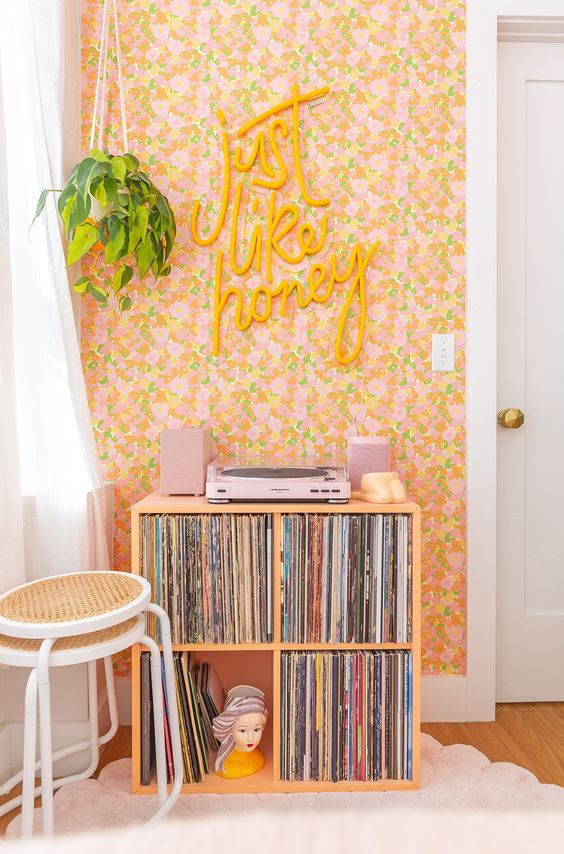 To fill the bedroom to make it appear more festive, you can decorate the bedroom with wallpaper. Try to choose flower yellow wallpaper. So that the retro bedroom does not look quirky, apply flower yellow wallpaper to one side of the bedroom wall.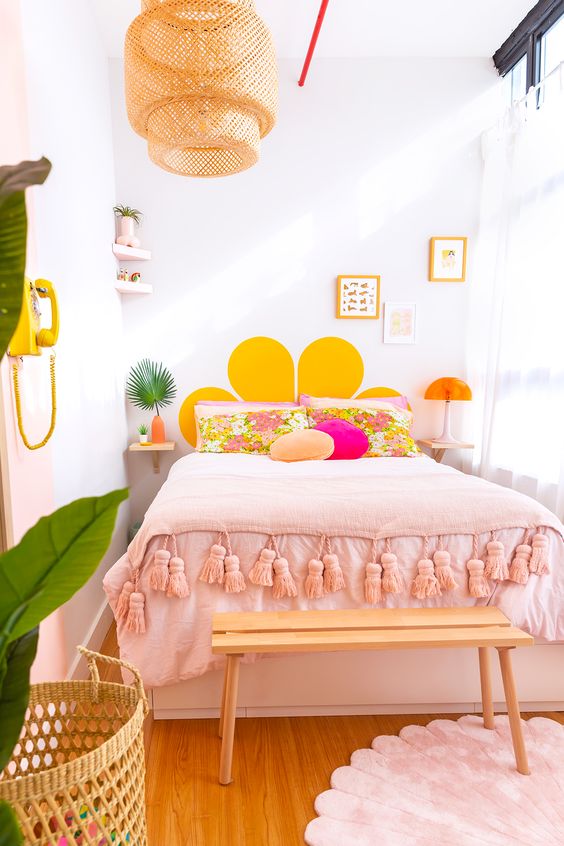 Do not forget to decorate your bed. The bed is the main item in this room so the appearance of the bed will affect the appearance of the bedroom too.
Pink bedding is the right idea for decorating a retro bedroom with yellow decorations. The combination of pink and yellow makes the bedroom look contrasting, but this is one of the characteristics of retro design. So, you do not have to be afraid to use contrasting colors in this design.
Pink Retro Bedroom with Natural Touches
Some people may avoid using pink as the base color of the bedroom. This is because they think that pink looks so quirky for the bedroom. However, when you have decided to apply a retro design to the bedroom, you do not need to worry about using contrasting colors in this room.
The color pink is not as bad as one might think. As we can see in the image below, the pink color makes the retro bedroom look more attractive. With several other color combinations such as Tosca, yellow, and orange, bedroom rhymes look more colorful and fun.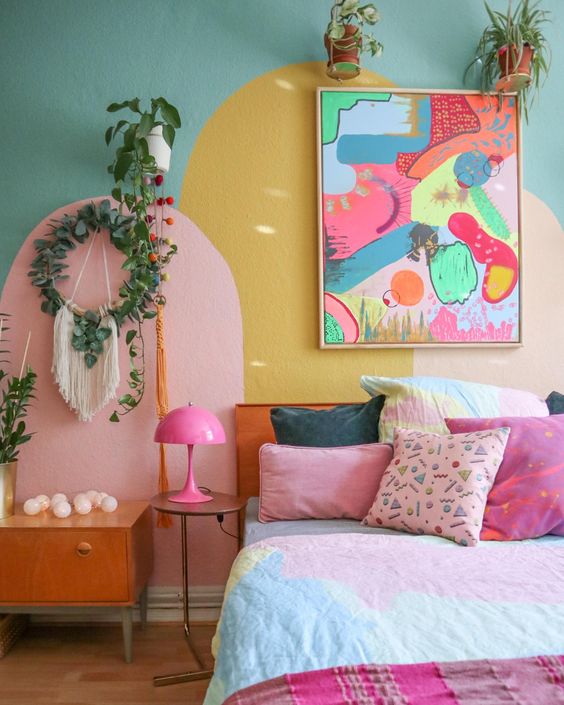 To sweeten the room, try to decorate the bedroom with natural touches. Using a few small plants as a decoration for the bedroom can make these contrasting colors look together and don't make the bedroom look quirky.
If your bedroom is narrow, you can choose a hanging plant or use a floating wall shelf to put some plants. Or you can also hang the plants directly on the wall.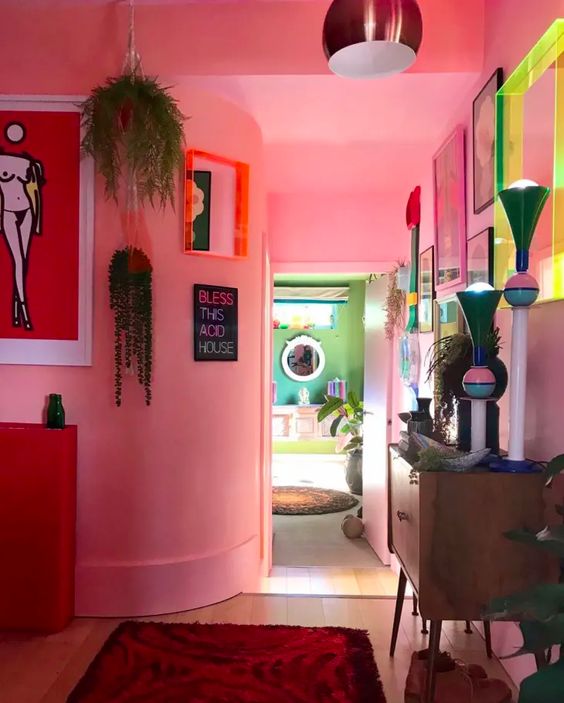 Some plants in the bedroom can bring a more lively atmosphere so that the bedroom will feel comfortable and relaxed.
String Light As Additional Lighting
Light is an important factor that must be present in the room. There are two lights that can be used to illuminate a room: natural lighting and artificial lighting. Both of these lighting is equally important.
For artificial lighting, you can use lights to light up the bedroom.
Currently, there are many types and types of lamps that can be used. Lights are also not only used to illuminate the room but also as a room decoration.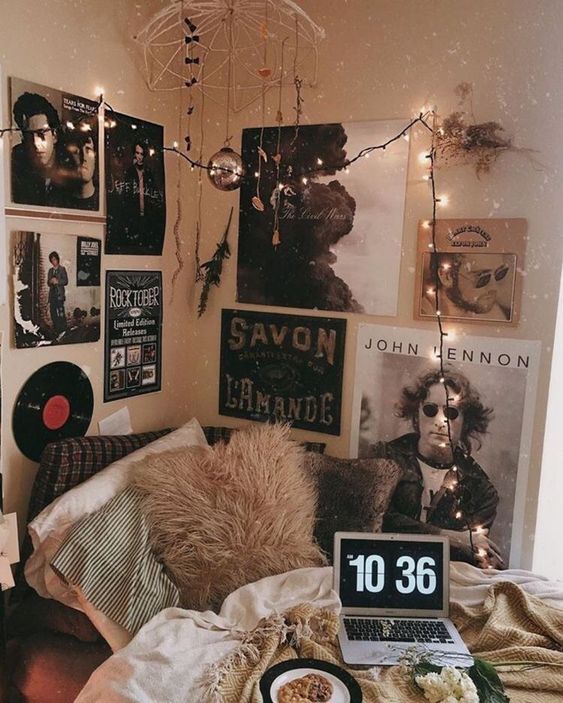 To make the bedroom look more attractive, you can use additional lighting, such as string lights.
The string light is a type of light that can be applied to any room with any design. It can be said that using string lights is an alternative to decorating a room.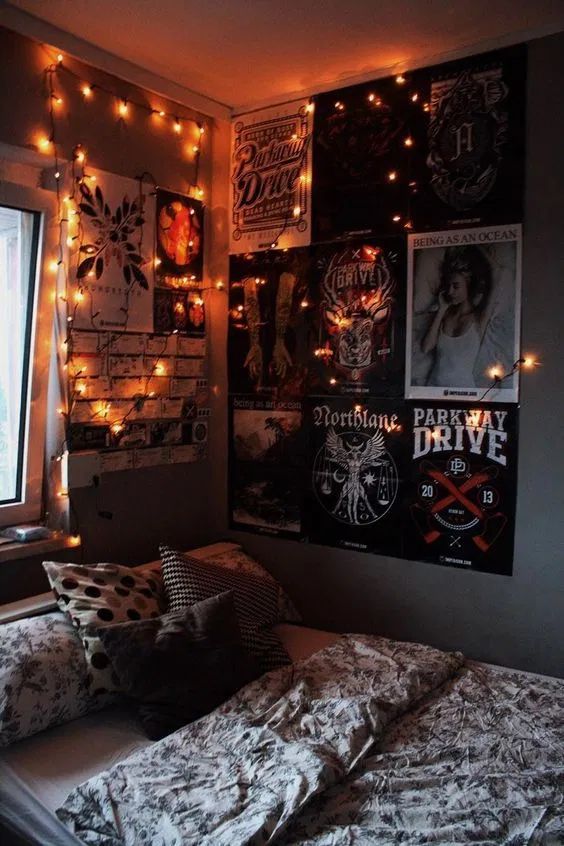 Use the string light as additional lighting can be an interesting idea in decorating a retro bedroom to make it look more attractive. String light with warm lighting can bring the warm nuances into the bedroom so that the bedroom will feel comfortable.
If there is an art wall in the retro bedroom, you can make it stand out more by attaching a string light to the wall.
Conclusion
A sleeping room is a room that is used as a place to rest and make yourself relax again. Therefore, the appearance and comfort of the bedroom must be considered properly. Bringing a different atmosphere to the bedroom can be an interesting idea. Retro design is one of the right designs to be applied to the bedroom. Bringing the 80-90s atmosphere into the bedroom is tantamount to giving a new atmosphere to the house. And in this article, we provided 10 Retro Bedroom Decor Ideas You Might Be Interested In.