The "perfect bathroom" is actually very subjective, because the idea of ​​the perfect bathroom in every person's mind can be different. However, even though the renovation works can be a little daunting, if you follow a few simple rules, you can reach your dream bathroom.
As Algedra Interior Design Company, our interior designers recommend that you think about your own style and what kind of bathroom you want. But at first, you take into account to master the dimensions and physical conditions of your bathroom, more precisely the whole picture. Whether you want to prepare for a new day, relax a little from the routine or refresh your bathroom to relieve the stress of a busy day, it should be the temple of peace and your time for yourself.
Before creating a concept or design in your mind, decide exactly what you want to accomplish when laying out your bathroom. A bit of serenity and tranquility? Or maybe a sanctuary where you express yourself and show your creativity?
Where can you find new and inspiring ideas for the bathroom?
From modern to classic, from eclectic to minimalist, you can find all kinds of bathroom ideas to inspire you in the bathroom design section of Algedra Interior Design Company's website.
How should you design my bathroom?
If you are preparing for a bathroom renovation, there is a wide variety of styles and themes to choose for your bathroom.
A bathroom should need to be functional as well as practical, as many items and accessories may store properly. After deciding on a style, it will be more correct to choose according to wall and floor coverings.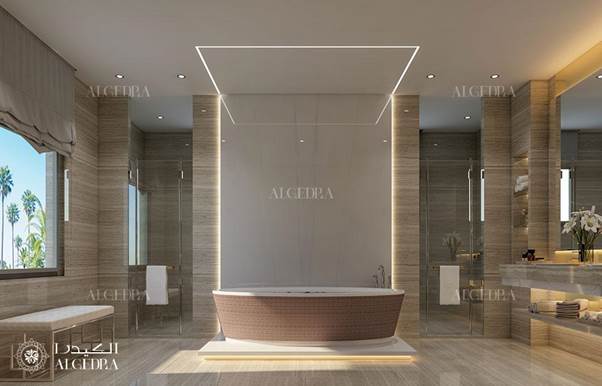 Do you want assertive and bright colors, or would you prefer a simple palette with more pastel shades? You should also make an effort on tubs, shower systems and shower trays. Will you be satisfied with only one shower cabin or do you want a combined shower with a bathtub? Or you can use a separate bathtub and shower. The more accurately you decide what you want in the beginning, then the implementation phase will be more efficient.
What colors should you use in your bathroom?
First of all, before making hasty decisions on towels and mats, you should consider what colors are in the larger elements of your bathroom. Remember that the colors you choose in the bathroom arrangement will affect the ambience and spirit of your bathroom in total.
For many homeowners, white is the first option that comes to mind. The ability to be used with other colors is also an important factor in this. For example, when used with black, it can create a dramatic and romantic atmosphere. In combination with blue, it will create an adventurous ocean air. You should also evaluate the natural light coming into your bathroom. Otherwise, you may encounter a surprise result such as the color you choose to be too sultry after application. As a common rule, dark or bright hues should not be used in small bathrooms. Small bathroom accessories are the exception.
What should you choose on walls and floors?
Most homeowners only research tile variants for bathroom floors.
Floor-to-ceiling tiling has gained popularity in recent years. Because it is easier to maintain and clean than paint that needs to be renewed every few years. But tiles aren't your only option for the floor these days. Wood and concrete are also attractive and easy-care materials. Moreover, they add a completely different atmosphere to your bathroom.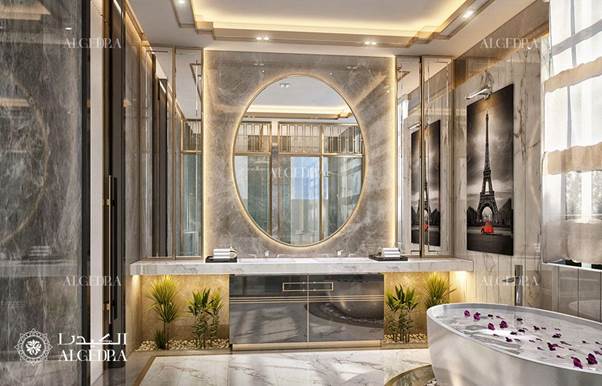 Concrete is an excellent option for those who desire a minimal bathroom design. Those who like more classic, rustic themes may prefer wood. Of course, both floor types can be easily applied to other parts of your home. By the way, bathroom wallpapers also made a big comeback this time. Water and moisture resistant new generation bathroom wallpapers can also be an interesting option for your wall covering. What about bathroom accessories?
Bathroom accessories are the elements that determine the atmosphere of your bathroom, but must be functional before that. Bathroom accessories are very useful to reflect your personality without the financial burden or the burden of spending a lot of space for big changes that will become obsolete over time. Seashells, colored soaps, and patterned curtains can be great additions to add some color and even fragrance to your bathroom. Or if you're a tech addict, even a new LCD television with the latest sound systems could be a bathroom accessory.
What should you consider when choosing bathroom lighting?
When designing a new bathroom, choosing the appropriate lighting elements is as important as the decoration you choose. This is definitely a decision you don't want to leave for the last time. Whether you prefer warm or cold lighting is a choice that will directly affect the air of your bathroom. In addition, the lighting elements you will purchase depend on your decision. Indirect lighting elements mounted on the wall or ceiling are very popular these days. At the same time, they stand out with their cleaning and maintenance facilities. You can also place lights around your bathroom mirror or behind your mirror for a much more perfect view.
How can you plan the perfect bathroom?
Before you start planning your bathroom, you should keep in mind how many people will use it regularly. Should washbasins and cabinets be low for children to reach or, on the contrary, should be positioned out of reach? Nowadays, there are extremely smart designs that can adapt themselves according to the height of the users. Bathroom designers of Algedra can very successfully place the water and wastewater connections, and if there are no windows, the ventilation points.
What if you have a small bathroom?
Take it easy, in this section you will find lots of ideas for small bathrooms too! You don't have to worry about the dimensions, because as always said, "what matters is not the size of the space, but how you use it."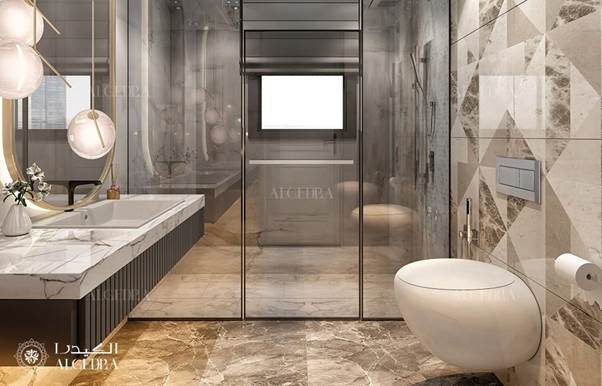 You may need to be a bit more creative and resourceful when designing a small bathroom. Because before you start design, you need to think about the placement of the furniture and the use of natural light. Cosmetics and cleaning products are indispensable, so if you're short of space right from the start, you can hit two birds with one stone with a wall-mounted mirror cabinet.
As a general rule, try not to highlight your color palette and decoration preferences too much, and focus your attention on the correct use of light and spatial placement.
How can you change the shape of a bathroom?
Renovating a bathroom is always a matter of budget. Therefore, it would be best to first decide how much money you can spend and how much you can make a change with this money. Will a few small changes be enough, or does the old bathroom need a complete renovation?
Parts such as showers, sinks, bathtubs and toilets can be difficult and expensive to replace. But keep in mind that even seemingly small changes can have a big impact. For example, there is no reason why you shouldn't start by getting rid of your old shower curtain or making a new washbasin cabinet. Lighting is also one of the elements that can change a bathroom's atmosphere significantly. You can choose indirect or intensity adjustable lighting to give your bathroom a calm and peaceful atmosphere.
What are the most popular bathroom decorating ideas?
Eclectic bathrooms
If you're tired of simple bathrooms,  eclectic bathrooms might be a great option for you. The colors, shapes and patterns are only dependent on your imagination. You should not seek balance and harmony. Because the goal in this style of bathrooms is to catch stylish incompatibilities. Your only rule of thumb is, the more colorful and prettier as well as the better!
Minimal bathrooms
Clean lines and a simple color palette are important in minimalism. Therefore, try to keep the theme in your mind as much as possible while designing a minimalist bathroom.
Let your motto be "Less is more". It might be a good idea to regularly overhaul your bathroom cabinets and make sure you don't store old and unused items. Therefore, it is vital to have a large storage area for the items you have collected over the years. Durable and neutral tones will also be the right choice for walls and floors. The material you will use is up to your personal taste.
Modern bathrooms
A modern bathroom can be colorful, plain, or anywhere in between. However, in order to be defined as "modern", it has to catch up with current trends. Those who prefer a modern bathroom in this style  should be willing to change their bathroom again according to the change in trends. Therefore, it may be preferable for large items to be plain in your bathroom. It will be much easier to adapt to new fashions with small decorative elements.
Country-style bathrooms
Country-style bathrooms offer a warm and comfortable environment with the help of floral patterns, soft-edged shapes and fresh flowers. Decorative elements in this style are very important in country-style bathrooms. But be careful not to overdo it.
Bamboo chairs, frilly curtains and beige and pastel colors on the floor, wall or furniture are the first methods that come to mind to experience the feeling of spending every day in a hostel in the countryside.
Rustic bathrooms
Rustic bathrooms are very suitable for those who are fond of wood. A warm choice of materials, whether on the ceiling or on the toilet seat, is a very important part of a country-style home design.
In rustic bathrooms, freestanding tubs, horn-style accessories, and aluminum buckets for dirty laundry or potted flowers are common.
After all, whatever style you choose, your choice must match the rest of your home and of course your personality.