When you buy a simple minimalist house, of course, the conditions are not perfect. Of course, you will think to design the interior and exterior of your home, your yard. There are many considerations for design your house. For example, the costs are not enough. For that, you don't need to worry because we share ideas for arranging all the rooms in your home to make it look beautiful, attractive, comfortable, fun, and luxurious.
In this article, there are several homeroom concepts that you can choose and make. Let's discuss one by one how to organize the interior and exterior and what you should do.
1. Designing models
When you see the shape of a house, then the desire arises to design according to your wishes. Your instincts are not the same as the design of the house maker because the developer design as it is, and the goal is to get a lot of profit. Then for you want the house looks beautiful and fun every day. You have to start by making the best design of your home model to suit your wishes.
2. Components that you must prepare.
As you know, to design and decorate your home, you must have prepared quite a lot of money. Then to provide materials, accessories, and gardens for your home to look beautiful and charming, of course, you need the money because the appearance of your home depends on the design and materials used. Then to make your house looks beautiful and charming, you have to take into account the costs carefully.
3. Safety factor for you and your family
When you design and decorate your home, you should pay attention to its safety for you and your family. For example, you will install ceramics for the bathroom and terrace of the house. Of course, you should not install it with a slippery motif so that your family does not slip. Then for decorating the interior and exterior, there should be no sharp objects that appear on the surface of the decoration because they can harm your child when playing. For this reason, the safety factor should not ignore so that your family will be safe and comfortable.
4. Materials that you use
The best material and not excessive can make your home look beautiful and elegant. It is better if the material you use is adjusted to the type of house you are buying, whether for the interior or the exterior. Try not to overdo the material for your home design. Then, the material you use must match the area of ​​your home and your yard. For that, of course, you can see the home decor magazine, or you can imitate it like the picture we present below.
5. Several interiors and exterior design
Well, we come to the design and decoration of the house! In this article, we present some room designs to make your home look beautiful and fun. We offer some of these designs for you to consider. We offer you several design options for comparison. With the comparison, hopefully, you can choose one of the room designs that suits your taste. That way, you and your family will feel comfortable and at home.
Let's prepare and discuss one by one some beautiful interior and exterior design options for your home as below. Happy choosing a design like a picture below!
Minimalist terrace with a wooden model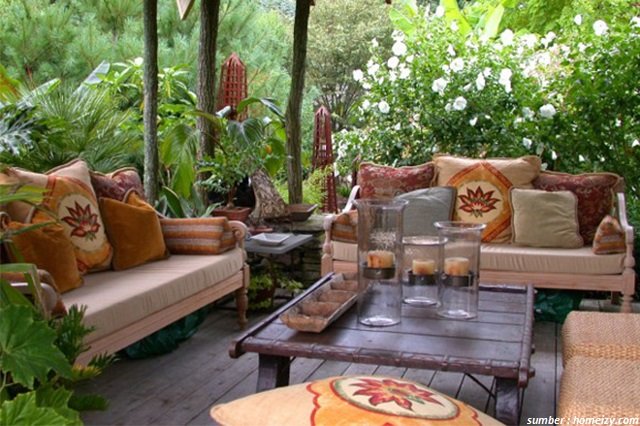 This terrace model tends to use neutral colors to combine different styles. Then neutral colors can use with another color. As white, beige, and light gray always use create a friendly space with the minimalist models. In addition, the minimalist terrace has a modern, uniform, and neutral atmosphere with fine details.
The choice of wooden furniture, pillow accents, plants, or a small garden complements the minimalist terrace of the house. If you want an elegant touch on this terrace, choose pillows or combine some colorful plants. Then you can use a wooden deck or even built-in wooden furniture for a cool, minimalist look. Do you want to choose a design like this?
Minimalist terrace with a garden model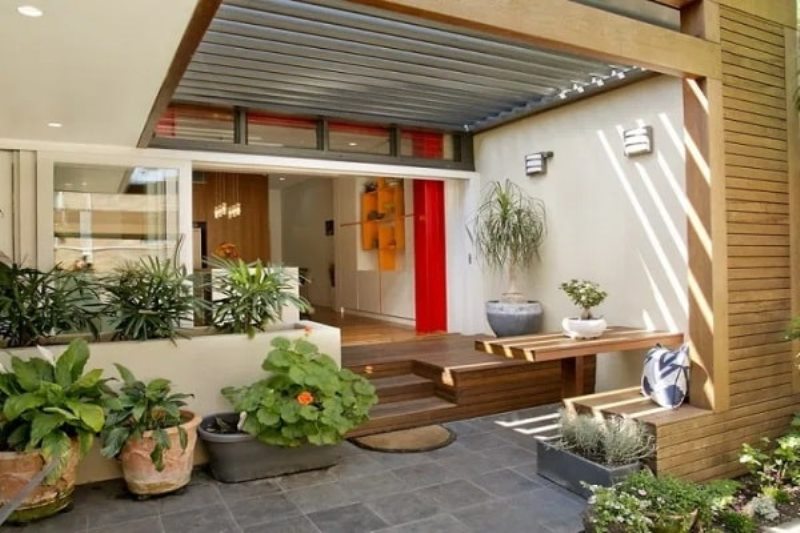 Having a house that is quite minimalist is indeed very easy to maintain. So that your home is even more beautiful, you can make a terrace to make your home more attractive. For that, we offer designs that you can do to create your minimalist home terrace design to look fun.
The design of the terrace of this house is with a simple model and details that are very easy to work. The terrace design of this house is beautiful and pleasing to the eye and does not look so monotonous because it is the only design with a natural touch of green leaves, and the walls are making of natural stones, wooden that have a neutral color. Do you want to choose a design like this?
Minimalist living room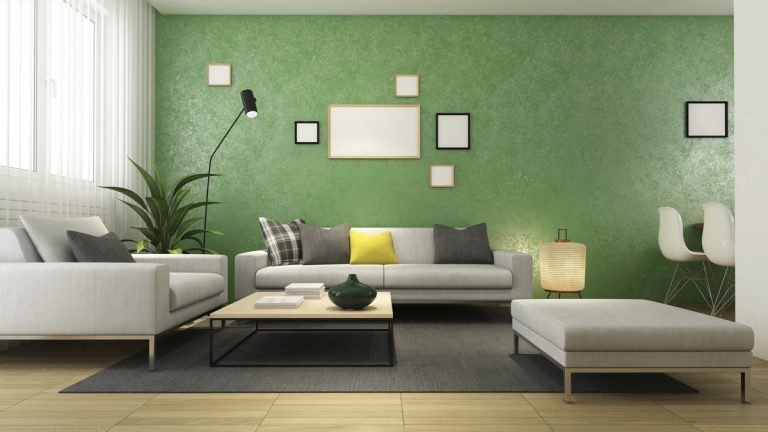 A few years ago, white and gray were very popular. But this year, green is one of the colors that will trend in 2021. In this simple living room, you can see the color of the walls is green in combination with glass windows. Of course, to add to the beauty of the homeroom, it is equipped with beautiful sofas and beautiful guest tables.
So to give the impression of a minimalist room, you don't need to arrange bright colors. The treatment for minimalist colors is not only limited to white and gray. Even the green color can make the appearance of the room to be minimalist. Do you want to choose a design like this?
Traditional living room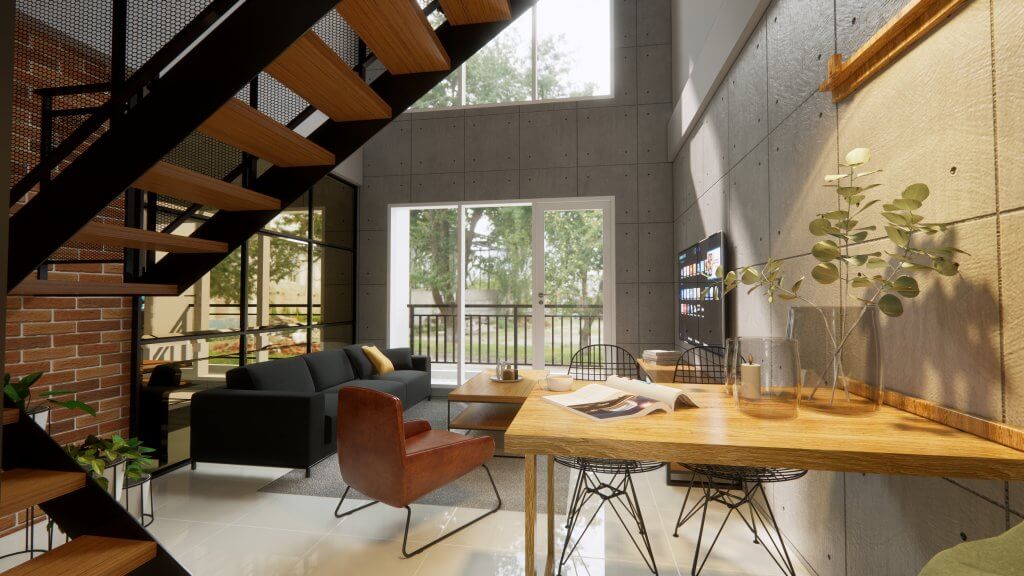 It's hard to describe how you should design a dream space. But it's much easier to understand when you consider each of its components.
As we explained at the beginning, that we discuss several choices of models for your living room. In the picture above, we provide a model of a living room in a traditional style. This style uses more wood as a room decoration.
For traditional colors, it presents more natural colors. Then, you can see the walls and stairs in this living room. This living room features brown wood and polished brick walls. As for the sofa and table, of course, you must use this model according to the traditional living room style to make it look natural and luxurious. Do you want to choose a design like this?
Aesthetic simple minimalist living room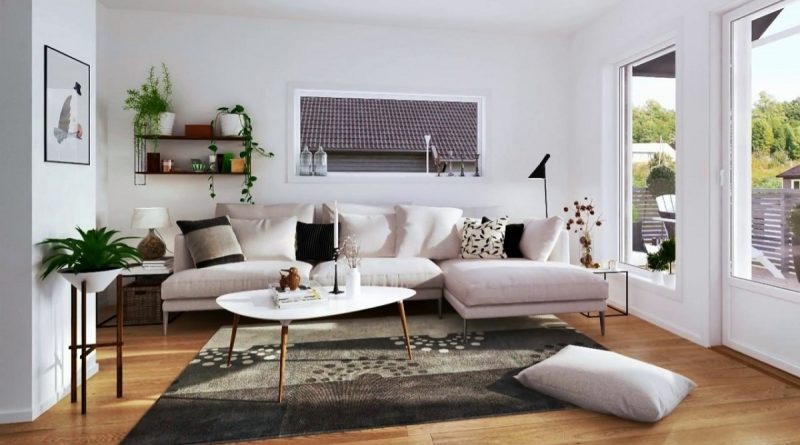 To build a dwelling on a narrow area is usually an obstacle when starting construction. But don't worry, the right minimalist interior design can make your living room look beautiful.
For a minimalist living room like the picture above, there are bright nuances. This living room emphasizes the bright white color than for the sofa also uses light colors. As for furniture and accessories, it is more important to prioritize wood or dark colors and make the minimalist color appearance stands out more. Do you want to choose a design like this?
Minimalist living room ceiling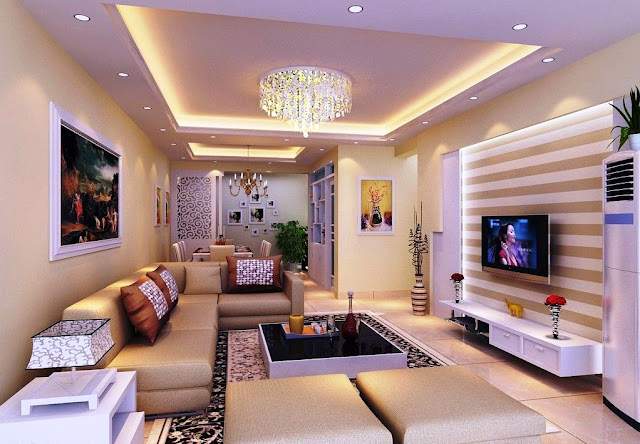 Talking about Ceiling Design Ideas for the Living Room, of course, it will never end. But the ceilings for living rooms are usually specially designed, and this time, I try to share ceiling design ideas for the living room that might inspire you. For Example, the living room ceiling design in the picture above is the type of ceiling design that we often encounter in many minimalist home interiors in cities in Indonesia.
As you can see, this ceiling design uses two layers to create an elegant three-dimensional impression, where the wide middle part looks to the top. The use of continuous lamps on the sidelines of the ceiling layer makes it very interesting to see at night. Do you want to choose a design like this?
Scandinavian minimalist bedroom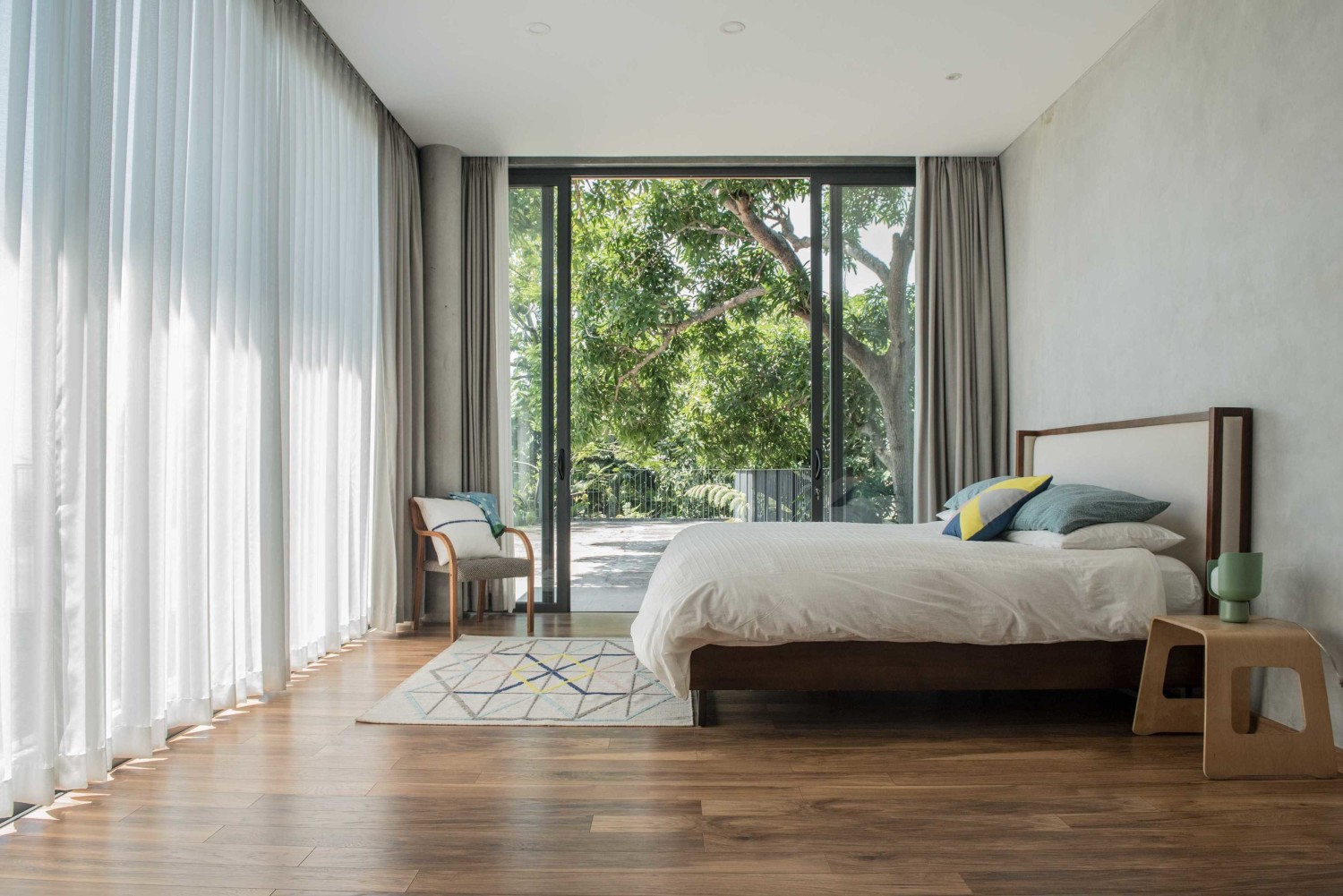 Every people certainly want a beautiful and comfortable bedroom. Of course, the aim of this design of improving the quality of our sleep.
To present your wishes, we offer Scandinavian-style minimalist bedroom designs. The interior design of this bedroom features many familiar Scandinavian elements such as large windows, white painted walls and ceilings, white curtains, white blankets, and neutral tones on pillows and rugs, furniture, and wooden floors. In this way, you can show off your personality and make this a place to read and relax. Therefore, we offer Scandinavian-style minimalist room designs. Do you want to choose a design like this?
Avian minimalist bedroom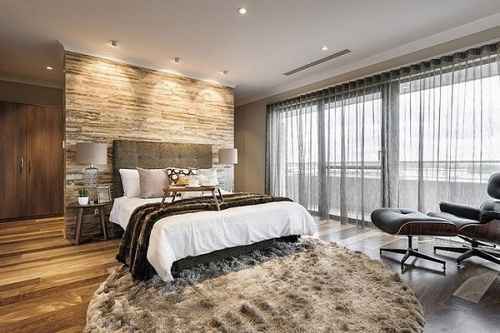 For this minimalist room, it prioritizes the window model with a light color bedroom curtain design. With a bright window design like the picture above, the bedroom will look beautiful and elegant. Then, the sunlight that enters the room makes the bedroom healthy and can save electricity during the day.
Well, for those of you who want to design a beautiful and elegant bedroom, of course, you can imitate the example in the picture above. But you have to add decorative furniture to this bedroom to make it look beautiful and luxurious. With a design like this, you will sleep well. Do you want to choose a design like this?
Scandinavian bedroom models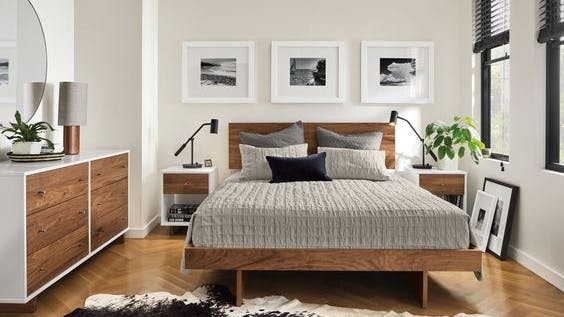 There are many rooms in the house that you can design in a Scandinavian style, but the popularity is a Scandinavian bedroom design.
This design is one of the most talked-about designs by residential design. The reason is, this design has a characteristic that offers simplicity but still elegance. For that, we offer you a Scandinavian design for your room. If you want a bedroom that looks simple, this design can be the right choice, you know. Do you want to choose a design like this?
For this color design, a touch of white is more dominant in Scandinavian bedroom designs. In addition to looks beautiful and simple, it turns out that this Scandinavian bedroom design can make your bedroom look spacious.
Minimalist kitchen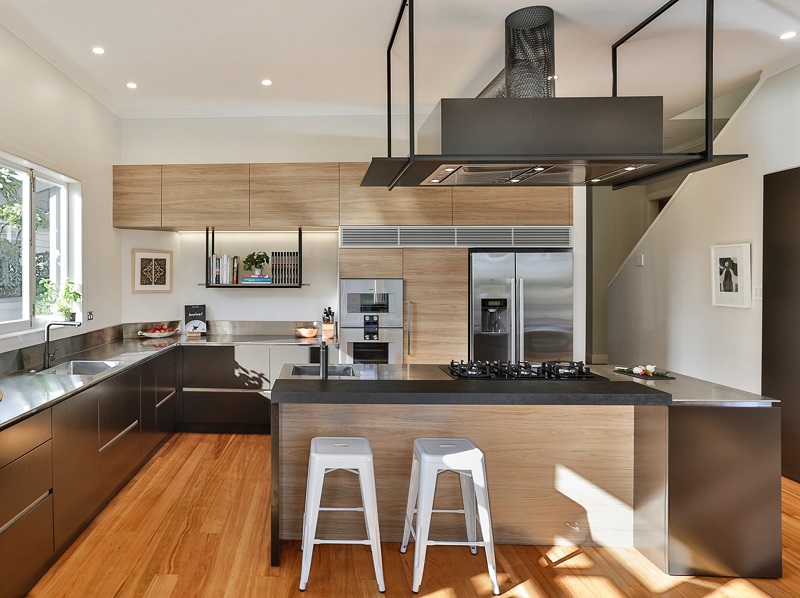 After we explain the front porch, living room, bedroom, and next, we will discuss the kitchen room because this is the most important when your wife cooks.
A beautiful and fun kitchen makes the cooking atmosphere more comfortable. By arranging a beautiful, comfortable, and attractive kitchen, you can accompany your wife when cooking. Moreover, this kitchen has equipped with a dining table. Of course, you can gather with your family in this room. Do you want to choose a design like this?
Scandinavian style kitchen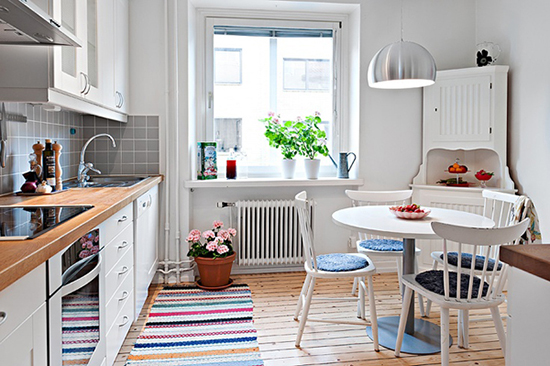 A beautiful and comfortable kitchen can make your wife feel at home in the kitchen to cook. In this article, we want to share ideas for a Scandinavian-style kitchen. Scandinavian kitchen interiors resemble the appearance of kitchen space with a minimalist design concept, and what distinguishes it is the colors choice. For Scandinavian interiors, more use of a combination of bright white and brown, while minimalist interiors play a lot with monochrome colors.
Then you must know, the hallmark of the Scandinavian interior is the predominance of white. Although you combine it with brown or other colors, white will still be the dominant color. Even so, you can still combine white with other colors as a sweetener.
Then for the color of the accessories in this kitchen as orange, yellow, lemon, and turquoise, it can make the kitchen more attractive, especially by adding wall decorations. Do you want to choose a design like this?
Kitchen in traditional style.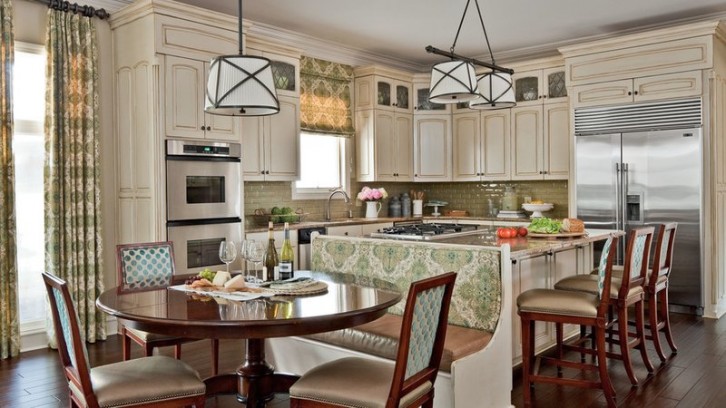 To complete the choice of kitchen, we also present a traditional kitchen model. This kitchen is a favorite design for Indonesian people. The classic impression of the furniture and accessories makes you feel at home and comfortable cooking in the kitchen.
This traditional style kitchen is perfect for a kitchen room with lots of windows. The presence of windows gives a homey and bright impression during the day. Then the selected building materials tend to be made from natural materials such as marble, brick, and wood. Then the furniture displayed is also more inclined to the classic model so that the impression of this kitchen looks beautiful and artistic. Do you want to choose a design like this?
The backyard of the house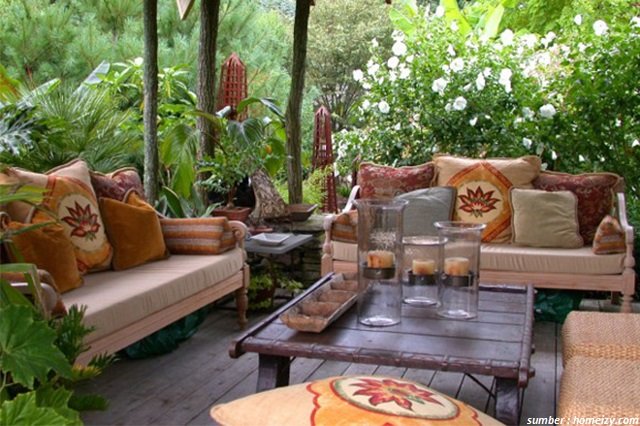 After discussing the various rooms in the house, that you will design, don't forget to make the back yard of the house that you always use for a relaxing place.
To realize your dream, you should make the backyard of your house like the picture above. As you can see, the appearance of the terrace is beautiful and pleasant, and the presence of wooden furniture with brown color, decorations of various flowers around the back yard make the house more attractive and fun.
Although the size is not too big, however, you can still fit two medium-sized sofas and add a few pillows of the same color for added comfort. With a design like this, you can relax with your family to fill your holiday. Do you want to choose a design like this?
Conclusion
Several ways to make your standard home look beautiful, attractive, and luxurious. Therefore, you should choose the best design for your house to be appropriate to your home's interior and exterior.
In this article, we explained some ideas on how to make your home beautiful and luxurious. Then to make it, of course, you will have to spend the money if your home has to be decorated by a home decoration company. But if you don't have enough money, you can make it according to the picture we explained then give it to the home decoration maker.
Hopefully, this article can help you to create and organize your home. Happy decorating!