Simdreamhomes.com – The apartment has become a place of residence that is in great demand by people. Its strategic location and being in an urban area makes it superior to housing. In addition, the facilities offered by the apartment are far more complete, such as swimming pools, gyms, gardens, and others.
Because of the increasing demand, apartments are made to vary. The tiny apartment is the type of apartment people are after. The tiny apartment has become a very suitable place for you who live alone.
However, behind the advantages of tiny apartments, this type of apartment also has weaknesses. Its location inside the building makes it easier to feel cramped and uncomfortable.
So, for those of you who want to have a cozy place to live, here we have provided Tips Making Your Tiny Apartment Feel Comfortable. So, let's check it out!
Only Use The Furniture Needed
Before you buy furniture, you must know in advance the size of your apartment. And for a tiny apartment, you certainly cannot use the furniture you want. Because, if there is too much furniture in a tiny apartment, the apartment will feel increasingly narrow. And certainly, this will make the apartment very uncomfortable.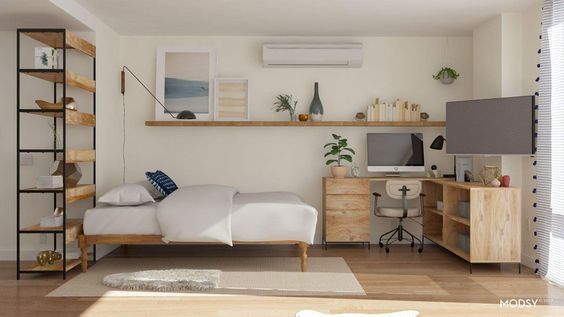 So, the first tips to make your tiny apartment feel comfortable is to use the furniture you only needed.
This is the furniture that should be in your tiny apartment: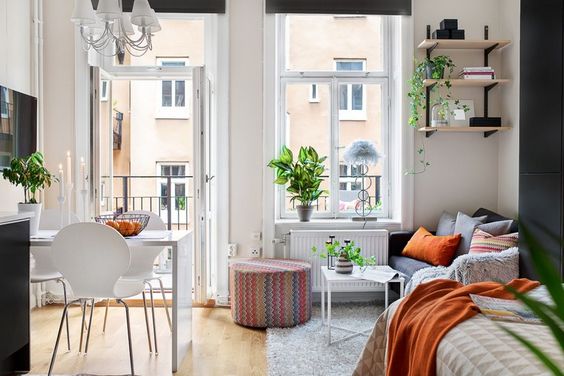 A bed mattress is a very important item that must be in your apartment. To make your apartment feel comfortable, you can use a low-profile bed frame. Or you can also avoid the bed frame by choosing a comfortable and soft mattress and placing it in the right place.
To make your spot bed feel cozy, you can place it next to the window. It will be much better. You can see the view outside of your apartment when you feel bored. The night view is far more fantastic.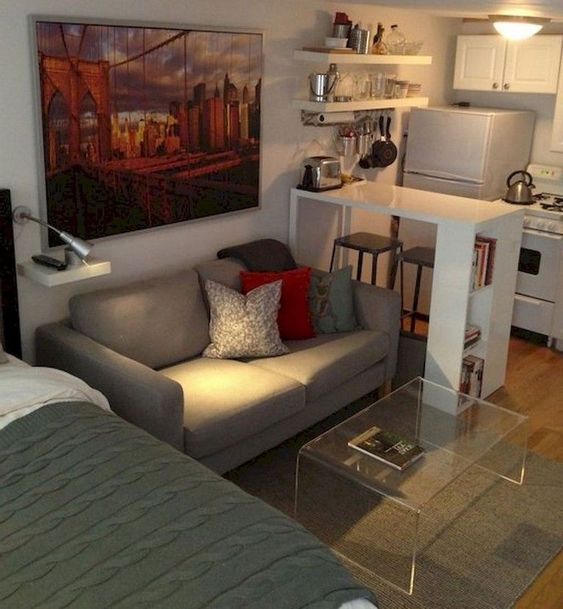 The absence of a sofa in the apartment can make your bed fall apart at any time. Therefore, the sofa becomes one of the very important pieces of furniture for the apartment.
In order to make the tiny apartment feel more spacious, choose a soft sofa with low legs or no legs. This also will add to the comfort of your own apartment.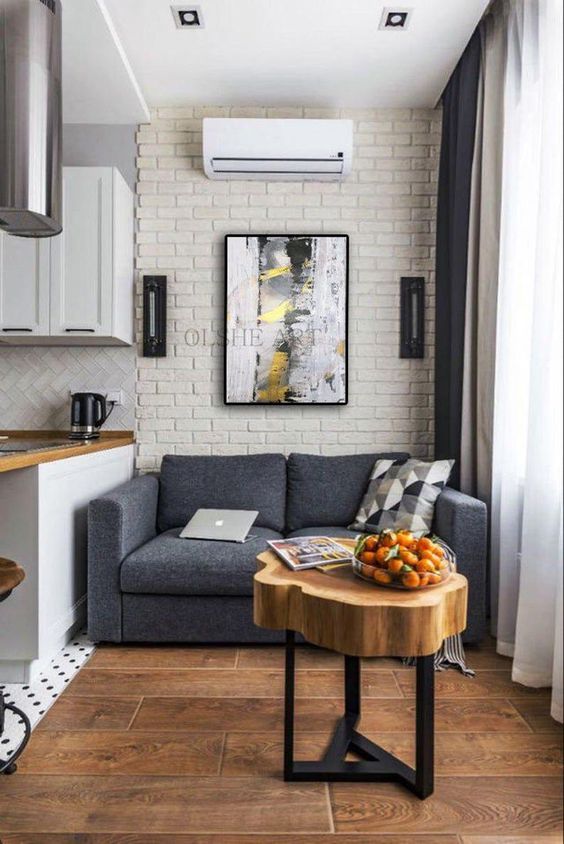 If there is a sofa, of course, there must also be a table. Sofas and tables have become complementary furniture for each other. Therefore, the table is also one of the very important pieces of furniture for use in a tiny apartment.
To make a tiny apartment not feel narrow and cramped, the coffee table is the most appropriate choice. Although small, the coffee table has a more varied shape and is certainly able to add beautiful value to your own tiny apartment. In addition, the coffee table is also far more practical to be moved.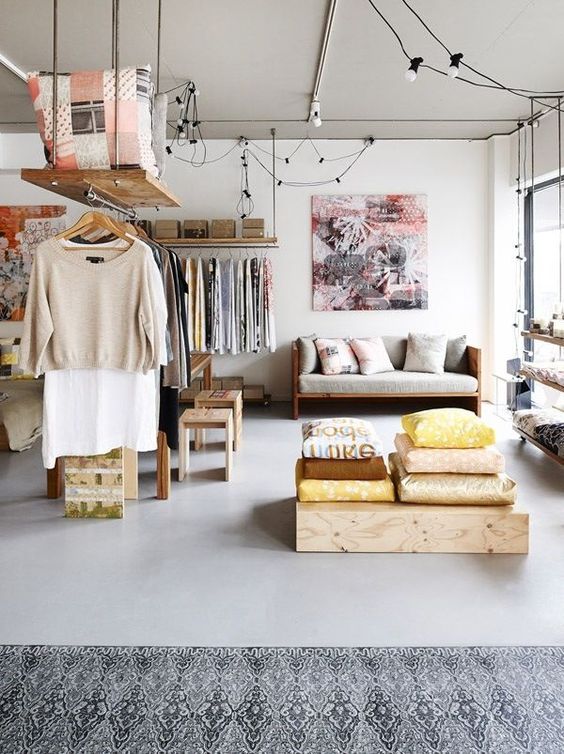 Usually, the wardrobe apartment has been specially made. However, there are also some apartments that do not provide wall cupboards. This way, you should use a cupboard for your tiny apartment.
The open wardrobe is the most appropriate choice for tiny apartments. By using an open wardrobe, the tiny apartment will not feel more cramped. In this way, the tiny apartment will be comfortable.
Providing Overexposure
Do you know why the windows in the apartment are made big? This is because the apartment requires excessive lighting. Its location inside the building will make the apartment feel cramped and stuffy. However, with the sun lighting coming into the apartment, the apartment will become a comfortable place.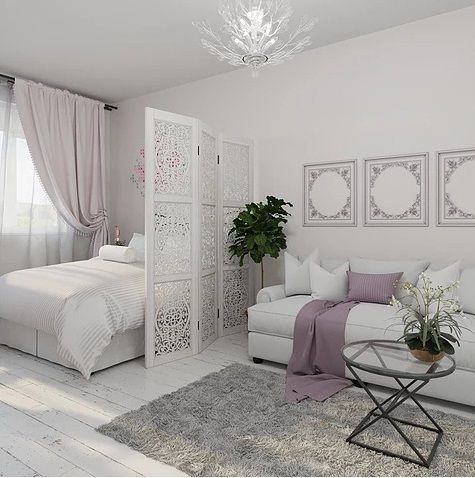 However, not all apartments use large windows. If the window in your apartment is small, you can add artificial lighting by using lamps. Choose a light that is not too big and certainly can illuminate your apartment thoroughly.
There are all types and shapes of lamps, especially pendant lamps. You can choose a pendant lamp with a simple shape. Because tiny apartments cannot be given complicated shapes or too many engravings.
Choose The Right Room Divider
In the tiny apartment, there is only one room. To give limitations to this room, you can use room divider. Room divider used is certainly not haphazard. You still have to make the tiny apartment look spacious even though it is given a room divider.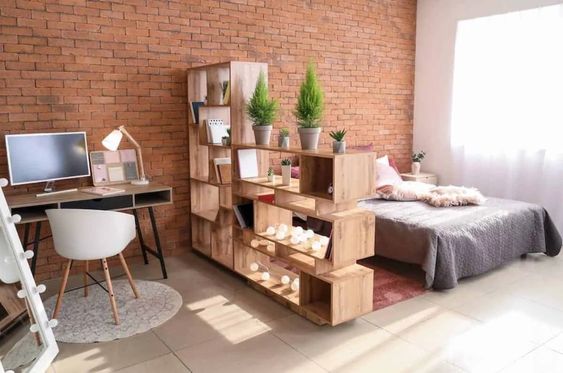 Here is the right room divider to use for tiny apartments:
The open shelf is the most appropriate item to use as a room divider. By using an open shelf, the room still looks open. But the open shelf will give the illusion that there are two rooms in one tiny apartment.
In addition, the open shelf can also be used as a medium for you to decorate your tiny apartment. By putting some pretty displays or small plants on an open shelf, the tiny apartment will look sweeter and more attractive.
If you want a simple look, the glass partition is the right choice. By using a glass partition, a tiny apartment will look wider and certainly more comfortable.
Use Full-Length Mirror
Mirrors have indeed become items for makeup. However, in interior design, the mirror function is certainly not as a tool to make up, but as an item to make the room look beautiful.
In addition to making the room look beautiful, a mirror can also make a large room look elegant. And for a small room, a mirror has an important function, which is to make a small room look more spacious.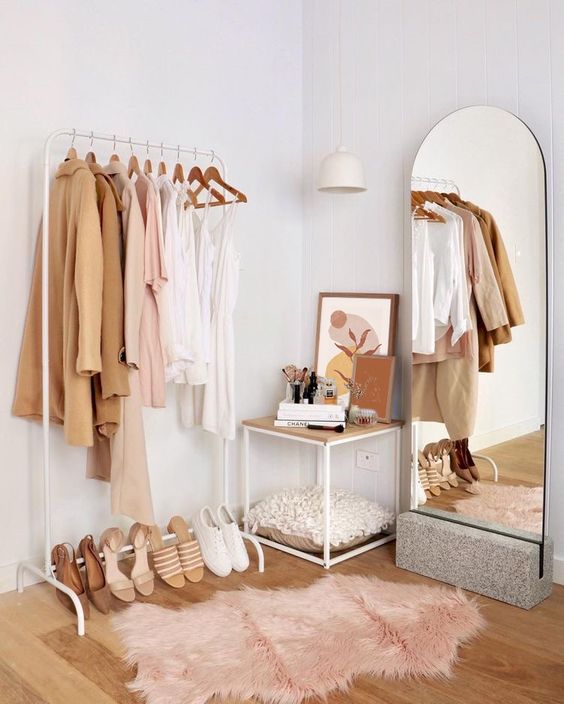 A full-length mirror is the most appropriate mirror to be used for tiny apartments. By using this item, the apartment not only looks beautiful and more spacious but also looks brighter. As explained before that a small room really needs excessive lighting to make it look bright so it doesn't feel cramped and stuffy.
Add A Carpet to The Tiny Apartment
Carpet has become an additional item that is often used in the room. The existence of the carpet can give a warm feel to the room. In addition, by using the carpet, the room will look more beautiful and attractive.
The use of carpet is also very good for a tiny apartment. Carpet is able to give the illusion of spaciousness into a tiny apartment. In this way, the tiny apartment feels more spacious and will be more comfortable.
Try to find a carpet that fits the size of the tiny apartment. Not too big and not too small so that the tiny apartment looks attractive.
Conclusion
As the most desirable residence, the architects offer apartments of small size or commonly referred to as tiny apartments. Because the room is small, the apartment will easily feel cramped and stuffy, making this apartment uncomfortable. With the tips above, you can make your tiny apartment a very comfortable place to live. So, happy trying!