Simdreamhomes.com – Enjoying green nuances at home while sipping hot tea is indeed a very pleasant thing. This is one reason almost everyone wants to create minimalist green gardens in their homes. Taman will be a cozy place at home that will make you feel relax.
To create a natural atmosphere in your home, you don't have to have a large area of land. Minimalist land can also be used to create a natural fresh atmosphere in your house.
And here, we have provided Pretty Minimalist Home Garden Design Ideas that can be your references. So, let's check it out!
Simple Minimalist Garden in The House
Arranging a minimalist house is indeed much more complicated. A room with a makeshift size makes us have to be smart in managing the house. However, that doesn't mean you can't set aside space to make a fresh spot at home. Try to set aside a little space in the corner of the house to make a minimalist garden.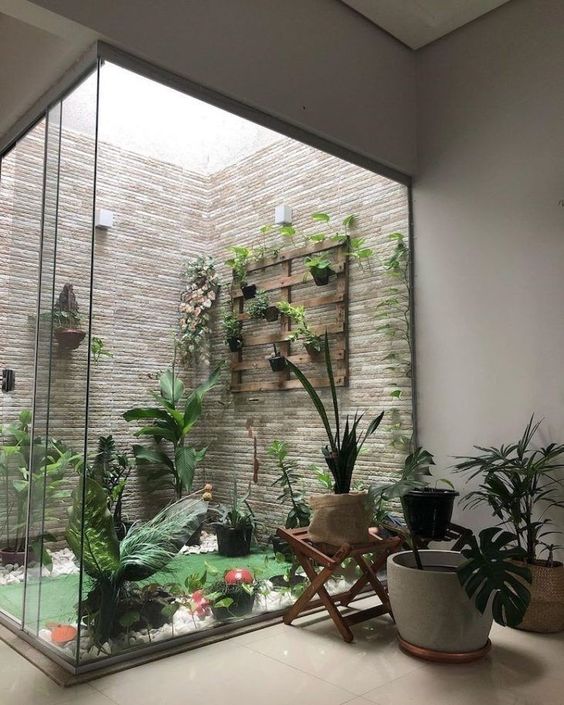 Creating a garden in the house is very important so that the house looks beautiful and fresh. Besides that, the atmosphere at home will also be much more relaxed. Green plants in the garden are one of the factors that can make you relax and calm again.
Here are some things to consider when choosing a garden in the house:
Use The Right Room Divider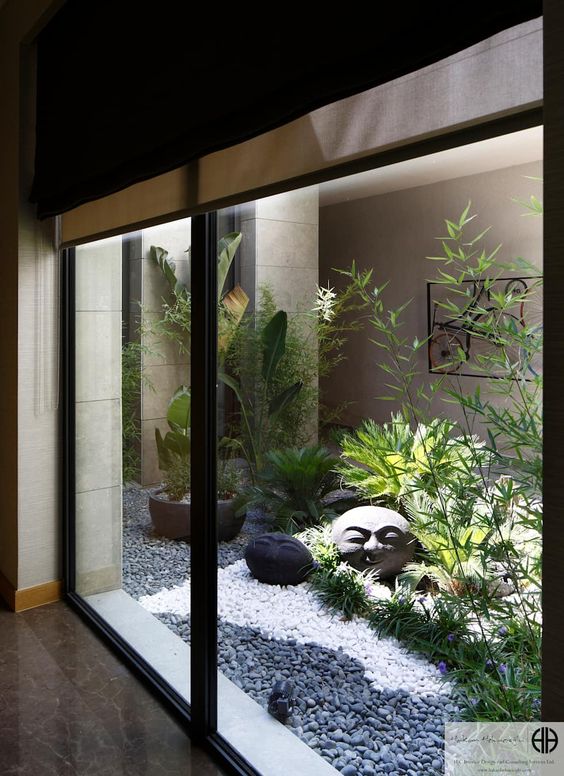 Between the garden and the room, of course, must be given a barrier. Try not to use the wall as a barrier between the garden and the room in the house. The use of walls will only make the house look narrower. So, use the ceiling to floor window as a barrier between the garden and the room. In this way, the garden can also be seen from inside the house. The beauty of the garden will make the room look fresh and beautiful.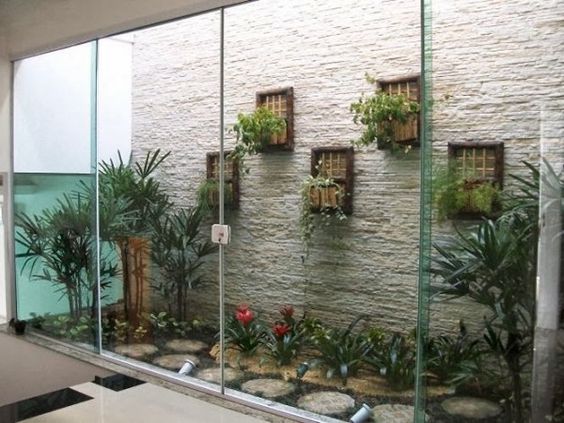 Using too many plants in a small garden will only make the garden look dirty and unorganized. With this, the plants on the wall are the right idea to be applied to a minimalist garden in the house. Hang some plants on the garden wall neatly so that the garden looks clean and pretty.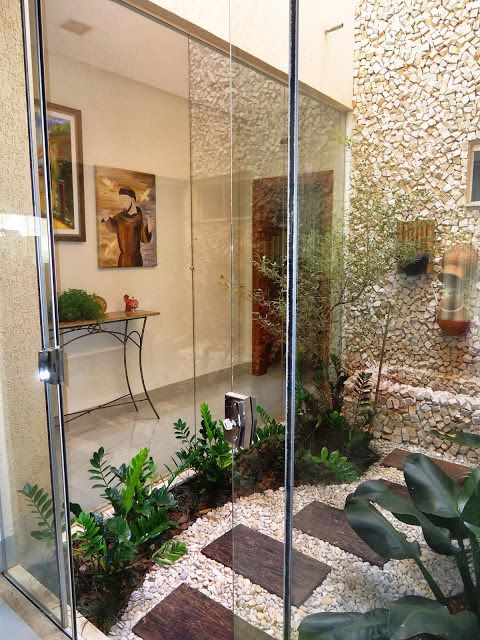 Natural stone is the most appropriate element to be applied to the garden. Its strong texture gives the natural stone a long shelf life. Besides that, natural stone is also not easy to grow moss.
Beautiful Minimalist Garden in The Backyard
Sometimes we have unused back land. As a result, the backland is grown by bushes. The growth of these weeds certainly makes the house dirty and unattractive. In fact, several animals will appear there. Of course, you do not want this to happen right? Instead of an abandoned empty backyard, you better use this as a beautiful garden.
Gardening in the backyard is not complicated. However, of course, this depends on you choosing the backyard you want.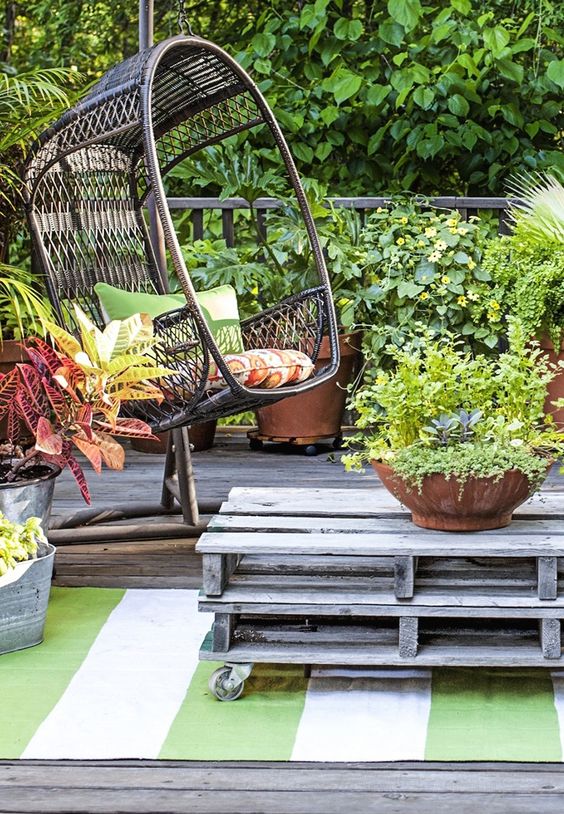 If seen from the picture above, the minimalist. However, if you look at it in more detail, making this garden is not complicated, it tends to be simple. You only need a few plants that are placed in a pot. These plants are neatly arranged on the edge. Then, use the swing chair as a place to relax enjoying the garden in your backyard.
Do not forget to add a cushion to the swing chair to make it feel more comfortable.
Soothing Minimalist Garden with a Beautiful Fish Pond
It is very important to provide a calm atmosphere in the dwelling. Why? Because a calm atmosphere is able to make us think clearly and well. Besides that, a calm home atmosphere can make our souls healthy and relaxed.
To bring a calm atmosphere into the house, maybe we can take a peek from a Japanese-style house. The Japanese-style house is thick with its natural atmosphere which is so relaxed and calm. One thing that makes the house feel calm is the sound of water splashing from the fish pond.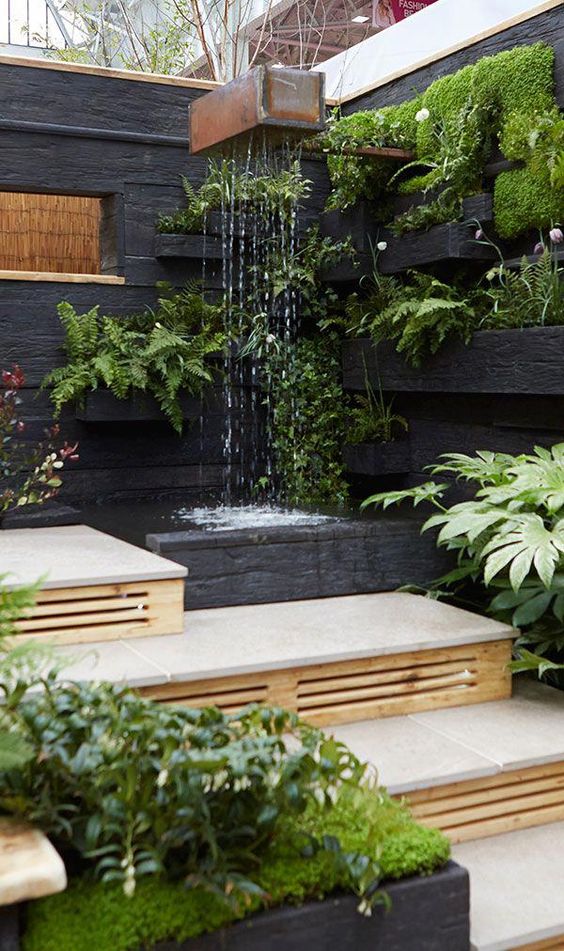 Making a fish pond in a minimalist garden is the right idea to give a soothing atmosphere to the house. Besides that, home feng shui is also good with the presence of fish, especially koi fish.
Fish pond with modern shape creates a minimalist look at the house garden. The choice of black for the fish pond makes it look clear and dominant. Black is also the right color to give a soothing look.
Modern Minimalist Garden That Looks Calm and Pretty
In creating a garden at home, it doesn't mean we have to make it appear green throughout. To make the garden a place to relax and make yourself relaxed again, you can carry a modern concept on a minimalist garden.
By carrying out a modern concept, gardens will tend to look simple but still attractive and beautiful. From applying a modern concept to a minimalist garden, the garden appearance will look more calm and pretty.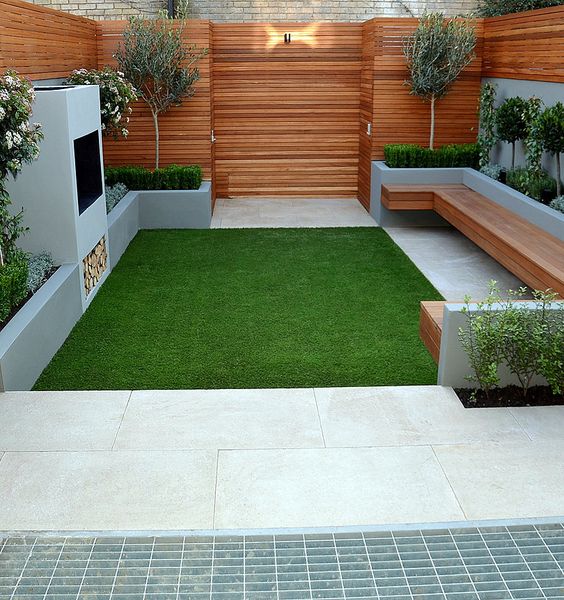 If we take an example from the image above, we can see that grass is only used in the middle of the garden. This is also a way to make a small garden look bigger. Besides that, the synthetic grass used in the garden will make the garden clean.
Presenting wooden elements in the garden can give a calm atmosphere to your minimalist garden. Besides that, the warm nuances produced from wood are also able to make a minimalist garden feel so comfortable.
The use of cement pots on the edges of the garden is the right idea to make the garden look neat. Here you can use just a few plants to give a fresh impression.
Colorful Minimalist Garden
Some people not only want to create a garden that is fresh but also a garden that has a nice atmosphere. If you are one of them, you can make your garden look colorful. The beautiful colors in the garden can boost your mood in the morning. With this, you can carry out your daily activities with pleasure.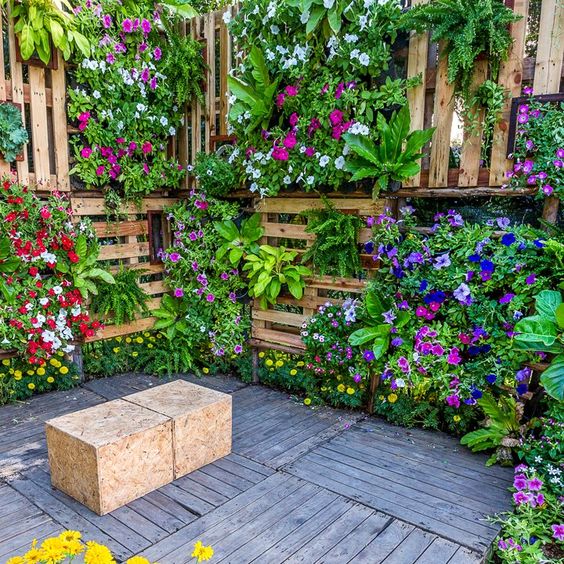 To create a garden that is both fresh and cheerful, you can use flowers with pretty colors. These flowers not only give the garden a cheerful colorful look but also make the air in the garden-fresh and fragrant.
To enjoy your colorful garden and the fragrant air, you can add a rattan bench to your garden. Don't forget to also use the small coffee table to put your drinks. With this, the garden will become a very comfortable place to relax and enjoy leisure time.
Conclusion
Because more and more development has displaced green lands. Urban parks are now rarely seen. However, this doesn't mean you can't enjoy the fresh garden atmosphere anymore. By creating a garden in your house, you can feel a fresh and beautiful garden without having to go far.
To create a garden at home, you don't have to provide a large area. A minimalist garden can be used as an idea to present a fresh and beautiful place in your home. And here, we also provide Pretty Minimalist Home Garden Design Ideas that you can make as your reference.