Simdreamhomes.com – The existence of the Attic at home is often ignored. Most people use their attic as a warehouse for storing items that are no longer used. In addition, Attic is also not cared for and cleaned so that it becomes a den of dust and mice.
It is unfortunate if Attic is used as a warehouse. This one place even though it can be made into the most comfortable room in the house.
The existence of skylight windows, wooden beams, and the sloping wall will certainly give you a different atmosphere that you will not get in other rooms.
So, for those of you who want to Make Your Attic Becomes The Coziest Place at House, here we have provided some best decor ideas that you can apply to your attic. So, let's check it out!
Adorable Home Office
WFH (Work From Home) has indeed become a new habit that we must apply in our lives during the Covid-19 period. If usually we are accustomed to working in a supportive office atmosphere, but with the implementation of Work From Home, we have to adapt to the situation.
In order to keep working properly, you can create a comfortable home office in your home. There is no need to change home decorations or set aside space for an office because Attic can be used as a very comfortable home office.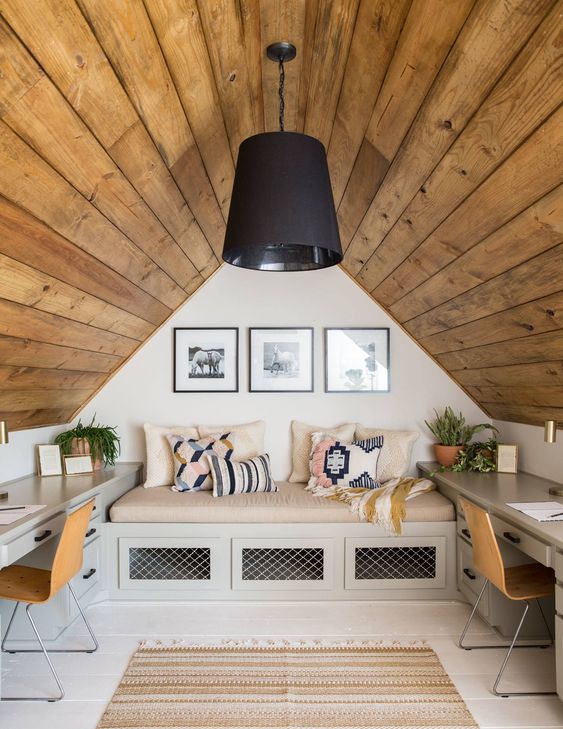 Here are the decorations that you can apply to your Attic in creating a comfortable and aesthetic-looking home office: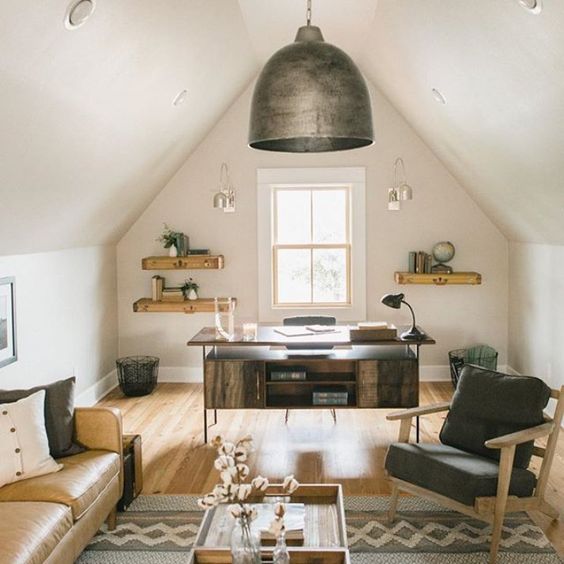 The first item you need for your home office is a work desk and a chair. Because Attic is quite narrow, then use a table with several drawers to store important documents regarding work.
For the table and the bench itself, you can choose those made of wood or iron. But certainly, try to choose tables and benches with natural bright colors.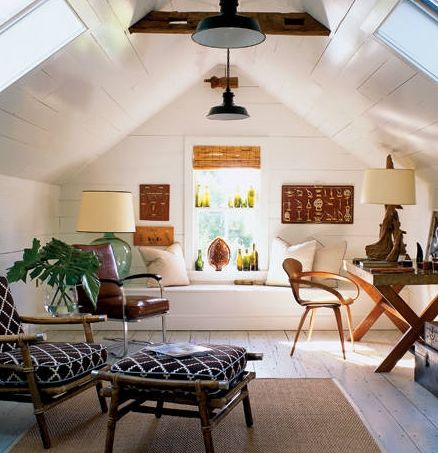 Apart from working from home, during Covid-19 we also had to stay at home and only leave the house for a few important things, such as going to the hospital, shopping for necessities, and so on. Therefore, so that you can feel at home, you need to create a cozy space at home.
Boredom might appear when you are working in the attic. To treat this boredom, try to use a long window bench. So, when you feel bored and saturated you can see a beautiful view of the Attic.
Comfortable Place for Gathering
Who does not enjoy enjoying free time with family and friends? Quality time with family and friends is really fun. In fact, spending time with the people you love can be a medicine to get rid of boredom, sadness, and depression.
So that quality time with your family and friends, try to create a comfortable place for gathering. An attic is one of the places that can be transformed into the most comfortable room for gathering with your family and best friends.
There are several items that you need to make your attic feel so cozy: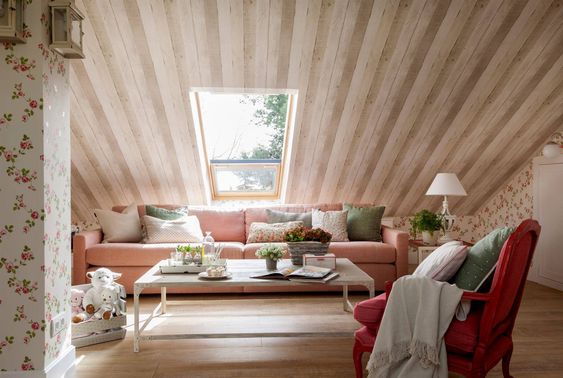 The sofa is the main item you need. Try to choose a soft sofa. The soft sofa will make you and your friends feel at home to sit for quite a long time.
For the size of the sofa itself, adjust it to your attic size. You can choose a sofa that is slightly wider to make it feel comfortable. The low-profile sofa is highly recommended so that the Attic does not feel cramped. Or you can also choose a sofa without legs.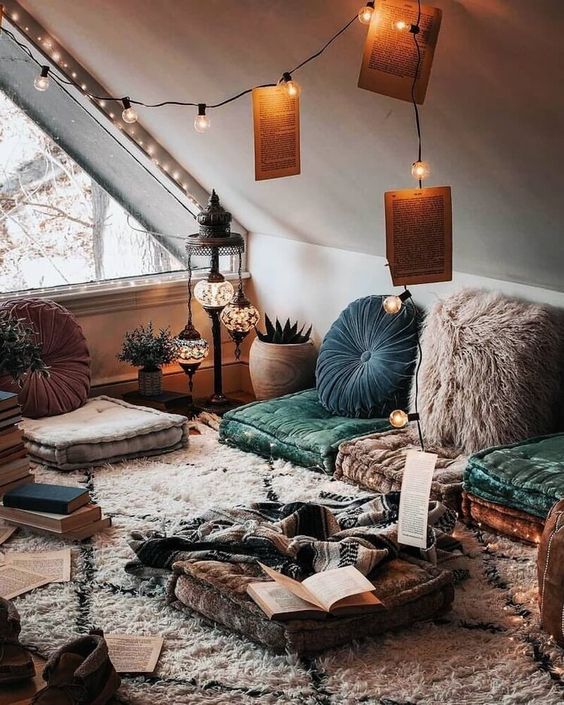 If using a sofa that is too big for your attic which is too narrow, you can replace it with something else that is no less comfortable by using a sofa. Decorating the attic with a sheepskin carpet is the easiest way you can apply to your attic. To make it feel more comfortable for a longer time, you can put a soft cushion on the carpet. And do not forget to add some pillows to make it feel cozy.
Projector to Watch Favorite Movies with Family/Friends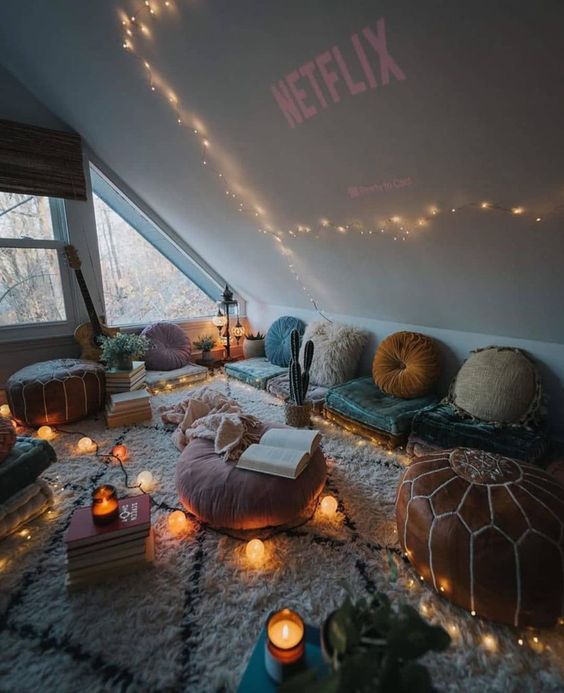 One way to enjoy time together with family or friends is by watching the favorite movies. With this, using a projector for Attic is a very good idea. You can point the projector at the sloping wall.
To make the atmosphere feel livelier, add warm lighting to the attic. In this way, the nuances of the attic will feel warm, soothing, and relax.
Soothing Place to Me Time
According to psychologists, humans really need time for their personal and mental health. At least 20 minutes a day should enjoy alone time.
Why do you need time?
With time, we can find our identity, relieve stress in the mind, be more concentrated and productive, and also have more respect for relationships.
Therefore, it is very important to create a comfortable room in the house for me time.
Located on the top floor, Attic will certainly be away from the noise and will feel calmer. So, choosing an attic to be a soothing place for me time is a good choice.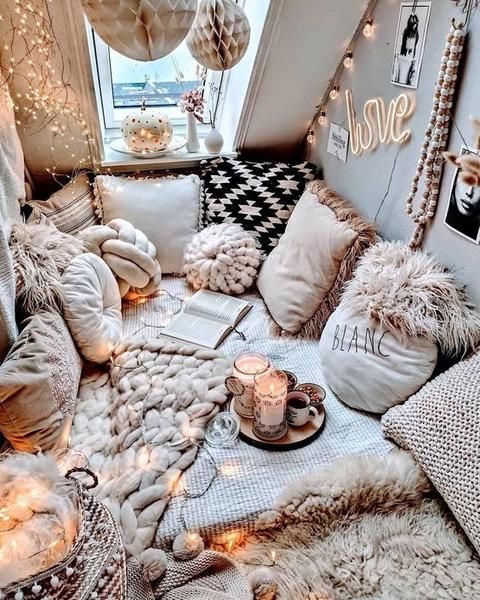 Decorating the attic to be a comfortable place and soothing for me time was not that difficult. There are several items that you can use to decorate your attic, such as: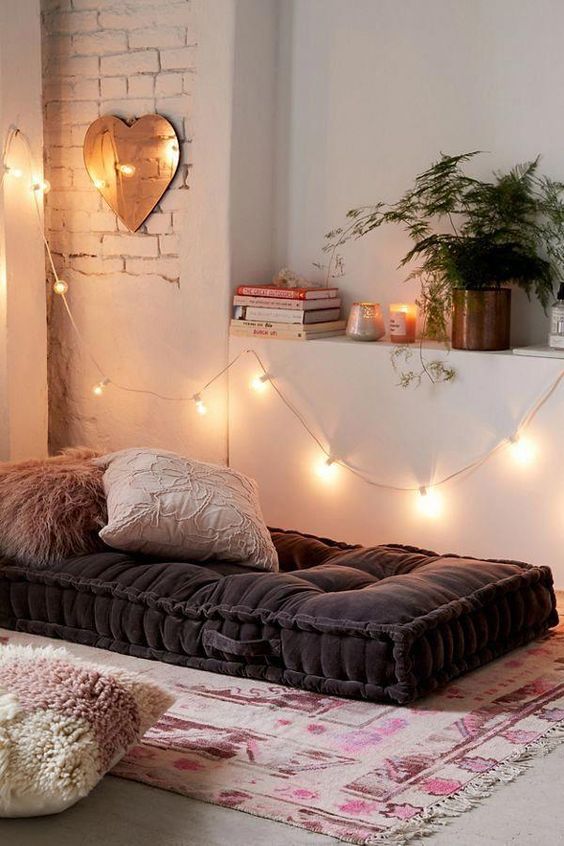 Enjoying a calm atmosphere at Attic can indeed make you more relaxed. Especially if you can lie down and relax on a soft base. No need to use a large bed because you only use the attic as a place for me time. Using a soft foam mattress is the best choice. Soft foam mattress folds up when you do not want to use it. And of course, this will save more space in the Attic.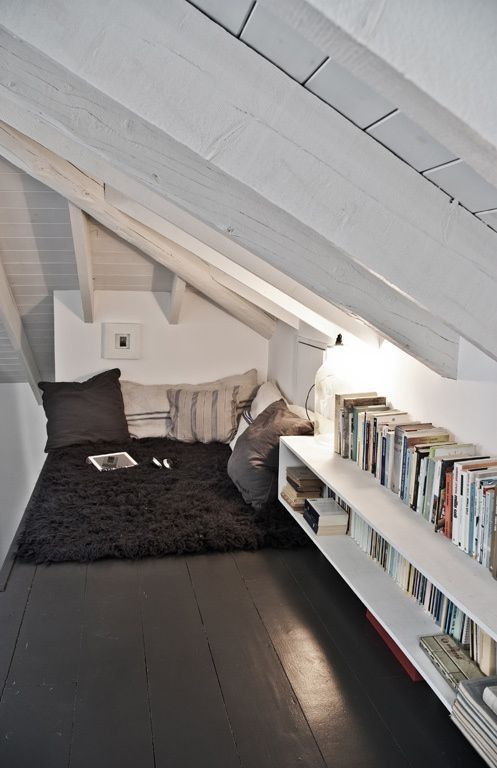 Some people enjoy a different time. There are those who prefer to lie down while contemplating, there are also those who spend their time enjoying a cup of warm drink while looking at the beautiful scenery through the window, and there are also those who enjoy their time by reading the book. If you are the third type, you can use the attic as a place to put your books. Turning the attic into your own mini-library is a really interesting idea.
A shelf is an item that is really needed to put your books. Arrange your books neatly so that the attic looks organized, neat, clean, comfortable, and also attractive.
Bean Bag to Sit Comfortably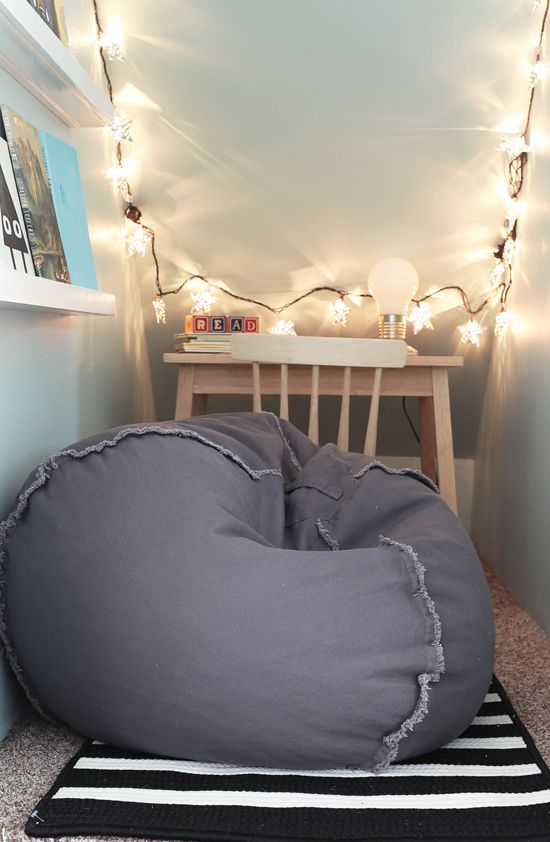 There is one item that can be used to make you feel comfortable and enjoyable to sit on for a long time. This item is a bean bag. Lately, bean bags are really popular and are used to decorate rooms and make the room a comfortable place.
So, decorate the attic with the bean bag is a great idea. You can sit comfortably while enjoying your hot chocolate, reading the book, playing games, or playing your smartphone.
Delightful Attic Bedroom
The attic bedroom is already familiar. As we know that the bedroom is a room used for resting. Therefore, people will choose a comfortable room to be used as a bedroom. And choosing the attic as a bedroom is the right choice.
Because the place is not so wide that the items used in the attic bedroom are not too many. But things that are only needed. And this method makes the attic atmosphere so calm.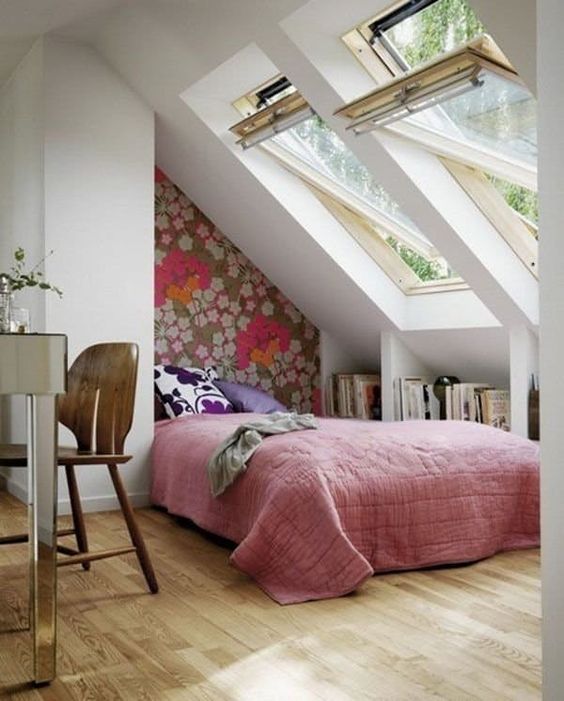 And here are items that can be used to fill and decorate the attic so that it becomes a comfortable and pleasurable bedroom: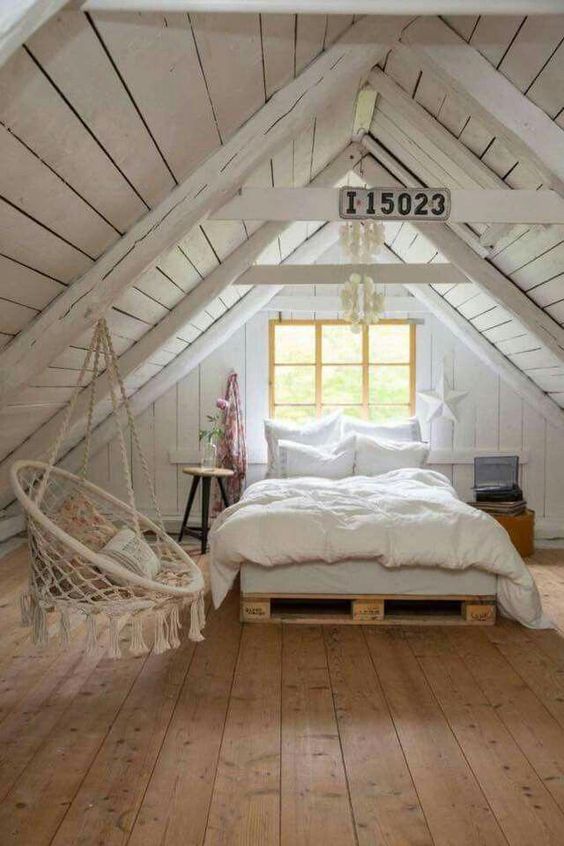 The sloping wall on the Attic makes the Attic wall seem short. And this is what makes Attic feel cramped.
The look and comfort of the attic bedroom lie in the bed used. If you use a bed that is too high, of course, it will make the attic feel cramped and uncomfortable. So, to work on it, try to choose a low-profile bed.
It will not be a problem if you do not use a bed frame. In fact, avoiding using a bedframe would be much better. By only using a soft mattress, the attic bedroom will feel wider and more comfortable. So, you can apply the mattress on the floor style to the attic bedroom.
Because of its location above, sometimes the air in the Attic will feel very cold, especially during winter. So, to make the bedroom attic feel comfortable during winter, you can use the thick carpet as a mattress base.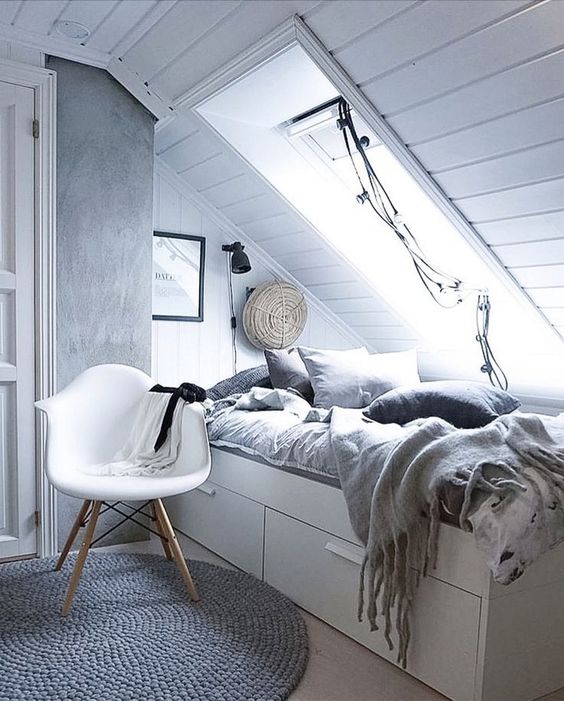 As we can see, the size of the Attic is not too big, so we have to work around it so that there is still free space in the Attic bedroom to make it feel comfortable and not feel cramped.
Placing the cupboard on the Attic will certainly take up space and make the Attic bedroom narrow. Therefore, you can use multi functional items, such as a bed with a drawer. By using the bed with the drawer, the cupboard is no longer needed. You can put your clothes here.
Conclusion
Its location above makes the attic a room away from the noise. Taking advantage of this by making the attic becomes the coziest place at house is the right and interesting idea. You can turn an abandoned Attic into a comfortable room. So, we have made this article for you who want to Make Your Attic Becomes The Coziest Place at House.
The sloping wall on the attic makes the attic seem narrow and small. And for those of you who want to know easy tips to make Attic feel comfortable and feel wider, you can read Tips Make A Narrow House To Look Broad and Feel Comfortable.