Simdreamhomes.com – With the development of the times, the human population will continue to increase so that the house is designed in a minimalist and modern way. Besides that, the available land is getting less so that people maximize the land they have to make housing. Therefore, it is no wonder that today we rarely find gardens.
The existence of a garden at home is very important to make the house feel fresh. The green color of the plants can make your house feel so relaxed that the house will be a comfortable place to live in.
Limited house land is an obstacle most often encountered by many people. However, this doesn't mean you can't make a green and fresh spot in your house. The rooftop is the right spot to be used as a garden.
It feels a shame if the rooftop is left alone. So, let's Make a Beautiful and Cozy Rooftop with Rooftop Garden Decor Ideas.
Cozy Rooftop Garden for Relaxing and Gathering
Tiring activities sometimes make us want to spend our free time as well as possible. Some people prefer to go somewhere to make themselves relaxed and refreshed. However, spending your free time and holidays relaxing and resting at home can also be fun. And of course, the atmosphere of the house must be supportive. Therefore, create one of the most comfortable spots in your house and the rooftop is the right spot.
Here are some rooftop decorations that are right for making the rooftop a place for relaxing as well as gathering:
Rooftop Garden with L-shaped Sofa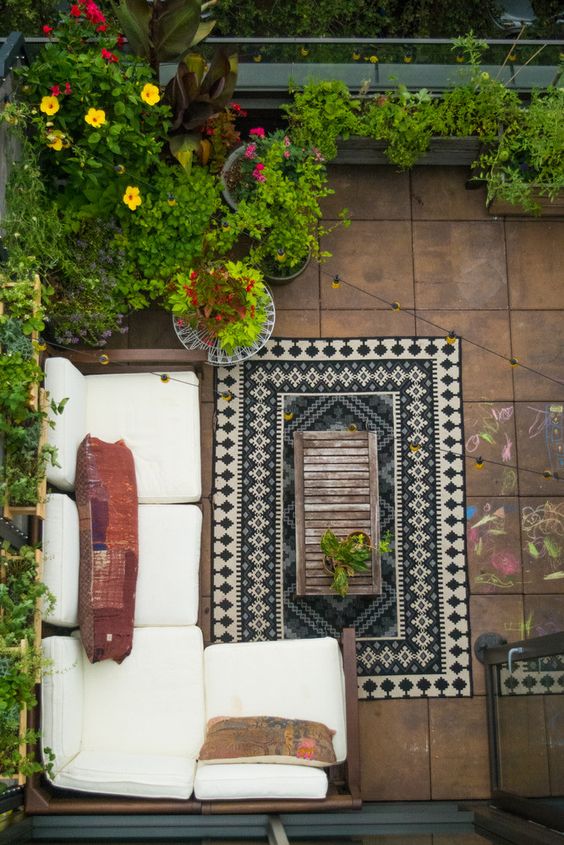 Decorating a rooftop garden with a sofa is indeed the right way to make the rooftop a place to relax and hang out. For a rectangular rooftop, an L-shaped sofa can be used to maximize every detail on the rooftop. If usually there will be an empty corner of the rooftop, but by using an L-shaped sofa, the corner of the rooftop can feel comfortable.
Try to use a sofa made of teak wood. Teak wood is strong and does not break easily even when exposed to water. And to make it feel comfortable, you can use a cushion or sofa mattress. And do not forget to give some pillows there to make it look attractive and cozier.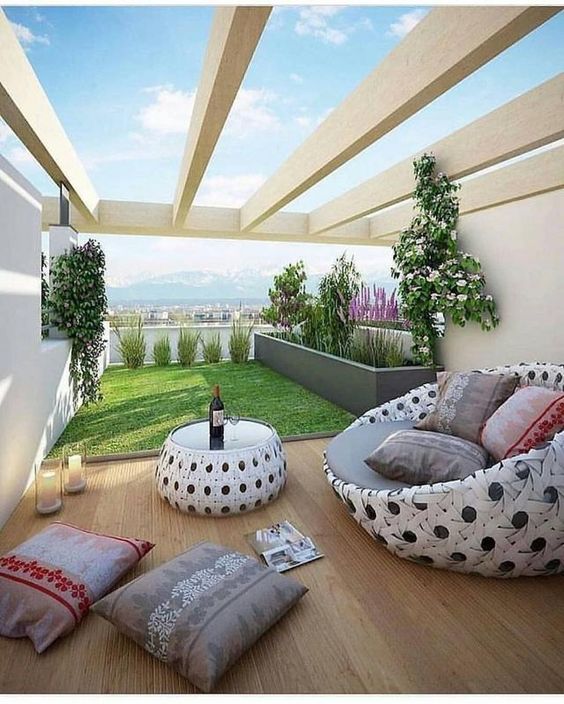 To create a clean place to relax so that you can stretch out, you can make a small stage made of wood as a place to relax. A quarter of the rooftop area is enough to make a great place to relax.
There are several decorations that can be applied to the rooftop:
Pod Chair
To make the rooftop a cozy place, a pod chair is the right type of bench to use on a rooftop. providing soft cushions and some pillows can make it feel so comfortable.
Coffee Table
It feels really good to spend free time on the green rooftop while enjoying warm drinks and reading books. Therefore, try to decorate the rooftop with a coffee table. Its small size makes this table easy to move around. Besides that, the coffee table will not make the small rooftop feel cramped.
The Cushion on The Floor
The wooden floor on the rooftop does feel comfortable. So, you no longer need a rug to make the rooftop comfortable. Just use a soft cushion as a base to sit on. In this way, enjoying free time on the rooftop will be very nice.
Roof to be More Shaded
Because it is at the very top of the house, being exposed to the sun on the rooftop will feel so hot. To make the rooftop comfortable, make a roof so that it looks and feels shady. No need to make a roof to cover the entire rooftop, just the stage.
Warm Atmosphere with Fire Pit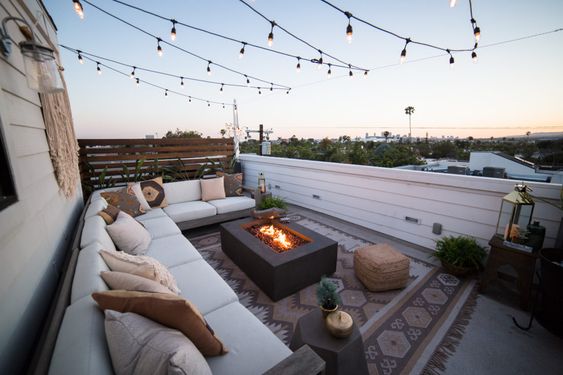 When at night, the air will turn cold. This is one of the reasons that people will prefer to be indoors rather than on the rooftop. In fact, at night, the view from the rooftop will look so beautiful. And you can use this to make your soul calmer.
A fire pit is an item that can be used to warm the air around the rooftop. Try to place a fire pit in the middle of the sofa. That way, the people who are there will get warmth from the fire pit. In this way, the rooftop garden can also be the right place to gather with your friends and family. The warm atmosphere will make it feel even more intense.
Rooftop Garden with Swimming Pool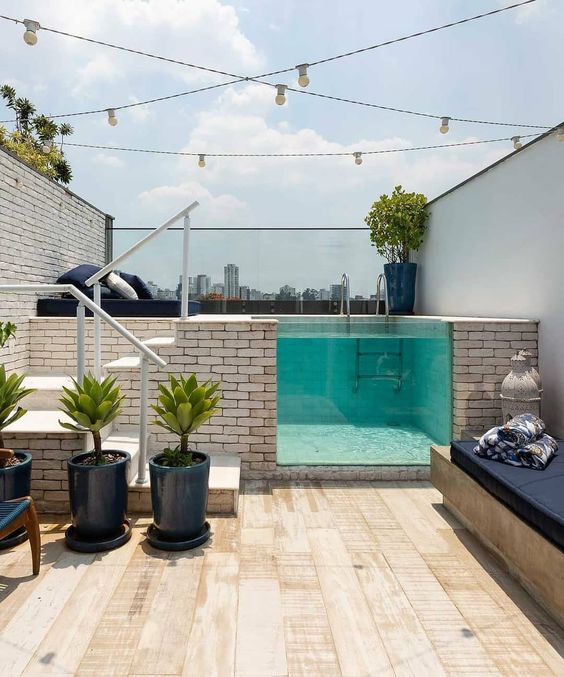 Both children and adults are very fond of swimming. Even swimming is often used as their hobby. Swimming can indeed make us healthy. Not only that, after swimming, we feel more relaxed and calm. Therefore, making a small swimming pool on the rooftop garden is an interesting idea. Add some comfortable benches so that the rooftop is the most comfortable place to spend time.
The Rooftop As The Most Comfortable Place for Two People
Do you prefer spending your vacation and spare time with loved ones? This idea can be your choice. The rooftop can also be used as a place for you to spend time with your lover. A good atmosphere can make your relationship even closer. Besides that, the rooftop atmosphere can also be made romantic. And of course, this must all be with the right decorations.
Provide Two Chairs on The Rooftop Garden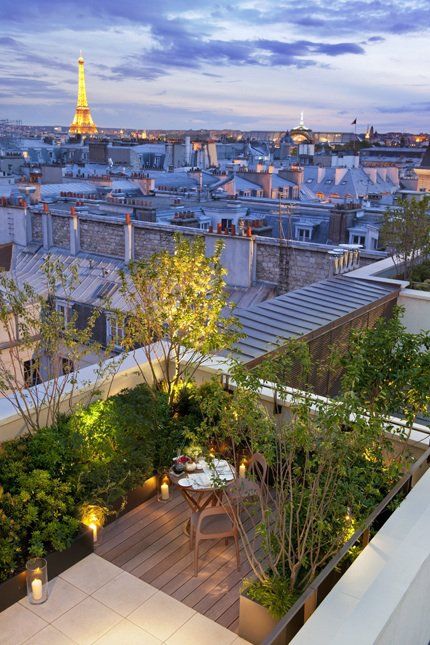 By only providing two benches, you have made the rooftop a place to relax with your partner. The existence of two benches can make the atmosphere on the rooftop even more intense. And don't forget to add a table with a minimalist design to make the rooftop look prettier. To build an atmosphere in the rooftop garden, you can make dinner. Dinner at night will be even more romantic.
A Pretty Lighting Addition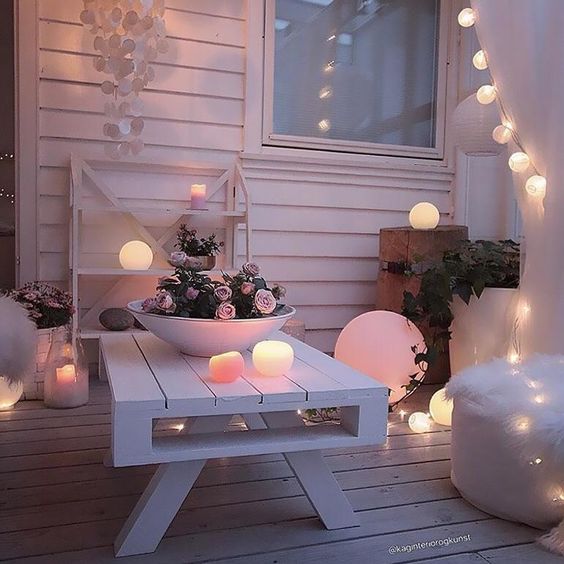 Because it is above, the rooftop does not need lighting anymore. Natural lighting is enough to make the rooftop look bright. However, this doesn't mean that the rooftop doesn't need additional lighting. The rooftop needs additional lighting so that this place looks bright at night. There are several items that can be used to make the rooftop look beautiful and cozy.
String Light
Strings are a type of light that can be used to make a rooftop garden look bright at night. Not only that but also the string lights can also make a rooftop garden look beautiful. Warm lighting from the strings can bring a warm feel to this place so that the rooftop garden will feel so romantic.
Aromatherapy Candles
Candles are a source of lighting that has been used for a long time. Even before there were lights, candles were a source of lighting at night. Today, there are aromatherapy candles that can give off a calming aroma. Therefore, to build a romantic atmosphere on a rooftop garden, candles are the next source of lighting that can be used. Candlelight lighting can also give this place warm nuances.
Comfortable Rooftop Garden with Jacuzzi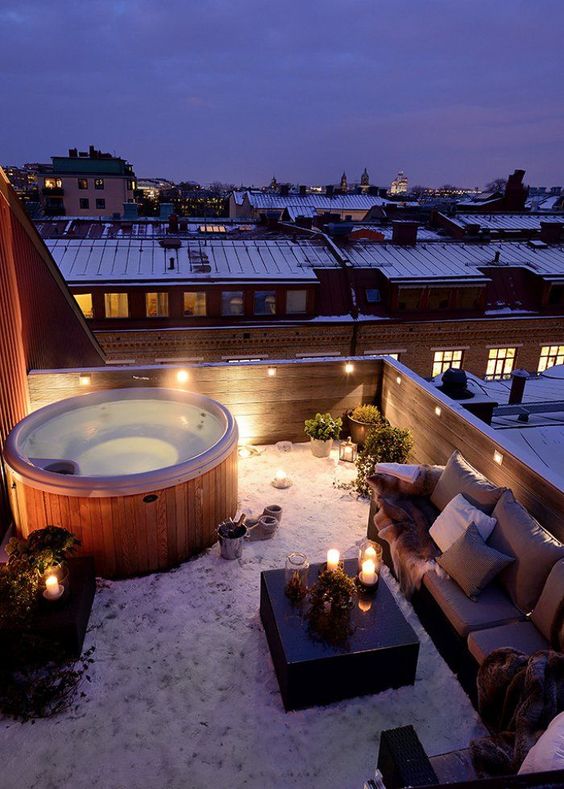 Tiring activities do make nerves and muscles tense, so we often imagine soaking in warm water. Soaking in warm water is not only possible in the bathroom. To get a different atmosphere, a rooftop can be used as an option.
You only need to add a jacuzzi to the rooftop. And then decorate it with some lighting to make it look pretty.
To use the jacuzzi, make sure the floor you are using is grass or wooden flooring. This is so that the floor is not slippery when the water in the jacuzzi spills on to the floor. Also try to keep some items of fabric such as rugs, sofas, and so on from the jacuzzi.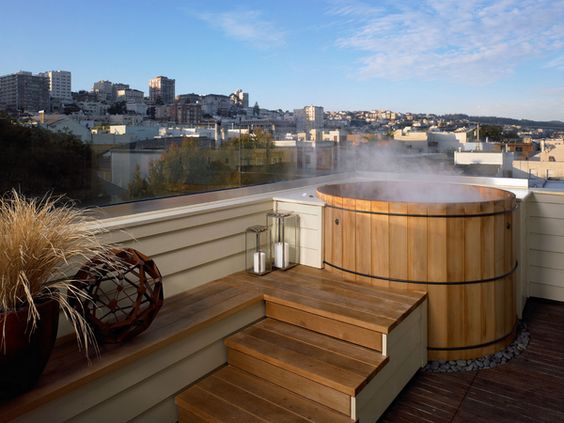 Jacuzzis can be placed in the corner or edge of the rooftop to get a beautiful view when soaking in the jacuzzi. And don't forget to provide a limit from the glass as a safety. In this way, you can calmly and comfortably take a warm bath in the jacuzzi without worrying about bad things that could happen.
Beautiful and Cozy Rooftop Garden to Relax with Hammock Decor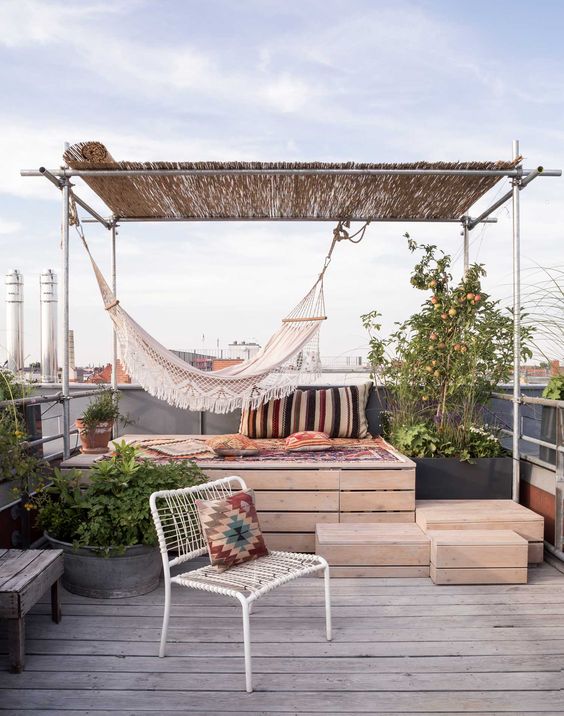 If you are one of those who prefer to relax in a place away from the noise, you can make a rooftop garden your private place to relax. Some greenery on the rooftop garden can make this place feel fresh and calm, making it the perfect place to relax. Not only decorating the rooftop garden with fresh plants, but you also need some other decorations, such as a hammock.
The hammock is one of the items that can make a rooftop garden the coziest place. However, in using this item you need a strong pole to hang the hammock. Usually, the hammock will be hung on a large tree, but of course, it is not possible to use a large tree on the rooftop. Therefore, iron poles can be an option. You can build a foundation from these posts and add a roof to make the area around the hammock shady. That way, relaxing in the hammock during the day will feel comfortable.
To make it look prettier, you can also add a rug and some cushions in this shady part.
Conclusion
As a place to live, of course, the house must be made as comfortable as possible so that the house can be a place to relax and rest. The current shortage of land makes people make better use of the land they have. Finally, creating a green and fresh space is often overlooked. Therefore, a rooftop garden is a right idea. The rooftop garden does not only offer green plants that can make us calm, the beautiful view from the top of the rooftop is also a bonus that we can enjoy. So, in this article, we have provided the best rooftop garden decor ideas that can be your references.