Simdreamhomes.com – The desk is where we do work such as writing or doing work with a laptop. Many peoples don't care about the work desk model, even though the work desk can encourage motivation at work and increase company productivity. With complete and comfortable facilities, the employees will work harder. Then without a desk, the employees cannot do work at the office, so the desk must be in the office.
Therefore, the work desk with a minimalist design is an attraction in interior design and makes your home office look beautiful and fun. For this reason, makes this unique minimalist work desk, one of the most chosen work desk designs by many people.
With a unique model and an elegant touch, make this minimalist table is lovely by many people. We trust this minimalist work desk can motivate the employees to work better. Then also can change the working atmosphere in your office room. Of course, selecting a minimalist desk will be adjusting to the size of ​​​​the home office room and someone's position in the office. For example, the work desks for Directors, General Managers, Managers, Staff, Secretary, Customer Service should not be the same model. With this article, we hope that you can choose the minimalist work desk for your employee.
Minimalist simple work desk for staff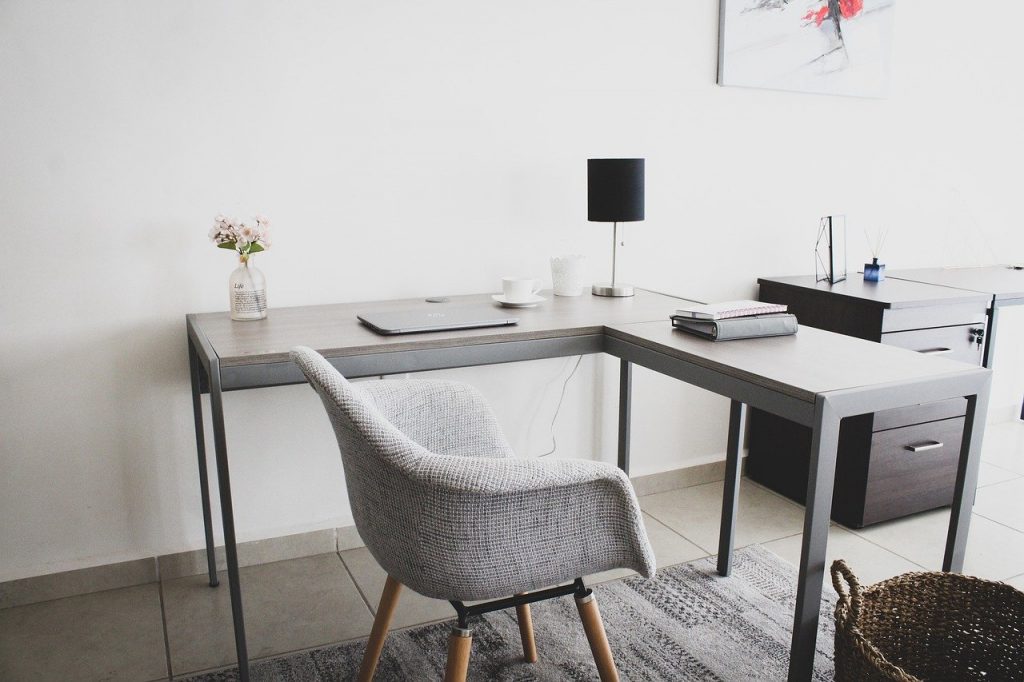 One choice of home office desks that you can get is a minimalist design like this picture. The model of this work desk looks simple, and the model is not excessive, but this work desk looks quite elegant. This work desk will look suitable and functional for your office workspace and could even complement your office interior design.
This work table is made with the best wood material so that this work table is strong enough to be used for a long time. To complete the workspace, you can choose several different sizes according to the size of your office space. Then this work desk is perfect for office staff because of its simple model, unique, and affordable price.
Like this picture above, the table is made with an L model and without drawers. With this simple model, staff will be more flexible to move and arrange the location of their work documents. Meanwhile, for document storage, you can use a wooden filing cabinet like this picture.
Minimalist partition work desk for Staff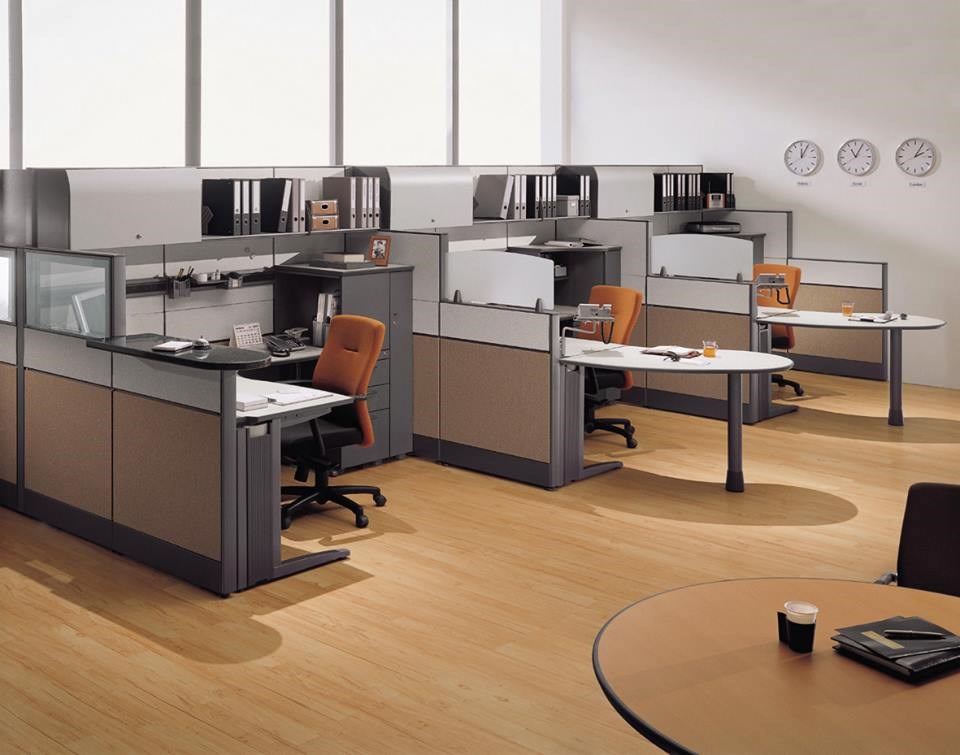 This minimalist work table in this picture is different from the previous table. This staff work desk can save your office space and make your office look beautiful and luxurious.
You can choose a modern design work desk like the picture above. This work table is designed with bright colors to highlight a minimalist modern. Although this work desk looks back to back, even the unique touch of this table makes it different from other work desks.
With a minimalist model, this work desk is one of the choices for many people. This work desk further emphasizes the impression of elegance with a favorite color, namely white is the hallmark of a minimalist color. Then the worktable is designed with an opal model and partition. In this way, it will not interfere with staff in front of him.
With a table design like this, your workspace looks spacious and beautiful and makes you comfortable to work.
Bright minimalist work desk for Staff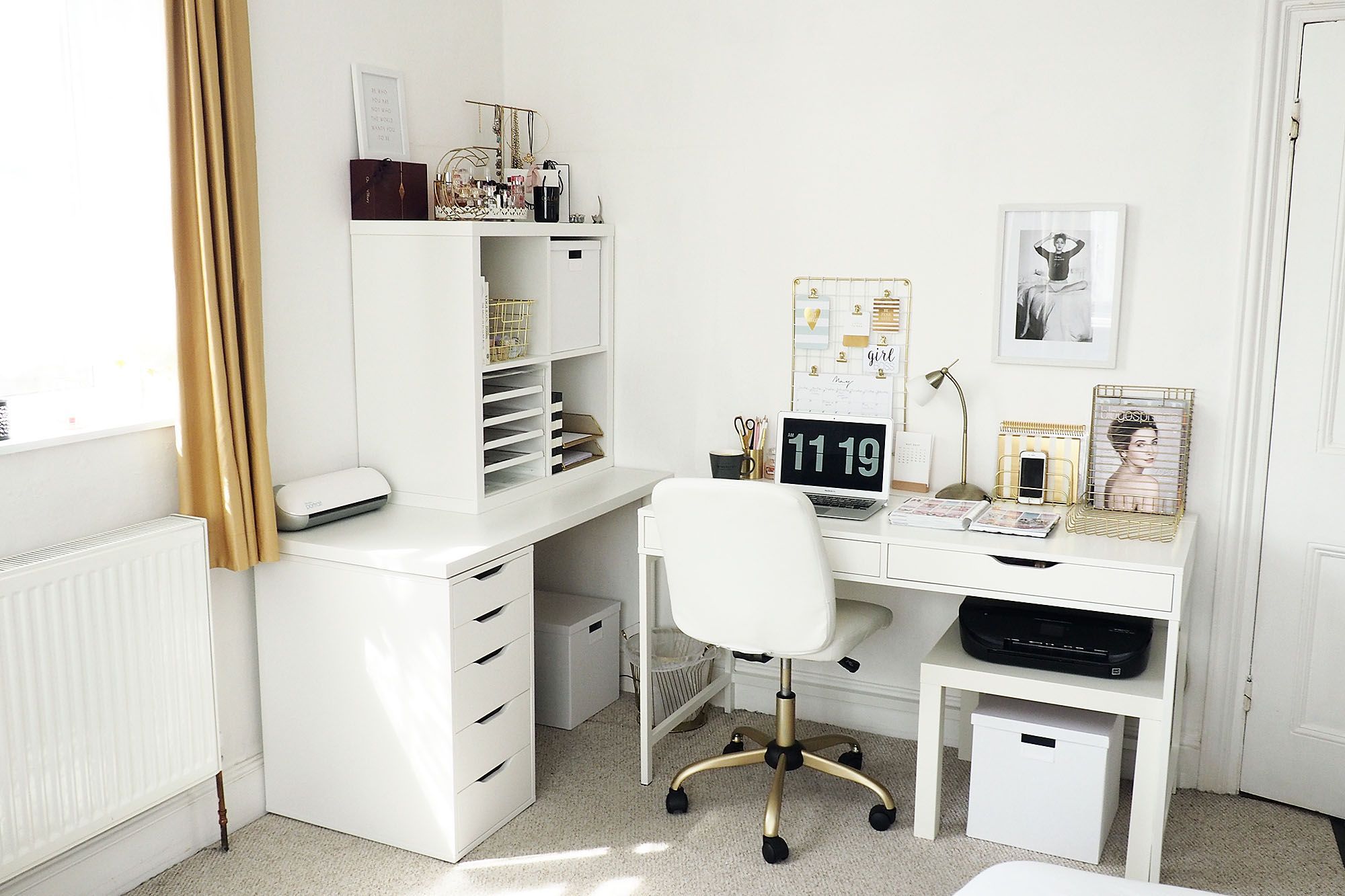 For this one work desk, the minimalist impression is very thick. The bright color of the table makes the table look more attractive and impressive. This work desk is made with a simple model, and this workbench is equipped with drawers on the left and right to store writing utensils. To place documents and files is provide document rack table and is put next to the staff desk so that it is easy for staff to retrieve documents without leaving the work desk.
Then to look attractive, the document table shelves, work desks, and chairs are making in the same color, namely bright colors. With an appearance like this, the workbench looks like a set work desk. For those of you who like a work desk like this, you should choose bright colors so that your room looks spacious.
Minimalist work desk for Secretary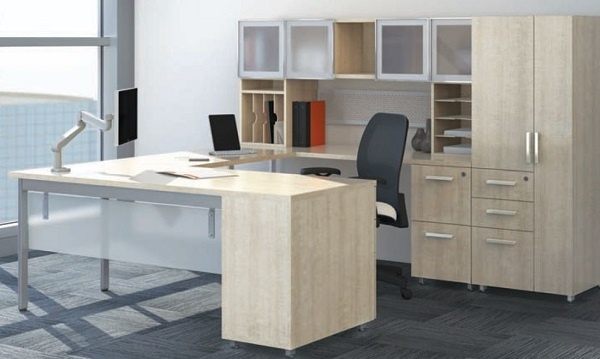 When you visit the office of your friend, and he is a Director in a company. Of course, you will meet a secretary. One of the job descriptions of the secretary is to arrange correspondence and arrange the meeting of official. Therefore, a secretary must ask the intent and purpose of the guest to come to meet her boss.
With a job like this, work facilities for secretaries must be considering. For example, a beautiful work desk with a letter L model, document cabinets for storing company documents, and comfortable chairs should be available.
To prepare a work desk like this, of course, you can order it from a furniture company, or you can buy it yourself at a furniture store so the results will be satisfactory.
Minimalist work desk for Customer Services
This table looks luxurious and is always using by medium and high-end companies for customer services. This minimalist table with the L model does not use many accessories.
In the picture above, the table looks beautiful and simple. Of course, this makes customer service work comfortably and freely move to welcome guests. In this way, The customer services appear more authoritative and confident in dealing with guests.
Then to complete the customer service desk facility, the table must include a beautiful chair and a shelf cabinet for storing company documents. Then for a table like it, it is very suitable for the brown color or with a dark color. The advantages of this table are it can place in a large room or the front room of the company, so it looks beautiful and elegant.
Then to prepare a table like this, of course, you have to buy it at a furniture store so you can choose the right color for your office.
Minimalist work desk for General Manager
Every medium-sized company usually has a general manager who leads the managers. For the convenience of working, a General Manager must provide a beautiful and pleasant work desk. A minimalist work desk like it, of course, makes the atmosphere of the room comfortable and makes the General Manager more confident in leading his managers. For that, this work desk is suitable for the position of General Manager of one company.
In this picture, you can see the model of the work desk elongated and given brightly colored, the front wall of the desk and the side of the desk is dark. To complete the work desk is given a beautiful manager chair, lep top, work accessories, lep top monitor, painting on the walls, and a bright-colored carpet under the table. In this way, the work desk looks beautiful and luxurious in the workspace.
Minimalist work desk for Reservation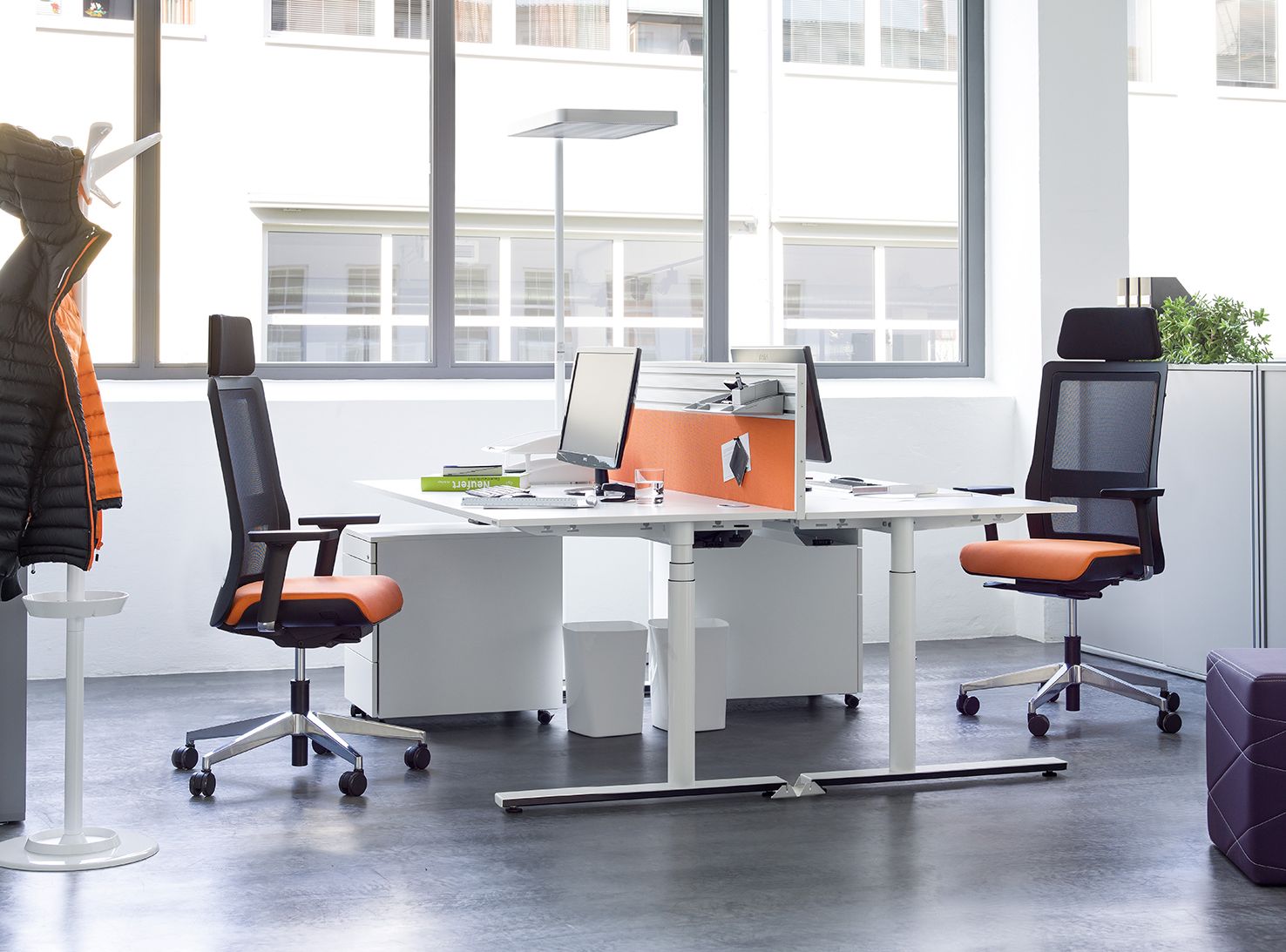 A comfortable office can increase staff motivation to work and can increase work productivity. A beautiful office certainly has complete work facilities and a comfortable workspace.
For a work desk in this picture, it is perfect for reservation staff. You can see, the office desks have been designing to face each other and blend. Then this work table is more visible with bright white color and rectangular model. Then in the middle of the table, is given a small orange partition and does not use a lot of excessive accessories such as drawers. Then the table legs have made simple so that the staff is free to move and then the work desk give the black and orange chairs.
One thing, there are no drawers for storing objects such as stationery and others. Therefore, you must give the filling cabinet under the table. With a design like this, the staff desk will look beautiful and complete.
Minimalist work desk for Manager

For the appearance of this one table, it looks more luxurious than the staff table. Of course, this luxury table is also adjusting to one's position in the office. This desk is more suitable for a manager who leads a company.
You can see that this minimalist manager's desk is made with a letter L model so that a manager will be more flexible to put work documents and organize work reports from his subordinates. Manager desk models like this look simple, and elegance remains. Then the table frame is made simple, namely from black iron, and the writing table is made in a rectangular model and given a wood color motif, and the side and front walls of the table are the design of dark wood. That way, the appearance of this manager's desk looks more authoritative.
To complete the manager room the work desk has an equipped with a beautiful chair, laptop monitor. As for the storage of company documents and other documents is given bright white shelf.
Minimalist work desk for Director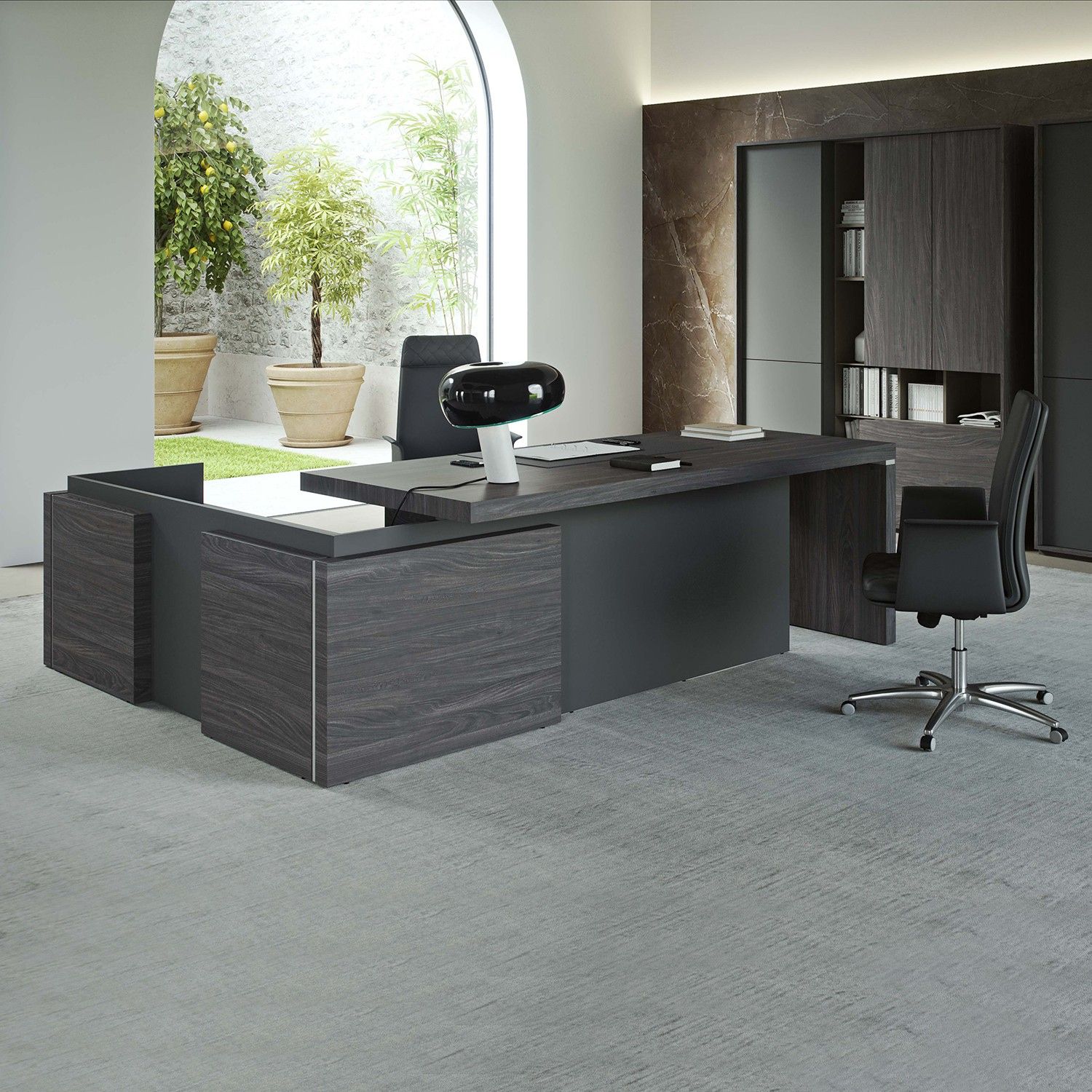 A company must have a Director. A Director must have a large room and luxurious work facilities to appear authoritative and comfortable at work. Therefore, A Director must have a luxurious work desk to accommodate a lot of work and appear confident in front of subordinates and guests.
In the picture above, you can see a luxurious table worthy of a company director. This table is made elongated with a rectangular model. Then the color of this table is given a dark color which is one of the minimalist colors. This table does not use legs, and the legs have used covered wood.
You can see in the picture, next of work desk is equipped with a luxury document rack cabinet with a door model. Then the color of the shelf cabinets is adjusted to the color of the table to make it look harmonious and attractive. Then the other equipment is the beautiful chair for Director, a guest chair, and a projector for a presentation and is installed on the Director's desk. That way, the table display will look beautiful and complete.
Conclusion
To design your minimalist work desk to look luxurious, beautiful, attractive, you should choose the best design that is appropriate to your minimalist work desk decoration is determining.
In this article, we explain some ideas, how to choose a beautiful minimalist work desk. Then to make it, of course, you will have to spend the money if your minimalist work desk has to be decorated by a home decoration company. But if you don't have enough money, you can make it according to the picture we explained then give it to the work desk maker.
Hopefully, in this article, you can choose the minimalist work desks in this picture to your taste. Happy decorating!