Simdreamhomes.com – As parents, we should make our children feel happy. One way is to decorate their private room as attractive as possible.
A kids' bedroom is indeed a room for them to rest at night. However, this room is also often used as a playground for the kids. A smart kid is an active kid. They know no time to play. So, in order for them to feel happy playing in their bedroom, parents must make the bedroom feel pleasant.
A sense of happiness that is born in children will make them feel comfortable in their bedroom. And, there are many ways you can take it. However, in this article, we have summarized some powerful ideas. So, let's Make Your Kids Happy by Decorating Their Bedroom with These Ideas!
Making Their Bed Like A Playground
As we know, active children indicate that they are smart children. Therefore, never prohibit or inhibit their activity. As parents, try to support what they like.
As in this one idea, because active children really like to play, making their bed like in a playground is the first idea you can follow to make your kids feel happy in their rooms.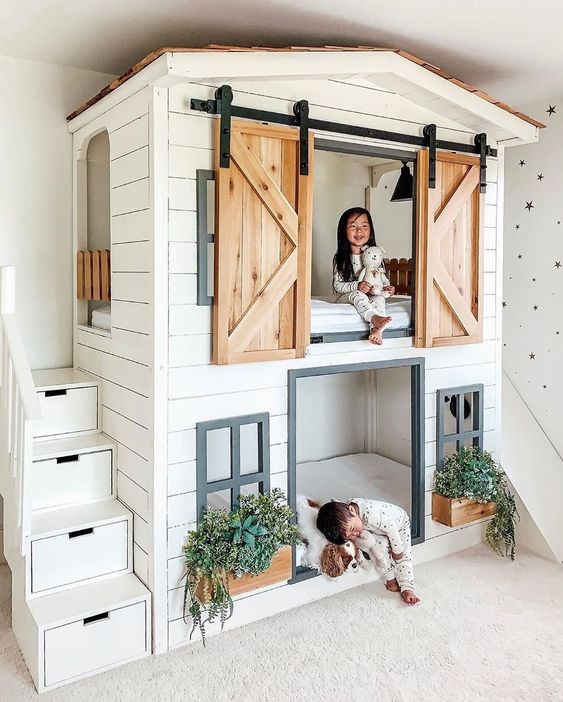 A bed in the shape of a house
Making their bed their shape is tantamount to helping the child develop his creativity. Usually, children have their own fantasy world where they consider themselves to be princesses or Princes like in Disney movies.
To make them feel happy and comfortable in their bedroom, the bedroom must always be tidied up. Not only that, but the cleanliness of the bedroom also needs attention. A clean bedroom is not only for the joy of the children but also for their health.
One of the causes of the bedroom being dirty and messy is the scattered children's toys. It is not very good for the look or comfort of the bedroom. These toys should be kept in a hidden place. And a stair bed drawer is the right choice. In addition, children will also find it easy to retrieve and store their toys again.
Swing In The Bedroom Will Be Very Fun
Due to COVID-19, we cannot invite our children to play in the park or playground. In fact, in these places, there are several rides that children like, one of which is a swing.
To keep children happy during this pandemic, what if we bring the ride that children like into their bedrooms?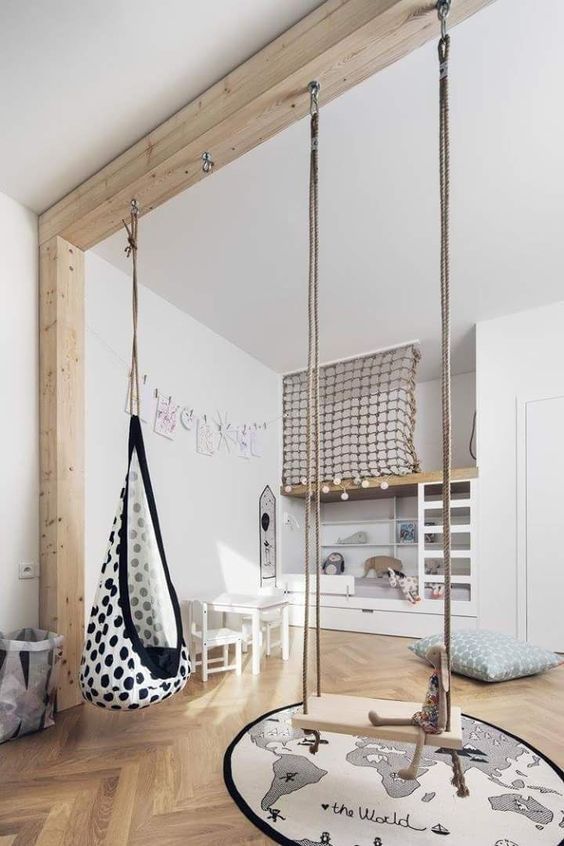 The swing in the kids' bedroom is the second idea to make this room feel so fun. They can play comfortably and happily without having to go to the playground.
Strong beam to hang the swings
All you need here is a strong beam to hang a swing in the bedroom. Make sure the beam is perfectly attached to the ceiling because this is very important to keep the child safe when playing.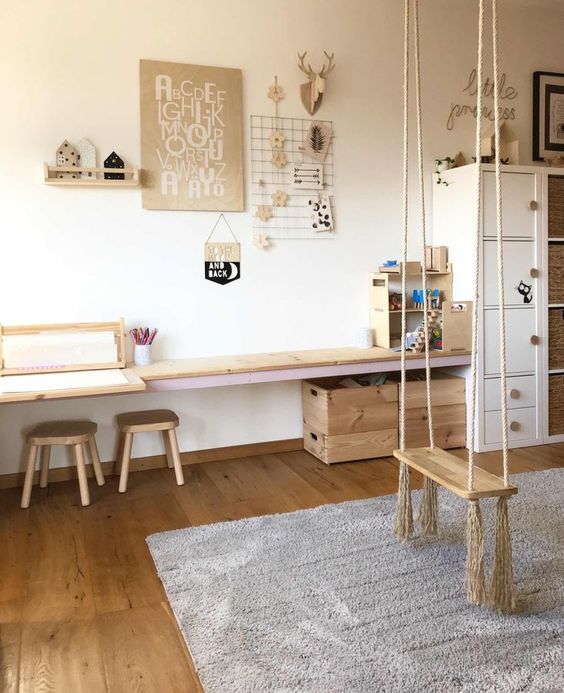 One of the children's habits is falling while playing the swing. As a parent, you do not need to worry. You just need to figure out how to keep the kids safe when they fall off the swing. If on the playground there is sand under the swing, but for the bedroom, you can use a soft rug.
Attractive Kid Bunk Bed with A Slide
Other rides that children like besides swings are slides. Usually, the swing is a ride that girls like. Meanwhile, the slide is a favorite ride for boys.
To make children feel happy and comfortable in their bedroom, not only swings can be presented in the bedroom but the slides can be presented too.
So, using the kid bunk bed with a slide is the third idea to make your kids feel happy in their bedroom. Actually, this one idea is quite interesting and also anti-mainstream.
It is rare to find this bunk bed in a furniture store. Usually, you need to custom and order it first to get this furniture. However, you can utilize this opportunity to make the bedroom look attractive. You can choose the color you want and what is clear must be in accordance with the child's bedroom design.
For a boy's bedroom, try not to choose colors that are too cute such as pink, yellow, etc. You can choose army green, orange, navy blue, and so on.
Kid Bedroom Like in Galaxy
Every little child must have the dreams they want, such as doctors, teachers, pilots, even astronauts. As parents, do not ever break the child's dreams. On the contrary, parents must support what the child likes.
This one idea is perfect to apply if your child has dreams of becoming an astronaut. You can expand their imagination by making their bedroom like in galaxy.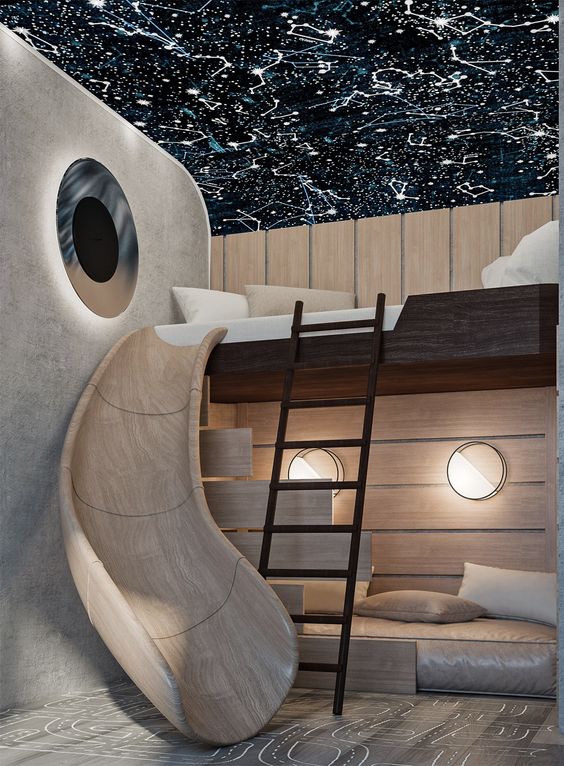 The ceiling with a black base color is drawn as if it were in outer space
To make the bedroom effect feel like in outer space, the bedroom ceiling is the most important part of the room. Try painting the ceiling black then draw lots of stars with white paint.
Wooden furniture balances the bold impression of black
For children's bedrooms, try not to make the atmosphere or impression of their bedroom look sharp and firm. This made their bedroom feel very uncomfortable. Therefore, to balance the bold appearance of the black color, choose wooden furniture. The wood used is not wood with a dark color but wood with a light color to make the bedroom look calm.
When using wooden furniture, make sure the wood is polished so that it becomes smooth and slippery to keep the child safe.
Rough wood can scratch a child's skin. So, make sure you pay attention to the wood that you will use.
Tent in The Bedroom. Why Not?
Camping is a favorite activity for children. However, of course, we cannot possibly take our children to go camping in this current pandemic, right? So, to keep children happy, why not set up a tent in the bedroom?
The tent used is not a tent that is usually used for camping in the forest or in the mountains. The tent used must be adapted to the children, or so-called children's tents.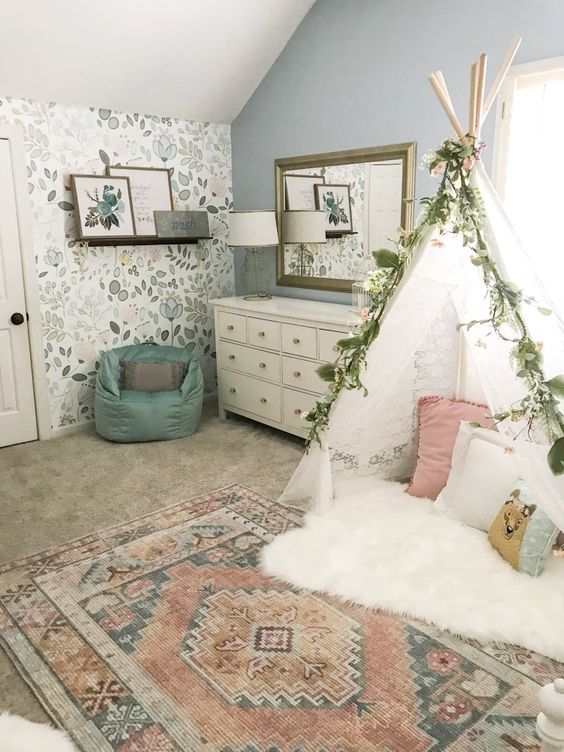 With this one idea, setting up a tent in the child's bedroom, children can feel the atmosphere of a camper in their bedroom. This of course will be much safer and more comfortable. In the bedroom, they will not feel the cold night air which can make them sick. Not only that, but the room will also be a cool playroom.
Decorate the tent with artificial vines and flowers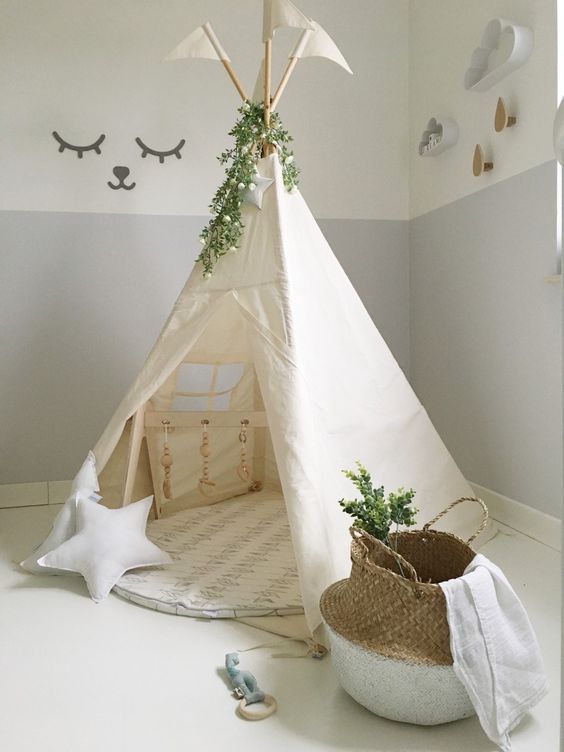 The aesthetic appearance of the kid's bedroom also needs attention. An attractive bedroom will create a cozy atmosphere. So, it is important to decorate the tent in the bedroom so that it does not look stiff.
Try decorating the tent with natural touches, such as plants. Use artificial plants. Vines and flowers are the right decoration to enhance the appearance of the tent in a kid's bedroom.
Carpet flooring to make it warm
There are many flooring options for children's bedrooms, but make sure you choose the right flooring that will make their bedroom feel comfortable.
For the kid's bedroom, carpet flooring is the right choice. This is because children feel cold easily so they get sick easily. In order to make the children can play and sleep in their tent comfortably, you can choose carpet flooring for their bedrooms.
Carpet flooring is not enough, use the soft rug too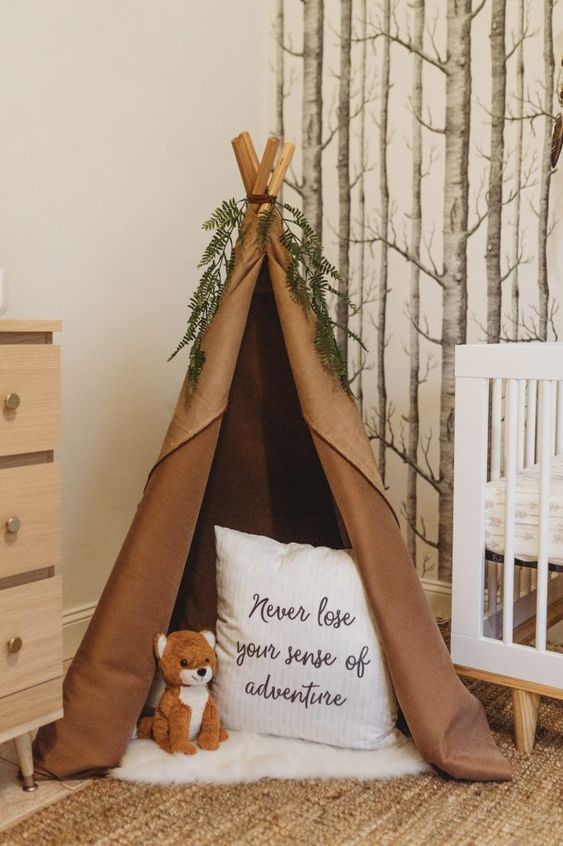 Some of you might think that the carpet flooring is enough to make their bedroom feel warm. However, carpet flooring is not enough. So that they can feel comfortable and happy when playing or sleeping in their tent, you can hold a soft rug right under the tent. Sheepskin rug is the right choice to give a natural touch to the bedroom.
Don't forget to add some pillows with beautiful colors and patterns so that they will be more comfortable in the tent. Besides that, beautiful colors and motifs can also make a child's bedroom look more attractive and cheerful.
Conclusion
One of the characteristics of a smart child is an active child. Parents may feel dizzy and overwhelmed in controlling overactive children. However, it is important to remember that you should not prohibit your child from always being silent. In fact, parents must support what the child likes, provided that they maintain the child's safety. One way to support children is to make their bedroom look fun according to their personality. So, what are you waiting for? Let's Make Your Kids Happy by Decorating Their Bedroom with These Ideas. Good luck all!