1. Getting to know the fountain
Water is an inseparable part of human life as of cooling for your life. Then, providing inner peace. For those of you who have a minimalist home design. Of course, water is always in the house interior because it can make us calm and comfortable.
For that, the fountain is one of your home interior designs. In this way, the interior home becomes an integral part of the appearance of the room, then becomes a soothing element, as well as an element of your home decor. Therefore, many people make fountains in their homes.
Many people are reluctant to include fountains in the design of their homes because of limited land and the difficulty of maintenance being the reason. Therefore, there are many creative ideas to realize your imagination and dream fountain in your home. For this reason, in the article below, we share ideas for providing a mini fountain solution whose function is also the same as a regular fountain. But the difference is in the size of the design. For that, we will explain one by one the function and purpose of making a mini fountain in your home!
2. Fountain material
Speaking of fountains, of course, you imagine water falling from the mountain into a river or natural pool.
But the fountain that we will discuss is a mini fountain which is a human creation. We know that making a fountain shower requires the best materials. The material used for a mini fountain consists of several materials, namely clay, cement, and bamboo.
This material is easy to obtain but for the manufacture, of course, requires expertise so that the results are satisfactory. For example, the surface of a fountain is smooth, and the shower model is artistic and beautiful, and fun. Well! If you already know how to make it, of course, you have to imitate the image that we present, don't forget to mix the color of the material with the design model you made.
3. Fountain model
There are several models that we present in this article, and you can imitate this model. The fountain model consists of various models. The models that we often encounter as round-tiered and carved on the surface, and we find this model a lot in modern minimalist homes.
Then, there are models such as fish ponds where water is flowed by a water pump, and this model is making by people who like to keep fish.
There is even a model that is making naturally using bamboo as a shower. We often find this bamboo model in Indonesian village houses because the function is to drain water for daily needs.
Do you like the model in the picture? You can make it according to the needs and model of your home.
4. Fountain location
Decoration Mini fountains are many installing by house owners who like works of art. They are happy with the model, shape, and artistic value of it. But some use this mini fountain as a home decoration because the mini fountain, making the inside a house look, the front garden of the house, the garden behind the house, and the bedroom look beautiful and fun.
For you to know, the mini fountain can be moving to a location you like. For example, you can move the mini fountain to the living room, the garden in front of the house, the garden behind the house, the family room, the dining room, and even the bedroom.
As you know, the sound of a mini fountain can make the heart calm and comfortable so you will feel at home in the room. For that, we explain some of the best locations to put the mini fountains.
5. Mini fountain location
For your consideration in choosing a fountain, in this article, we present several pictures of mini fountains for you to choose it. Not all fountain models can choose and install in your space. In this article, we hope you can look at some pictures of the fountain and place it in the best location. In this way, your room will look more attractive to the eye.
For that, we hope that you can imitate one of the images below, and we are sure that your room will look beautiful and artistic.
Happy decorating!
Fountain by the side of the house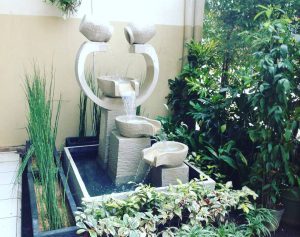 Do you want to create a minimalist garden including a fountain as well as a fish pond? Then To get a garden design to your taste, you don't always need a large area because the garden design can be realizing on a small land as above.
As you can see, the fish pond making of rocks at the edges, so it looks natural. The fountain placed in the fish pond is also a decoration element to make the fish pond look more beautiful. Next to the fish pond, you can plant a variety of your favorite beautiful plants.
Fountain on the front terrace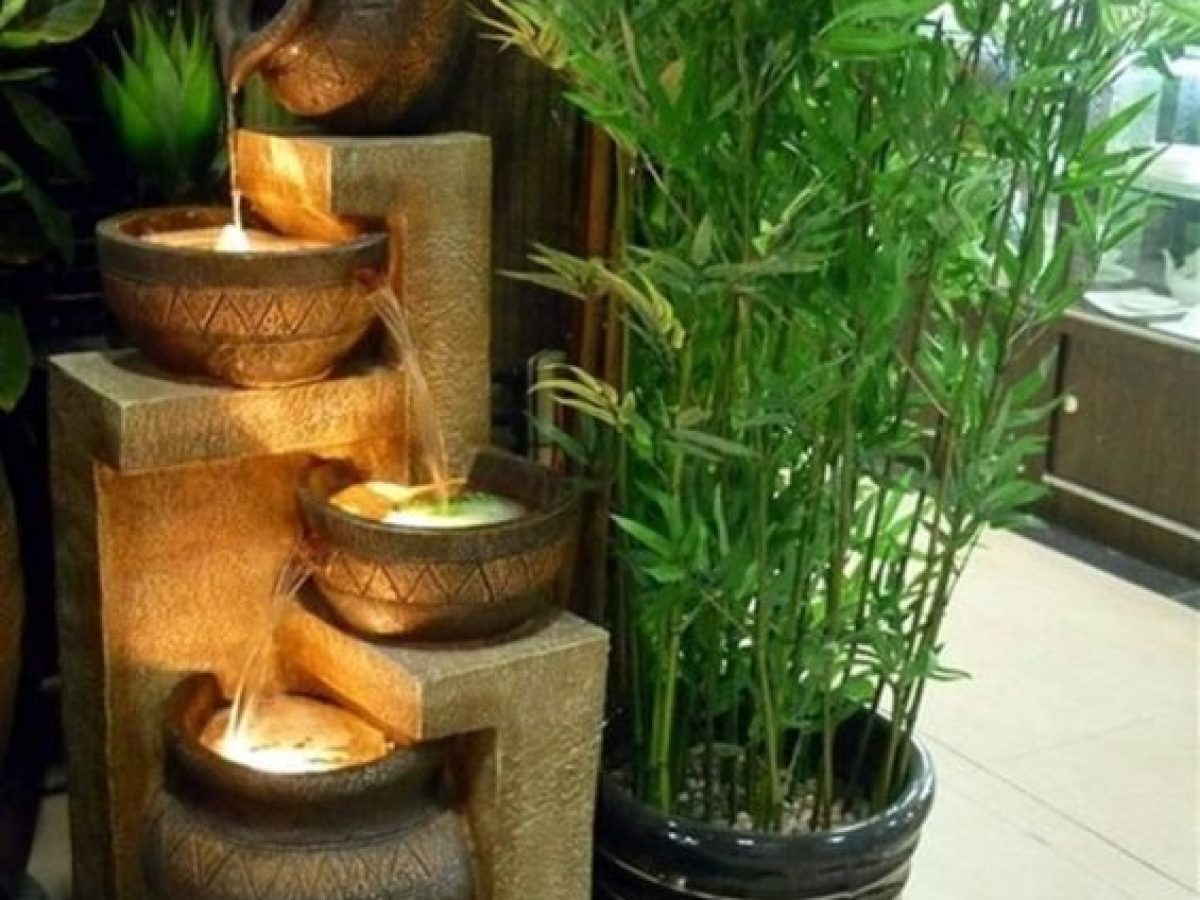 Not everyone has more land to make a garden. But don't worry because there are many ways for you to bring your dream garden. The limited land you have, don't be an obstacle to designing a beautiful and fun garden.
In this article, we explain the park does not have to design in a large area. Therefore, you can make a mini fountain in a small house park. But, you must put with the best location. For example, you make it on the front or back porch of your home.
The design of a multilevel model fountain on the front terrace of your house can make your home look beautiful and charming. The sound of water coming from the fountain making the atmosphere more calm and pleasant. For you to know, you can also make this fountain in your home, so the atmosphere in your home will be more comfortable.
Fountain in flowerpot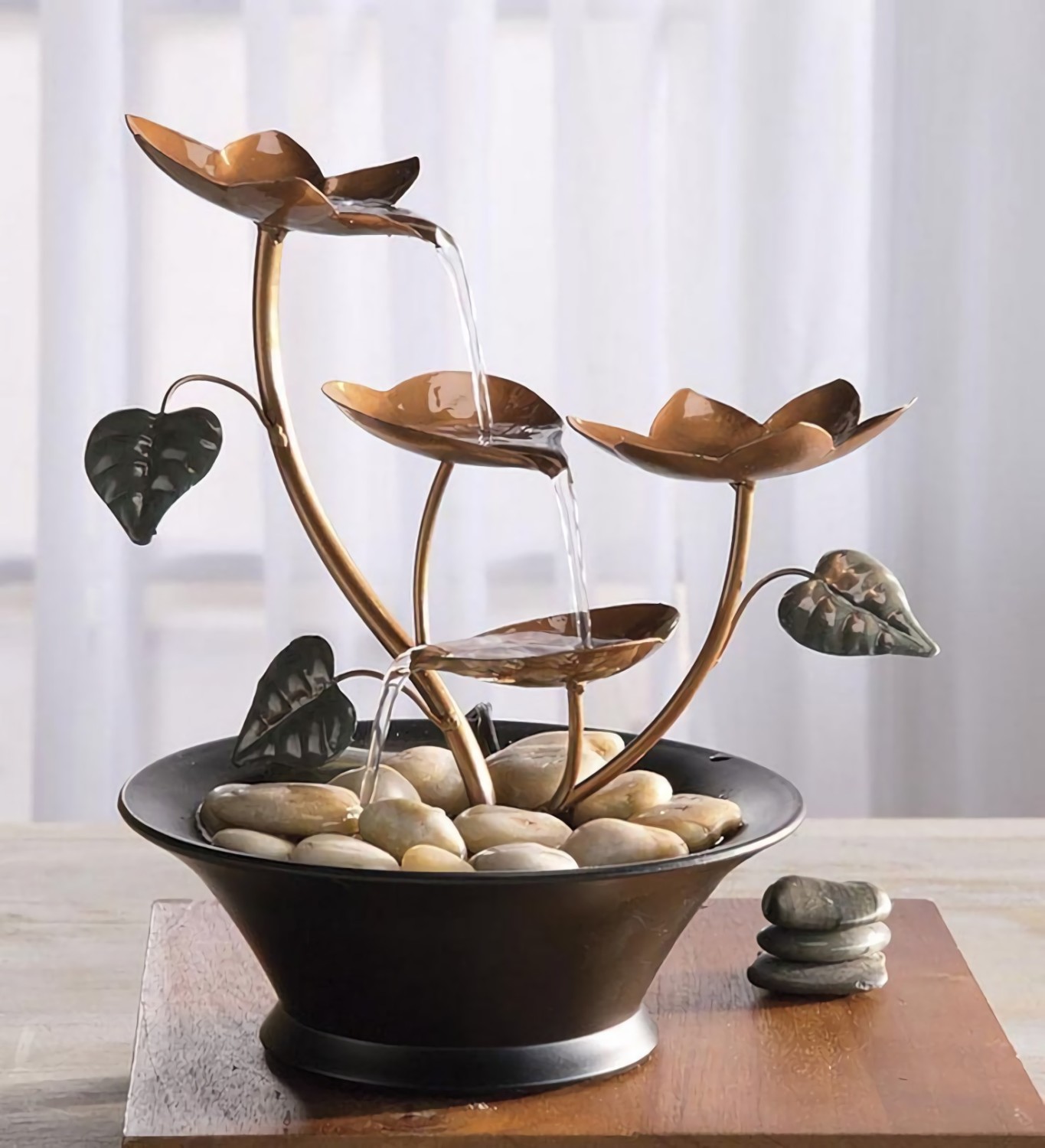 You can see this fountain is a beautiful and unique shape. These fountain pots like this come in a variety of designs, materials, colors, and sizes. A tiny fountain pot with the model of a lotus plant flows cool water with its gentle gurgling falling on the white coral. This simple design makes your room atmosphere calm and safe, and you can enjoy it while working or reading the news.
For those of you who are happy with the sound of water splashing, of course, you can bring this pot fountain to your home. The advantage of this potted fountain is that you can move the room whichever you like, for example, the bedroom and workspace.
The sound of splashing water will make the atmosphere in your room comfortable and calm, and you can focus more on your work, and you will find the best inspiration for your business or your work.
Mini fountain in the bedroom
You can make this one-meter high fountain design yourself from scraps of iron piece fence frames or bamboo. Alternating iron pieces arrange to show your creativity which has artistic value, and the model is unique.
This mini fountain can provide coolness and calm while emphasizing the elements of vertical and horizontal lines and is the hallmark of your fountain design. Then, to make this certainly does not use a lot of money. Of course, it all depends on your creativity and your ideas. Then for the model according to your taste because you are the one who designed it.
Simple fountain in the house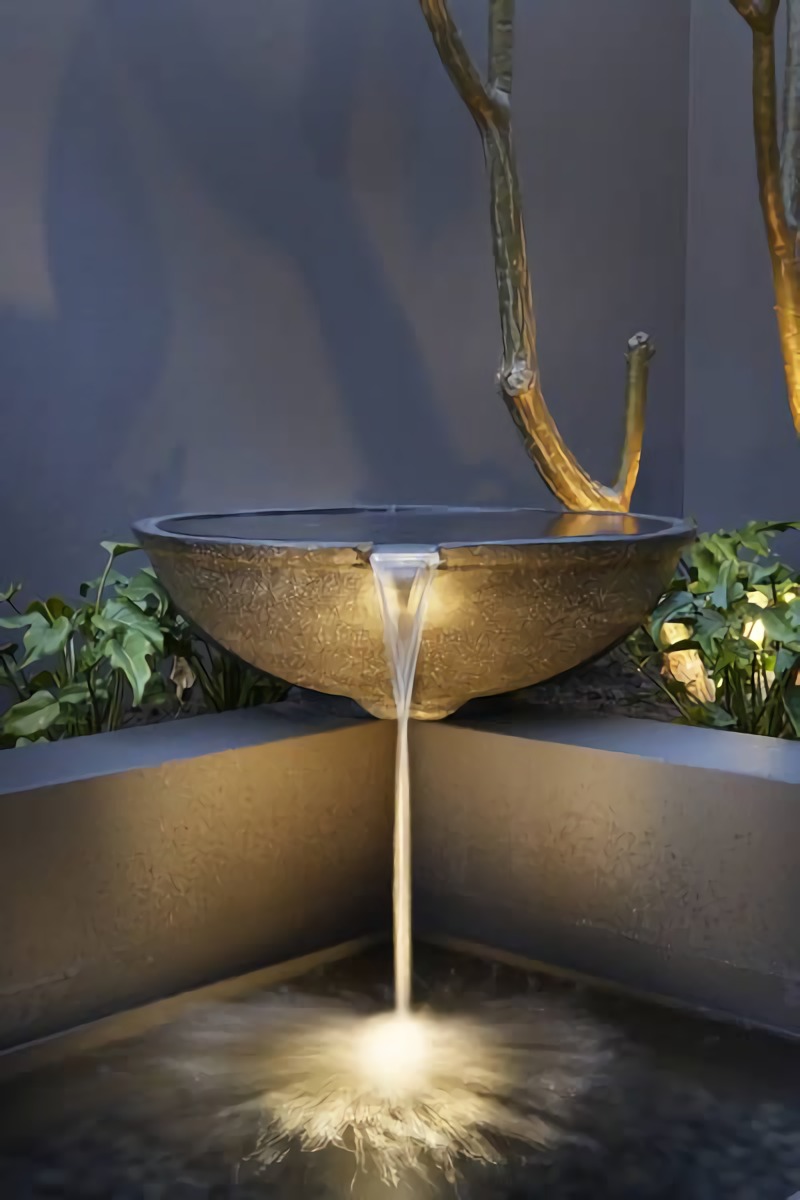 In its simplicity, clear water flows through a small gap, soaking the floor below, providing coolness and serenity. Then, water becomes a symbol of success in our life. The sound of water can be cooling and pleasant for those around it. Therefore, to present the sound of splashing water, you do not need to look for a place of flowing water. You enough prepare a small pot in the corner of the room and add lighting focus to get a pleasant impression. Then, running the water with a small pump. In this way, you will be happy and comfortable.
Indoor garden fountain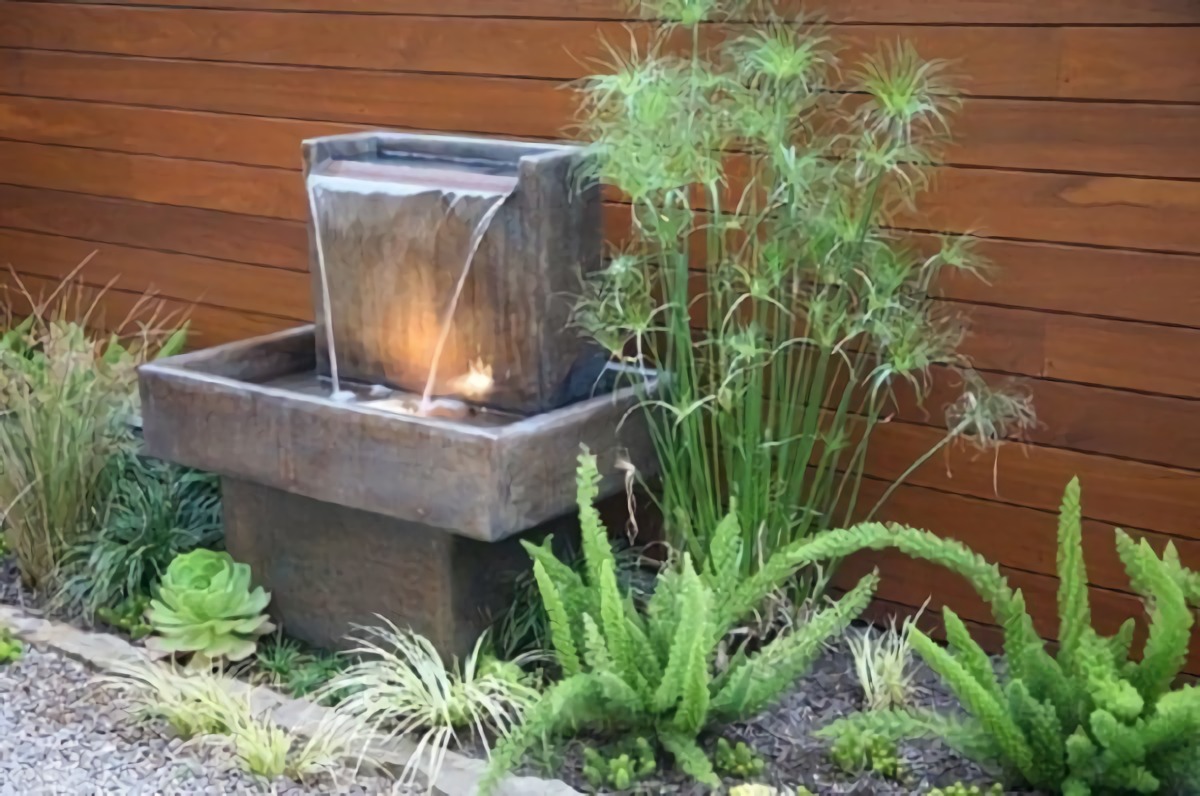 Having a beautiful and comfortable home interior is everyone's dream. We know that you will always design the interior of your home to make it look beautiful and charming. With all the inspiration and ideas you are trying to make the interior of your home look beautiful in the guest's eyes.
For that, in this article, we want to share ideas to make your home interior beautiful with a mini fountain. To make this, you do not need to prepare a lot of materials. The most important thing is you can arrange this mini fountain to make your heart calm and comfortable.
For you to know, the splash of water that comes from the fountain will make your indoor atmosphere pleasant. With a simple mini fountain design, we want your home to look beautiful and charming.
Happy decorating!
Mini fountain on the table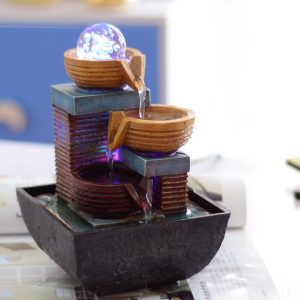 Sometimes we have to find a calm and comfortable atmosphere to do our work at home, other than at the office. As far as you know, a comfortable place can make us more focused and concentrated at work. Then, the sound of splashing water can wake up our work atmosphere to be more enthusiastic. For that, we will explain some ideas for you to achieve success through water therapy.
Therefore, mini fountains can help you to be calmer in thinking and get brilliant inspiration. Of course, if you get a comfortable atmosphere. You can place a mini fountain like the picture above on the table, so the sound of splashing water can make you more active and comfortable doing your job. Well, please decorate according to the images and articles that we describe.
Fountain in the garden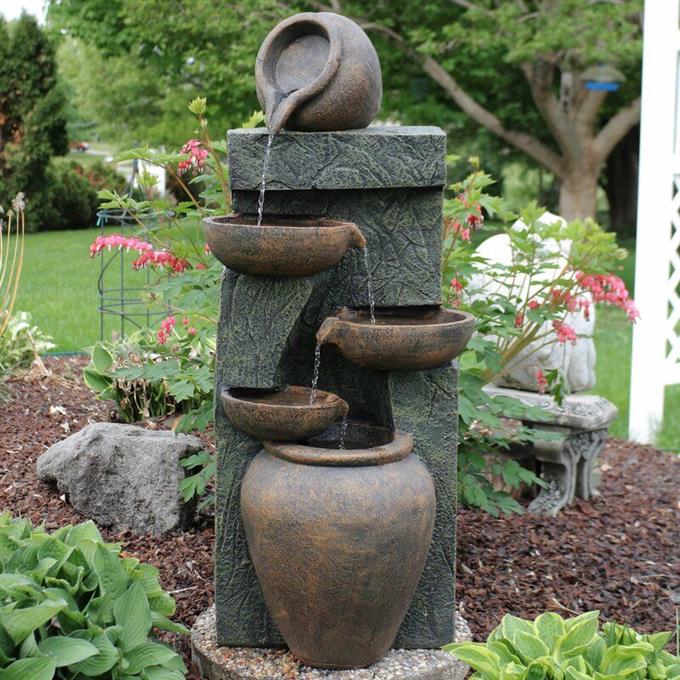 There are several gardens you can make. Therefore, you can make your garden in two options or both. For this reason, you can make with a wet garden and a dry garden.
Dry gardens are one of the garden concepts that are plan by types of plants that tend not to require much attention. In addition, it usually uses rock elements, such as coral.
Making a dry garden is an alternative if you don't have much time to care for the garden. But this garden can also make your home look beautiful and charming. Then, Dry gardens will be even more beautiful if you install a tiered mini fountain from a jug because water sound can add a calm atmosphere. For this reason, a dry garden with a wet garden can be made in front or behind the house.
Even you can make this one garden design inspiration. The design is simple but still looks more attractive. This garden does not use many plants. However, it still looks beautiful with a multilevel model fountain in the picture above. Of course, making the garden look beautiful and not arid.
Natural bamboo fountain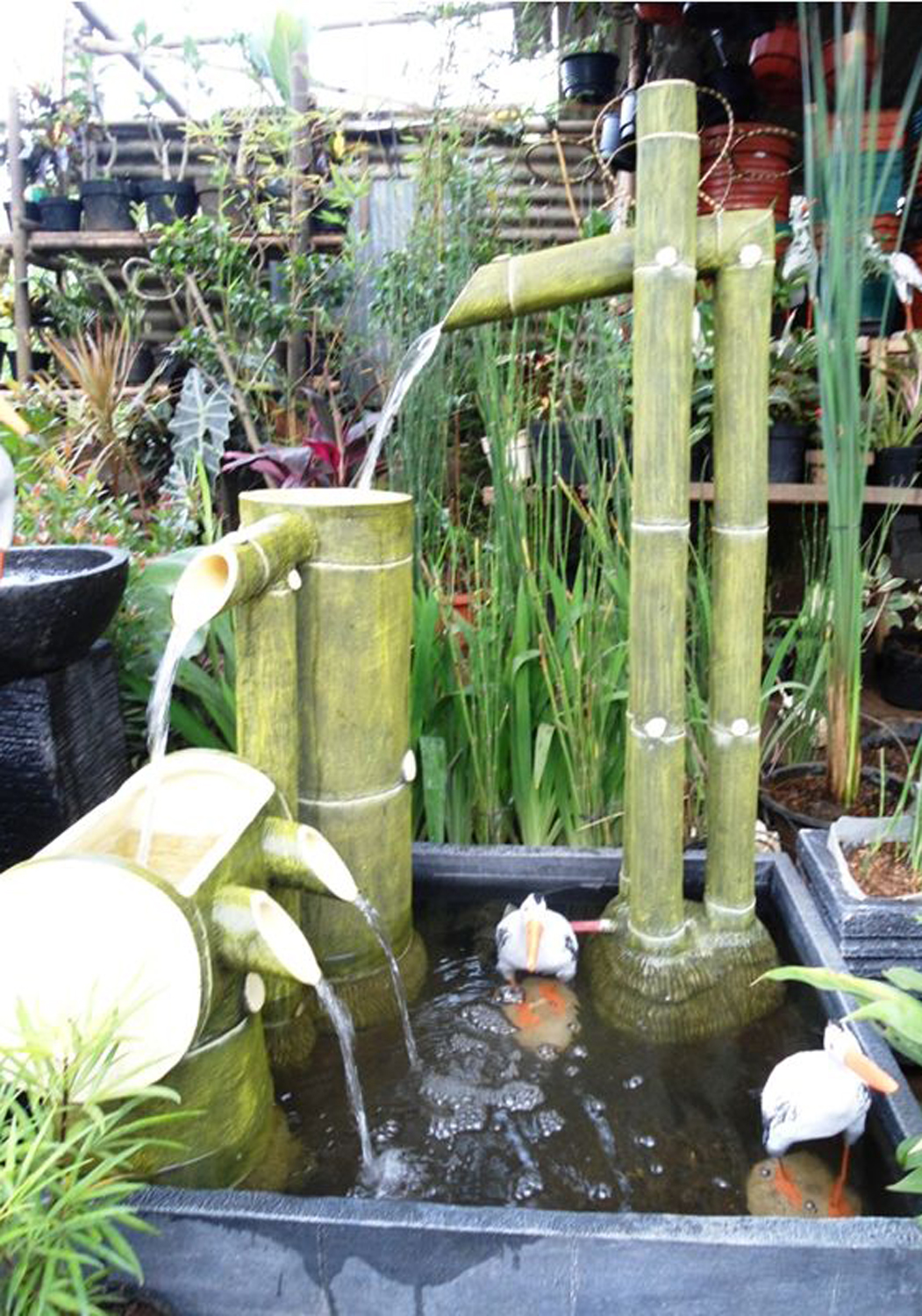 Having limited land is not a problem in making a garden complete with a fountain. In the picture above, you can see a natural fountain in a small garden. This fountain is making with bamboo, and the watering is made naturally without using a water pump.
Usually, there are many fountains like this in the countryside then they arrange the water from the mountains. Even this bamboo fountain is very appropriate to install in the fish pond behind your house. In this way, the appearance of your home will look attractive and unique. But for those of you who like to keep fish, you can take advantage of this type of fountain for your enjoyment.
Of course, to make your inspiration more perfect, you can place a fountain in a fish pond, and you can enjoy it while releasing your stress and tension in the office. With the right design, the appearance of your home will attract the attention of many people. Hopefully, you can make it.
Mini fountain for home garden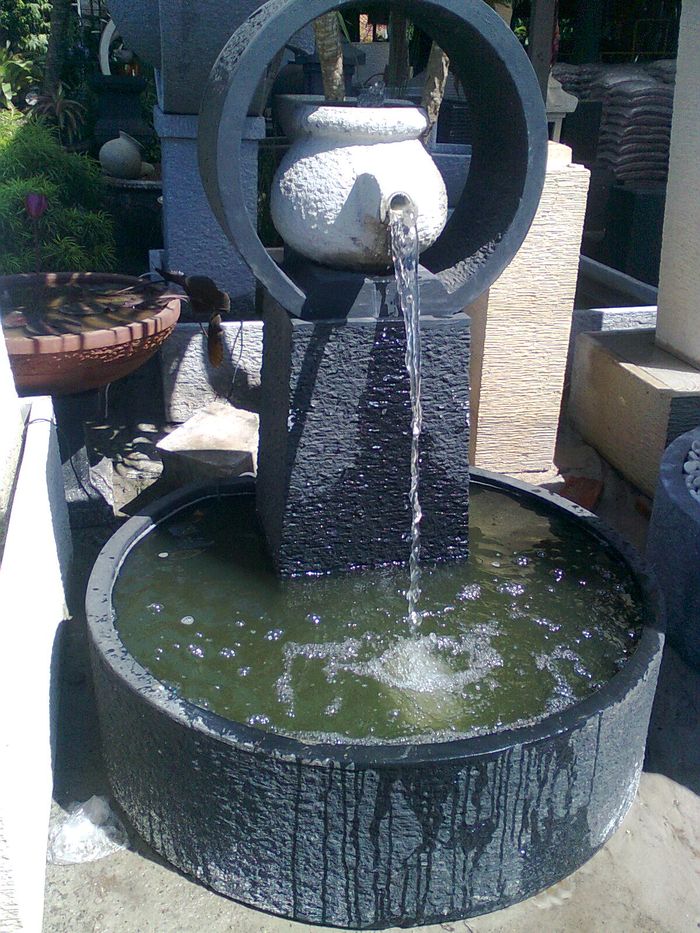 Everyone will love to have a beautiful garden. The garden is full of colorful flowers that make you always look at it. But to design a home garden not only with flowers or trees, but you can also design it by placing a mini fountain in the garden you want to make up.
The fountain has many models, materials, and colors. In this article, we want you to install a mini fountain-like in the picture above. Then, you can install it in the garden next to the house or front of the house, so your garden looks artistic.
But you have to remember that you can't put it in a random location. For that, you can install it in the best space in your home to match the model and material of the fountain maker itself. Hopefully, you can design it properly so that your home looks beautiful and pleasant.
Conclusion
Several ways to choose the mini fountain to make your home looks artistic, beautiful, attractive. Therefore, you should choose a beautiful mini fountain that is appropriate to your home's.
In this article, we explained some ideas, how to choose a beautiful and artistic mini fountain. Then make your home look beautiful and perfect. Then to make it, of course, you will have to spend the money if your mini fountain has to be decorated by a home decoration company. But if you don't have enough money, you can make it according to the picture we explained then give it to the mini fountain maker.
Hopefully, in this article, you can choose the beautiful and artistic mini fountain in this picture. Happy decorating!