As you know, the sofa is one of the pieces of furniture that must be in the living room. A sofa model is an influence on your personality and your characteristics. Therefore, you have to choice of the best sofa for your living room.
Choosing a living room sofa model according to your home style is certainly not easy. You can imagine how many sofa models are exhibited and sold in furniture stores. Of course, you will confuse to choose the many models of sofas in the showroom furniture. For that, before you choose a sofa model, you should start to mix and match your living room first, so that after you installed it, your living room will look beautiful and according to taste. But if you choose the wrong sofa, then your living room will look strange and unattractive.
In this article, we will explain one by one about the sofa model that fits with your living room. We hope you can choose the sofa model for your living room according to the model below.
Beautiful floor sofa set for small room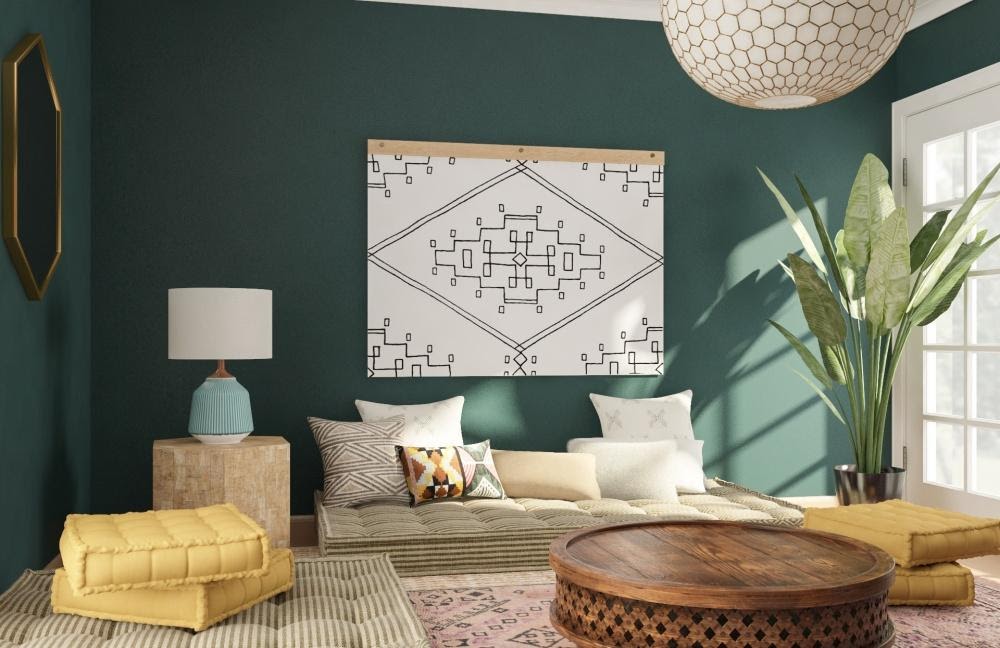 You can see that this living room is small, and for the size of the living room like this, you have to look for the idea of ​​placing a sofa according to the area of ​​your living room. For that, this floor sofa is suitable for a living room in this picture.
As we know, that the living room sofa with a floor sofa model has come from several countries such as Indonesia, Morocco, and Japan. Then this sofa model is designed to make everyone who sits here is familiar and can make the relationship more romantic and harmonious. Besides that, this floor sofa can use in all the living rooms and family rooms.
Of course, by using this floor sofa, you don't need to buy an expensive large sofa set. Then with this sofa model, your room will also look attractive.
To get a comfortable atmosphere in the living room, you should choose the color of the floor sofa with bright color, and according to the color of the walls of your living room and the furniture in your living room.
To add to the appearance of the sofa to be beautiful and charming, you can add beautiful small pillows with several motifs, a bohemian motif carpet, or a soft fluffy carpet to sweeten the room. That way, you will feel amazed with the appearance of your living room and make you are satisfied with your choice.
Luxurious sofa big living room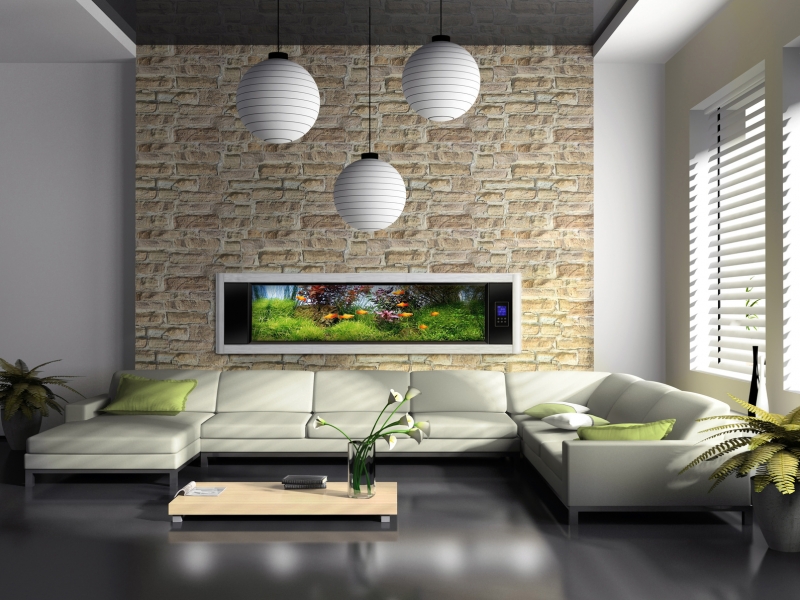 This minimalist living room looks elegant and charming, starting from the design of the walls of the room made with bright natural stone motifs, fish aquarium, hanging decorative lights, and made with beautiful design. Of course, you also have to adjust the sofa model to the design of this living room. For you to know, that with buying a sofa is the same as your investment. In addition, the selection of sofa models and sofa colors should not be arbitrary. If you choose the wrong model, your living room will be unattractive, and you will regret it.
In this article, we want to give you an idea to choose a sofa according to the living room design in this picture. Therefore, we will explain as follows.
Choosing the color of the sofa is not easy because you will be offering many choices. For example, choosing sofa models, materials, the color, and then currently trending design. Of course, it makes you confused to choose it. Therefore, you can see, for a living room with an appearance like this, you should choose a letter L sofa model, and for the color selection, you should choose white color. As we know, white is your favorite color, and it can combine with any color in this living room and including wooden color.
To making a white color is more attractive, should be given a thin line motif and make it will not look bore and will look bright with sunlight coming in from the window. Then, the surface of sofas should also choose a slippery one so that the surfacing of the sofas is easier to clean if any gets stained. Don't forget to add a small flower motif pillow on the sofa set. In this way, add to the beautiful and luxurious appearance of the living room.
Beautiful teak sofa for luxurious living room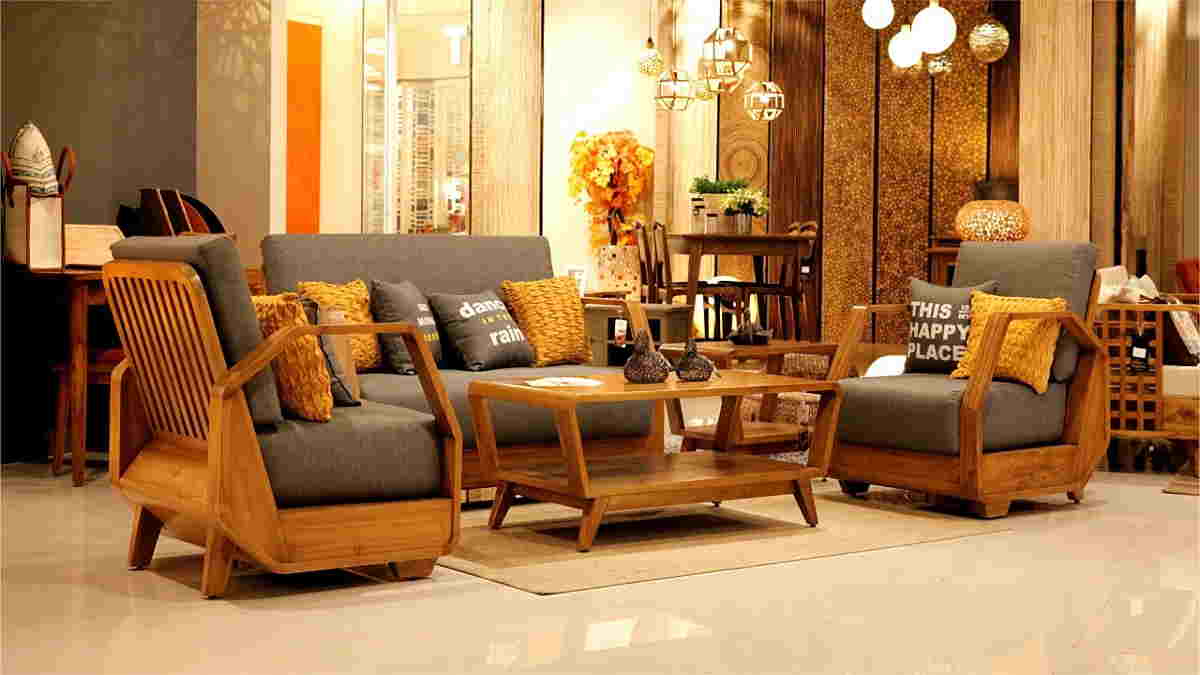 As far as we know, that teak tree is called the Tectona grandis has come from the tropics country.  Since the 7th century, that teak is using to decorate the homes of the rich. Then during the Dutch colonial era, they used teak wood for shipbuilding because this wood is strong and can ward off decay. Therefore, they know that teak trees grow a lot in the tropical rain forests of Indonesia and Southeast Asian countries.
In the middle of the 20th century, the Indonesian government had a company to manage teak trees to become the most valuable objects.
For this reason, furniture designers are trying to develop a teak wood business and design it into a beautiful sofa. But not all people can buy a beautiful sofa from teak wood because expensive, and this sofa is only suitable for large luxury homes.
You will be happy if your guests admire the teak sofa because this teak wood has historical and artistic value. For that, we will explain what kind of teak sofa it is in the living room and what the model and color can make the atmosphere in your living room beautiful.
In this living room, you can see a set of beautiful teak sofa sets decorated with small pillows with various color motifs and makes this sofa look beautiful and artistic.
This teak sofa is suitable for a living room like this. Then the design of this teak sofa is made so elegant and charming. You can see, the sofa model is made one by one, and the seat is given soft gray foam and decorated with beautiful pillows, and a teak wood table is placed in the middle of the chair to make this room even more attractive.
One thing, the sender of the teak sofa, and the armrest is making with the best design, so it looks as artistic as European style.
Making beautiful teak sofa sets, the color of this teak sofa and teak table still looks original and is given a shiny varnish, so this sofa looks dashing.
The advantage of this teak sofa is that the wood can last for decades and can't be eating by termites, and the teak sofa model is always up to date. If you want to have a beautiful teak sofa like this, you have to order it from a teak furniture company, so that the results are according to your taste.
Beautiful sofa for minimalist living room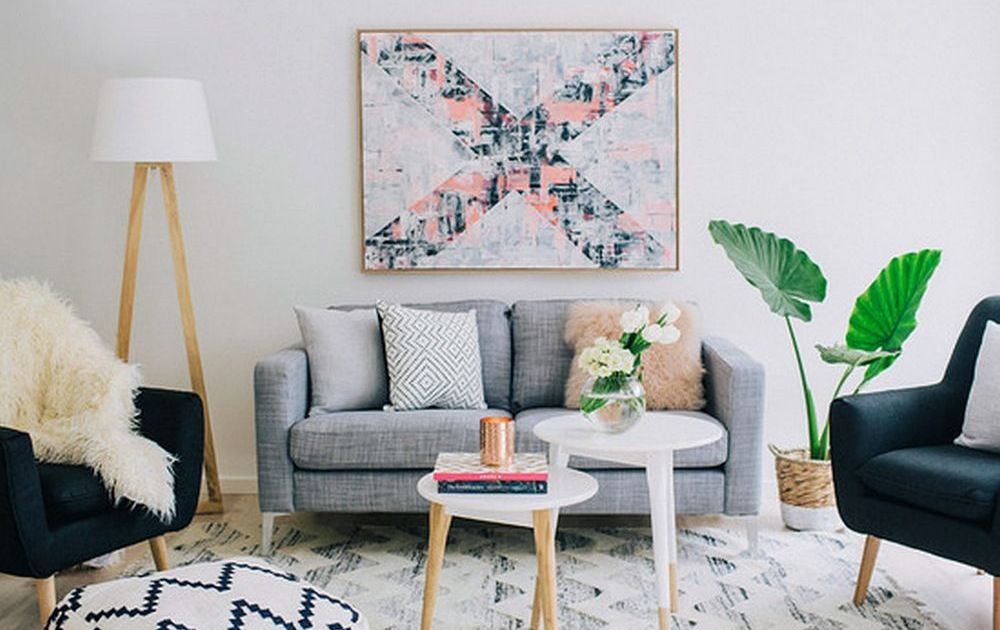 Having a small living room does not make you dizzy. There are many ways to decorate your small living room. One way is to prepare a beautiful mini sofa with an attractive design and using fabric.
Therefore, you can design the color of the sofa with a variety of motif. The goal is to make your small living room look more attractive and make you more confident when you receive your guest.
Besides that, the sofa you will choose should be light and soft, such as light gray or white.
With that color, you can combine another sofa model with a small sofa in dark colors such as dark blue, and for the legs sofa, you can use carved wood.
In this article, we will provide ideas on how you can choose the right sofa for your small living room and make you fun.
You can see, this small living room looks attractive with wall colors, accessories, and flowers. Then you have to know that room like this can't use a large L sofa and a teak sofa because this living room is suitable with a size sofa for two and a size for one person.
But don't forget, for the color display of the sofa is not bore, you can make it into two colors or three colors so that the appearance of this fabric foam sofa looks beautiful and luxurious. Don't forget, to add to the beauty of the sofa it will be better you can put some sofa cushions with colorful motifs.
We suggest you don't force your desire to put a large sofa in your small living room, of course, that makes you regret and be disappointed. Therefore, please choose one that fits your living room or like this picture.
Conclusion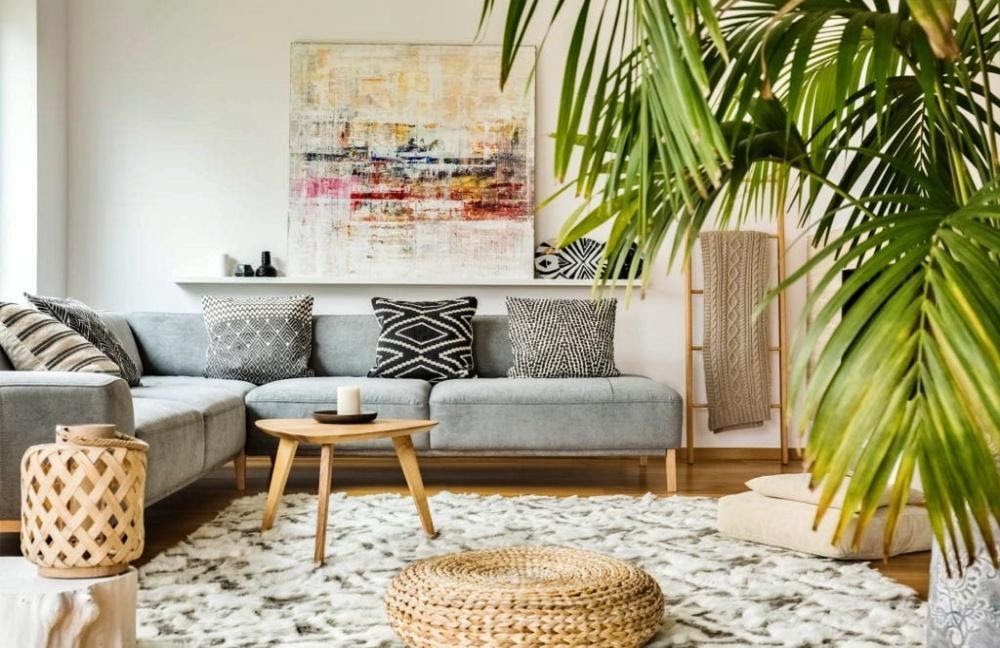 Choosing your sofa sets looks beautiful, attractive you should choose the best design and motif that appropriate to your living room sofa is determining. Therefore, you must put the best pillow with variant motif and accessories according to your living room sofa.
In this article, we describe some ideas, how to choose a sofa model, and suitable for your living room. Of course, you will have to spend a lot of money if your sofa has to be decorated by a home furniture company. But if you don't have enough money, you can make it according to the picture we describe. Therefore, we have given some ideas to make your sofa look beautiful in the living room, and make you are happy with your family.
Hopefully, in this article, you can choose a beautiful sofa as your dream, and then you feel at home. Happy decorating!